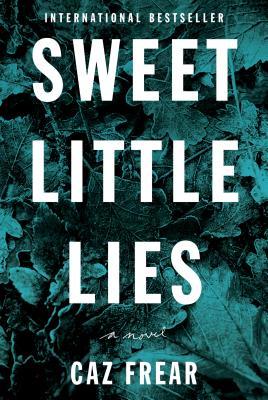 WINNER OF THE RICHARD AND JUDY SEARCH FOR A BESTSELLER COMPETITION.WHAT I THOUGHT I KNEWIn 1998, Maryanne Doyle disappeared and Dad knew something about it?Maryanne Doyle was never seen again.WHAT I ACTUALLY KNOWIn 1998, Dad lied about knowing Maryanne Doyle.Alice Lapaine has been found strangled near Dad's pub. Dad was in the local area for both Maryanne Doyle's disappearance and Alice Lapaine's murder - FACTConnection?Trust cuts both ways . . ....
---
Details Sweet Little Lies
Reviews Sweet Little Lies
Wowza! What a cracking debut novel "Sweet Little Lies" is! I defy anyone to start reading this and not be hooked after the first few pages. Cat Kinsella was always a daddy's girl. When 17 year Maryanne Doyle goes missing in the summer of 1998 Cat's dad denies ever knowing her. However, Cat knows he's lying after seeing him flirting with Maryanne and giving her a lift while she was hitch hiking. Cat's relationship with her dad is never the same ag...

Even though it feels like it took me FOREVER to finish this book, I rather enjoyed it. It was clever with good characterization as well as a compelling plot. It was not as fast-paced as I had expected it would be, but never boring either. I am a fan of mystery books (or books in general) that are really about the characters and the way their story weaves into the plot as a whole, which very much was the case in this one. It reminded me a little o...

As family Christmases go, asking your father if he has an alibi before the turkey has even been digested might seem a little ill-advised. For everyone but DC Cat Kinsella that is, whose relationship with her father, Michael McBride, saw him go from hero to zero when as a trusting eight-year-old and the apple of his eye she discovered he had lied. Seventeen-years-later it is this single event that has influenced the course of their relationship, l...

Here's a slightly different than normal review. Because this is a very different from normal police procedural crime novel.I won't go through the synopsis because you can read it for yourselves, but I recommend this to ALL MY FOLLOWERS WHO LOVE BRITISH CRIME.ThoughtsWow! Was this really a debut?How can a 'first timer' be this good?How long did it take to establish such awesome characters for a first book? Very impressive.Is Caz Frear writing anot...

I had heard good things about Sweet Little Lies so of course I had to check it out to see what it was like.Sweet Little Lies is the winner of the Richard & Judy Search for a Bestseller competition and I can see how it won. Packed with unreliable narrators, twisty and with plenty of diffferent themes and avenues explored it definitely follows the psych thriller rules in that sense! Caz Frear has a great writing style, and a knack for creating char...

Cat Kinsella is a police detective at the Met and is investigating a case of a dead woman Alice whose body is found not far away from her dad's pub .Cat and her dad have a difficult relationship as she believed he has something to do with her friend Maryanne 's disappearance in 1998. When a connection is found between Alice and Maryanne Cat is determined to get to the root of both the cases.The story goes back and forth between the past and t...

Caz Frear won The Richard and Judy Search for a Bestseller competition with Sweet Little Lies. This was enough to intrigue me.This is very much a police procedural story, with a dash of the psychological. We follow a rather funny little girl aged eight in 1998 and then eighteen years later, when she is a cynical police officer. Her name is Cat. She has a rather a way about her, with a strong voice and gallows humour. As a child, her world is full...

Detective Cat Kinsella is a detective who's been called out to investigate the murder of a young woman. She's been identified as one woman, but soon they prove that she is actually a woman named Maryanne Doyle. Maryanne ha been missing 18 years .... and all these years Cat has thought her father had killed the then 17 year old teenager.Cat has never told another person about her belief and now her job may be on the line if she discloses what she ...

Compelling police procedural about a UK policewoman Cat Kinsella who is called out to a young womans murder. It flashes back and forth bewteen the current days murder plus thr disappearance of a young girl years ago, potentially covered up by her father. Its these unanswered questions that we the reader expose as we read further and further. The characterisation is solid, the twists and turns what you'd expext from a good debut, however I felt li...

Imagine my surprise when I started the book and discovered that this wasn't a psychological thriller, as I expected from the blurb, but a police procedural! After my initial shock, I admit I was captured by this great book from the very beginning.I've read other reviews stating that Sweet Little Lies was kind of a slow-burning type of book, but I was incredibly addicted from the start. There was something about Caz Frear's prose; her writin...

What happens when the trust has gone?Cat Kinsella was always a daddy's girl. Until the summer of 1998 when she sees her father flirting with seventeen-year-old Maryanne Doyle.When Maryanne later disappears and Cat's father denies ever knowing her, Cat's relationship with him is changed forever. I was expecting Sweet Little Lies to be suspenseful, but it was more of a police procedural. Although I thought the mystery was rather intriguing at times...

Maryanne Doyle went to buy hairspray and never came back on 31st May, 1998... Murdered???In the present time, a woman is found murdered and dumped at Leamington Square close to the pub, McAuley's...The first line caused me to pick up the book and the second, to continue with it. Both these lines created such a high note of suspense and mystery in my mind that the pages turned all by themselves. The entire story is written solely in the voice of D...

It's been a long time coming this book and it was highly recommended to me before I got around to it, so I had quite high expectations for it. While it wasn't the best thriller / mystery I've ever read, I did end up really enjoying this one!I don't really like police procedurals, and I had no idea this book was going to be one until I began reading, but it wasn't your average procedural novel. While it has dark themes and a main charact...

Sweet Little Lies was one of my highly anticipated summer reads, and I'm happy to report that it did not disappoint!Based on the blurb I read for this novel, I went into it expecting a psychological thriller, and like many of my fellow bloggers, I was surprised to find Sweet Little Lies is actually a police procedural which contains a strong mystery rather than fast-paced thrills. A lot of police procedurals these days can be classed as crime t...

3.5 Stars.A bit of an unusual spiral here. Well, at least to me it was unusual.So we have Cat, 28 yo policewoman. She is quite a character, kind hearted and hard working, she had encountered first hand a gruesome crime scene and that has affected her quite a lot. Not that it was the only thing that has been bothering Cat...But whatever bothers her, business is as usual, after all she is a police officer. A bit of counselling and a wise word from ...

As the winner of the 2017 search for a new bestseller from the Richard and Judy book club, I anticipated a fast paced thriller that packed a punch. Stories with a strong female lead always appeal to me anyway. The book begins rather tediously but soon the storyline begins to develop and take shape. Cat Kinsella is a mid twenties murder detective investigating the disappearance of a woman who she vaguely remembers as a childhood friend of her sist...

Loved this debut. Great characters and story line. Will definitely read more by this author x

Review can be found on my blog here:https://booksonthebookshelf.wordpress...Thank you to Edelweiss and Harper Collins for the free eARC copy of this book to read. This was my first book I have read by this author and it was quite enjoyable.This book is about two women who wind up missing at different times. The main character in the book believes her father had something to do with it, as he had previously lied about knowing one of the women and ...

Sorry wasn't impressed. It had rather a boring beginning about eating and spice girls and someone spreading gossip about someone had AIDS. Amongst all this hype about the book in 1998 Maryanne Doyle disappeared. Meanwhile an eight year old knows that her father has told a lie about Maryanne Doyle. But do eight year old's count as knowing that their father has told told a lie when eight year old's should be busy with stickers and their sweets and ...

Cat Kinsella is a Detective Constable with the Met based in London.In the early hours of the morning she is called to the scene of a murder in Islington.The body of Alice Lepaine has been discovered not far from the pub that is run by Cat`s father.Since she was a young girl Day had suspected that her father had some involvement with the disappearance of Maryanne Doyle.When evidence links Alice to the still missing Maryanne Cat`s fears resurface.D...

Book reviews on www.snazzybooks.com Sweet Little Lies is a sharp, intelligent novel which offers a more emotive side to the usual police investigation novels, because DC Cat Kinsella's own family may be snarled up in their most recent case: the murder of Alice Lapaine, and an older case involved Maryanne Doyle.We follow Cat and the team as they investigate a series of murders, some recent and some from years ago. Cat herself is a conflicted cha...

I would like to thank Netgalley and Bonnier Zaffre for an advance copy of Sweet Little Lies, a police procedural set in London featuring DC Cat Kinsella.Cat and the team are summoned to a murder scene where a woman's body has been dumped. When the body is identified the real puzzle begins - unraveling the mysterious life of Alice Laplaine.Told in the first person the novel's driving force is Cat's personality. Smart, cynical, often humorous, trou...

I really enjoyed Sweet little lies. It starts slow but half way through the novel it gets fast. It keeps you guessing and doubt everyone, it's what I love about psychological thriller. This is Caz Frear's debut novel and honestly, I am looking forward to read more by her. I am wondering if this is a standalone or it is the first book in a series. In 1998, Maryanne Doyle went missing, the Garda believe she runaway, so they do not take the case...

Firstly I need to say OMG is this really a debut?  Sweet Little Lies is a cracking thriller, original, pacy, gripping with some fantastic characters that for some inexplicable reason got under my skin.Cat Kinsella is a Detective Constable on the Murder Team in London who I instantly connected with - not sure if it was her mention of vomiting on the escalators at Brent Cross, living in Radlett or being devastated when Geri left the Spice Girls - ...

Cat Kinsella makes this book as far as I'm concerned. She's compelling, flawed and disillusioned to the point you can't help but root for her. To top it off her quick wit and her unique observations will no doubt have you falling in love with her. The dialogue and relationships are also spot on - the team are believable, comical and you can recognise the natural affinity between them and how they work together. A definite highlight from the book....

"Justice? That's a bit of a lofty goal. I'll settle for the basic rule that says bad people get punished." DC Cat Kinsella's past and present collide when a current murder investigation throws up links to the disappearance of a girl she knew as a child, and who was never found. Worse still, Cat has always suspected that her father was somehow involved in the events of that long ago summer. Forced to confront her worst fears and suspicio...

A Gayle recommendation and an excellent one too. All the ingredients of a good detective/thriller with the added bonus of being set in London. Only docked a star as it was a little bit 'convenient' in the end and thought it was a bit rushed to finish. But an entertaining read.