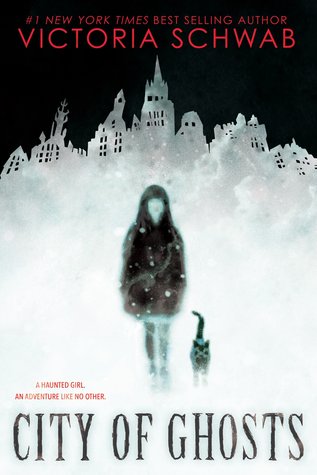 Cassidy Blake's parents are The Inspectres, a (somewhat inept) ghost-hunting team. But Cass herself can REALLY see ghosts. In fact, her best friend, Jacob, just happens to be one.When The Inspectres head to ultra-haunted Edinburgh, Scotland, for their new TV show, Cass—and Jacob—come along. In Scotland, Cass is surrounded by ghosts, not all of them friendly. Then she meets Lara, a girl who can also see the dead. But Lara tells Cassidy that as...
---
Details City of Ghosts
Title
City of Ghosts
ISBN

9781338111033

Author

Victoria Schwab

Release Date
Aug 28th, 2018
Publisher

Scholastic

Language

English

Genre

Fantasy

,

Childrens

,

Middle Grade

,

Paranormal

,

Young Adult

,

Ghosts

,

Fiction

,

Urban Fantasy

,

Supernatural

,

Young Adult Fantasy

Rating
Reviews City of Ghosts
This was a super cute and fun read! I would absolutely recommend to paranormal lovers.CW: drowningI have read fantastic young adult and adult fiction works from Victoria Schwab and I have to say, she's done it again with this new excursion in her writing! Her vivid story telling translates well to middle grade. It retains the same whimsicality and darkness of her other novels (I particularly feel City of Ghosts is perfect for Victoria Schwab ...

ARC provided by Scholastic in exchange for an honest review. "People think that ghosts only come out at night, or on Halloween, when the world is dark and the walls are thin. But the truth is, ghosts are everywhere." City of Ghosts is a middle grade novel that has such a perfect spooky atmosphere, and it's set around scary places in Scotland. Like, sounds perfect, true? And, as always, Victoria's writing is so very beautiful and lyrical...

Yup. Loved this. Doesn't matter what genre or age demographic Victoria writes for, her stories are always so amazing. They speak to something deep within my soul.

Good, but you and I both know Victoria Schwab could have done so, so much better.I'll attempt to film a video review (my first one!) later this week. Wish me luck! :)

Schwab, I still love you... (even though I'm now afraid to go to Scotland)I can't even say that no one is more disappointed than I am because I don't feel very disappointed?this is a Really Fun and also Really Creepy book that I liked reading. it has a cool main character and my favorite soft ghost boy. and I'm really excited to see how dark the rest of the series gets. but... IT WAS SO SHORT. I get it's MG and I'm used to YA but the ...

This was not at all what I thought it was going to be (in a good way)! It was equal parts cute middle grade, creepy ghost stories, and fun adventure tale all in one! This is why Schwab is one of my FAVVVSSS

Well, I'm a huge fan of Edinburgh & Schwab, so this was obviously a great setup. The story felt like a fun middle grade read with just the right amount of creepy, but it might not appeal to fans who mostly read her adult books. I genuinely love middle grade, though, and thought this was a really solid, well-rounded story with a creative premise!Cassidy's a Ravenclaw who died while drowning but was brought back by Jacob, a ghost who's now her best...

Victoria Schwab is really great and so is this book.

"There's a difference between wanting to stay and being too afraid to let go." Oh my lord, this book was a bucket of fun.City of Ghost was honestly such a spooky and mysterious read. I had actual chills while reading it, but it was so much fun exploring Scotland and learning parts of it's history, especially all its wonderfully scary ghost stories.I loved the story and the characters and all the photography metaphors. I loved Cassie's parents ...

YAAAAAASThis book was SO GOOD. I really don't have anything at all negative to say at all. Victoria Schwab just keeps getting better and better.

I am not at all surprised that I loved this story. Review to come.

This was a great middle-grade ghost story with a history and supernaturally rich setting. I loved everything about the characters, their loyalty, the quirky parents and the spooky side, too. One thing I will say is that there is an obvious sequel coming and I still wish we could have learned more about Jacob. I get saving some reveals but even for a middle grade it felt like too much was being held back. It's a scary story, let's not get that twi...

Surprisingly enough, I loved this one? I didn't enjoy Schwab's other series, ADSOM and I think it's because this is MG & the ADSOM series was adult. Previously, I didn't enjoy ADSOM as much as I predicted because of hard-to-read and slow it was, but Schwab's work was so much more fast-paced and easy to read in this one. When I was younger, I used to be afraid of the monster in the closet. I couldn't go to sleep until my dad came in, threw open t...

Since this book doesn't come out until August, I'll save my full review for a later date. Here is what I will say:1. If I had read this book at 10 or 11, I wouldn't have wanted to be any other fictional character. 2. This book is a perfect middle grade book that leaves you wanting more. It is action packed and I would have been happier with 200 more pages. 3. This book is going to be a perfect book to get some kids into the horror/thriller genre ...

It's safe to say I am a huge fan of Victoria Schwab. She can write adult, YA, and middle grade fiction and I'd be the first in line to buy them all.I'm also a huge paranormal fan. I grew up in a "haunted" college town. I've loved ghost stories as a kid and I still have a fascination with old legends and local haunts. City of Ghosts is being marketed as Stranger Things meets Ghost Hunters. I agree with the Ghost Hunters part. But, did ...

We're getting two more books from Schwab next year—that I know of—and y'all. I am Alive™.