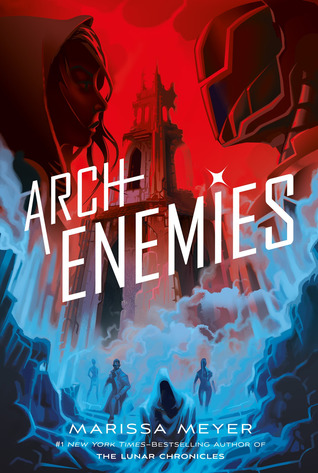 The Renegades Trilogy continues, in this fiercely awaited second installment after the New York Times-bestselling Renegades by Marissa Meyer, author of the Lunar Chronicles.Time is running out.Together, they can save the world.But they each other's worst nightmare.In Renegades, Nova and Adrian (aka Insomnia and Sketch) fought the battle of their lives against the Anarchist known as the Detonator. It was a short-lived victory.The Anarchists still ...
---
Details Archenemies (Renegades, #2)
Title
Archenemies (Renegades, #2)
ISBN

9781250311443

Author

Marissa Meyer

Release Date
Nov 6th, 2018
Publisher

Feiwel & Friends

Language

English

Genre

Young Adult

,

Fantasy

,

Science Fiction

Rating
Reviews Archenemies (Renegades, #2)
Marissa Meyer has done it again. I am TRULY blown away by Archenemies. Stay tuned for my spoiler-filled video review!CW: violence, oppressionRenegades was already a fantastically constructed world, but Archenemies breaks the boundaries for what we know of Gatlon City. I cannot get enough of the politics of this world. Conflict goes far beyond what we already know of the Renegades' power and the Anarchists' will for vengeance. Morals are quest...

I am trying so hard to love this series but it just isn't working.After not enjoying Cinder, I went on to love the rest of the Lunar Chronicles, so I was really hoping I could do that with this series. I was hoping that Renegades was just a shaky start to something much better. And, for a while, I convinced myself I liked this one more than the first. But aside from a few good bits, I think I'll just have to admit these books are not for me.Let'...

happy book birthday to Archenemies!! my gift is that i posted this mildly negative full review on my blog. find it here: https://emmareadstoomuch.wordpress.co...-----------I've said it before and I'll say it again: Life is teeming with disappointments.The fact that that is closer than anything else to becoming my catchphrase is, in a word, concerning. I was hoping that when I inevitably developed a catchphrase, it'd be something cool, like ...

this book is almost 600 pages and I read it in a day so if that tells you anything

2.5I still think Meyer is one of the best fantasy YA author out there, and I still think she doesn't even have to try to be able to stand out. But this book just didn't work. Personally, I believe that the reason (at least in my case) is one of disappointed expectations: like many other fans, I had got used to the idea that the Renegades series was going to be a duology, and only recently did I find out that this was not the case any longer. Not ...

I missed Sketch. I need his chibi portrait/figurine in my life.-----------------------------------------------Way better than previous book, but how dare you to finish it in such a moment. Now I need to wait a year or more to find out what will happen with Max. That's so cruel.Overall, I liked this book a lot. I just wish that my poor baby Sketch would be less into Nova. She's going to hurt him, I know it. She's despicable, at least right now she...

I'M SCREAMING SEND HELP AJAVAIBAOSBDJ

I am crying. I need the sequel. I didn't realise the end was the end. It's now definitely one of my top 3 series in the whole world. I need the sequel. Give me the sequel. PLEASE.

not as great as the first one but i loved it tbh

Tohle bylo DOKONALÉ! To zas bude knižní kocovina teda. Nezávidím knize, co budu číst jako další, nebude to mít lehké.

"That's human nature, isn't it? People want to put someone on a pedestal. Maybe it gives them something to dream about."I'M STILL SCREAMING AFTER THAT ENDING OMG🙉IS IT NOVEMBER 2019 ALREADY? *cries*4.5/5★★★★★

I've been so giddy these past few hours months. Seriously. I'm talking literal jumping down hallways, squealing, and startling a few unsuspecting people on the way (sorry!). And, wow, my heart!Where can I even begin? Obviously, no spoilers, but where do I start??A small note: I'm like, seventy-six percent certain that this book is ever-so-slightly smaller than the first, which is a rare find. And I'm a sucker for smaller books because I'm ever so...

Definitely a good follow up to Renegades. Not quite as explosive as the first book but all the details and information that lead up to the ending of Archenemies is well laid and makes for a nail biting climax to the second book of this series. More review notes to come... *I received a free advance copy of this book from the publisher in exchange for an honest review.

Oh my oh my, I absolutely adored this book but that ending wrecked me...I literally love everything about this series: The characters are such goofy and adorable teenagers you can't help but relate to. The action made me hold my breath, especially that end fight. I am truly blown away by Marissa Meyer's storytelling abilities and am now eagerly awaiting the next installment.