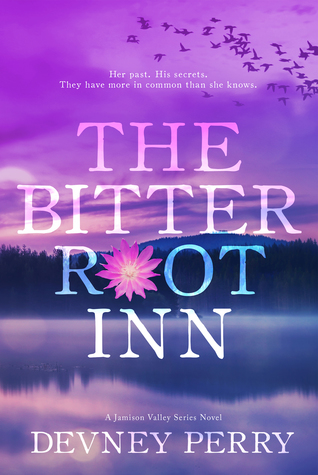 Her past. His secrets. They have more in common than she knows.Maisy is happily content with the life she's built for herself and her young son in small-town Prescott, Montana. Her child is thriving, her business is growing, and her family is as close as they've ever been. But when a handsome stranger walks into the lobby of her motel, her simple life is swept up in a wave of affection for his gentle heart. None of those feelings can be trust...
---
Details The Bitterroot Inn (Jamison Valley, #5)
Reviews The Bitterroot Inn (Jamison Valley, #5)
Review @ Vanilla & Spice Books✭ ✭ ✭ 4.5 STARS ✭ ✭ ✭First things first - THE BITTERROOT INN has one of the most beautiful covers I have seen this year. It is simple and captivates you without needing a naked chest to capture your attention. I LOVE when authors manage that feat, it's not easy to do but those who take a chance and give you something special stand out in the vast amount of romance book covers.I love small-town romances, t...

I've been on holidays and I'm flying home today! I've not read much at all and I do miss you books buddies!!! Will be glad to get home!!

4,5 "I love this series" stars.Let's establish something right away: Devney writes the sexiest males!Where can I find Doctor Kalvin Klein? I feel feverish all of a sudden*add fanning myself*What? It's the sex/paint scene you say?Well you may be right because that scene with a man on his knees will be religiously stored to get back at the end of 2018 when Angelica will once again enroll me in one of her challenges with "the best sex scen...

The best things came after the worst thing...The Jamison Valley series has been one of the best I've read in a while. It's the comfort of catching up with friends, seeing them change and watching them grow. With each instalment read, I worry that we've reached the end. I don't want it to end and I'm sure there are plenty more love stories that could be told about the Jamison Valley residents.We met Maisy in the beginning and we've seen her fight ...

Ah-mazing!!! The Bitterroot Inn was the perfect way to close out the Jamison Valley series. Maisy played such a huge part in the first book and every book in between that it makes perfect sense that she was the final story. Years later and Maisy still struggles with the aftermath of being forced to kill her son's father for survival. She gave up a great career as a nurse and immersed herself into taking over the towns motel and making it succee...

Where to even start? This was the most amazing book! I absolutely loved everything about it! Every. Single. Thing.Maisy Holt is a survivor and a savior. She survived Everett and while doing so saved her son Coby. It took a few years and life changes before she was "okay", and everyone in Prescott will tell you that she's moved on and all of that nastiness is in the past. With her to-do list and her renovations, the Bitterroot Inn has been h...

"I'm staying until you make me leave." Oh wow, we loved this book so much, Hunter and Maisy's love story was so emotional yet so heart-warmingly beautiful too. There's something about Devney Perry's heroes that have our hearts melt into puddles on the floor and their passion sets our pulse on fire. They're not bad guys or anti-heroes, rather they're sexy commanding good men with huge hearts. They're refreshing yet also reminisce...

"I'm staying until you make me leave." Oh wow, we loved this book so much, Hunter and Maisy's love story was so emotional yet so heart-warmingly beautiful too. There's something about Devney Perry's heroes that have our hearts melt into puddles on the floor and their passion sets our pulse on fire. They're not bad guys or anti-heroes, rather they're sexy commanding good men with huge hearts. They're refreshing yet also reminisce...

"Damn, this woman was going to wreck me. Five minutes with her and I wanted a lifetime." My very first TOP FAVORITE of 2018 goes to the incredibly talented Devney Perry and her final book in the Jamison Valley Series, THE BITTERROOT INN. I was a newbie to the likes of Ms. Perry and after devouring one novel of hers…ONE…I fell in LOVE with her writing, her characters, and her insane talent. I then binge-read her Jamison Valley series, and...

"I'd come to Prescott with a plan: to look out for this beautiful soul. My plan had just changed. Now I was here to win her heart."4.5 beautiful, beautiful stars!Wow, I loved this book! Talk about finishing a series on a high, Devney Perry has delivered a gorgeously romantic, functional, sweet and passionate love story for the finale of her Jamison Valley series. I lost myself in the swoony emotion of Hunter and Maisy's story and I loved ...

Rating: 3.75 starsI have mixed feelings about this book. Some parts I loved and some parts not so much. It took me a while to get into and it was until nearly the halfway point that it held my attention. The hero was amazing. He is such a sweet alpha and is fantastic with the heroine's son. The heroine was okay. (view spoiler)[I got frustrated at times with her pushing the hero away (hide spoiler)] Overall a good addition to this series but not m...

Release Date: January 16, 2018 Genre: Contemporary RomanceDevney Perry brings readers another heartfelt and irresistible love story in the final book of the Jamison Valley series. Having loved this series from the start I was both excited and a bit sad to see these characters, who have quickly claimed my heart, leave us. But, I am excited to see where Devney takes us next and am looking forward to reading a new book from her. As with all of the...

Loved. This. Series. It was perfect! ♥

My heart is sad, because with the last part I will have to say goodbye to good friends from a small town ,where selflessness and the help of a neighbor/friend are still present.Maisy and Hunter share a common past in a bizarre way, but despite all the obstacles, they prove that problems can be overcome if there is will and love!The whole series is fresh, well written and I can hardly wait for the author's new work.

The Bitterroot Inn is the sweetest way to end the Jamison Valley Series!!Maisy Holt has tried her hardest to to make a good life, a happy life for herself and her son, Coby. After killing the man (in self-defense) who got her pregnant, kidnapped her and her best friend and tried to force her to overdose to kill their unborn child, Maisy was far from trusting. She ran her Inn, worked hard and kept busy being a great single parent to Coby. She was ...

This book is everything. It's all about family and love. It's all about a little boy named Coby who means the world to everyone.I crushed hard on Hunter and his sexy man bun. Goodness. He was everything. And, the kicker of his secret kept you guessing until it finally came out. My mouth dropped, my heart flipped and I still loved him.Devney did a marvelous job with bringing our faves back in. Beau the protective brother and the entire gang.Maisy ...

This one was going to get 3 stars, but...I hated the heroine. She was just so stupid. Incredibly so. Hunter, the hero, was too much for her. She got upset because Hunter didn't tell her he was a doctor - but oh wait, he tried! Many times and got interrumped by her family several times. Also, girl, you had one month to ask him what his job was. Come on. That was one of the things that bothered me the most about this book, the fact that as plot twi...

**ARC graciously provided by author in exchange for an honest review**The Bitterroot Inn blew me away with Devney Perry's sentimental and spellbinding writing! Even though it's the fifth book in her Jamison Valley series, each book is a standalone, but mind you, characters do cross over. Maisey Holt, single mom and owner of The Bitterroot Inn knows all about tragedy as she's had to live with the reminder of killing her ex, her son's fathe...

She is my new KA, however KA will always be OG I have kind of gotten bored with her newer books. Anyways this was a wonderful conclusion to the series, Maisy Holt deserved an HEA more than anyone in the series. Her habitual head in the sand tendencies did annoy me, but I loved that she admits her mistake. Hunter (the H) did do that dumb shit where he wasn't honest with the h but OMG did he redeem himself. Coby (Maisy's son) was the best child I h...

Full review can be found HERE --> https://www.goodreads.com/review/show...*ARC provided for a voluntary honest review.* ~Sonal

and this is one of the BEST series I've EVER read!I'm so sad and lost right now! I just finished an amazing series and I was NOT ready for that! I want more, I need the characters again, I crave all those feelings I got in Jamison Valley!!When I started The Coppersmith Farmhouse months ago, I didn't know what to expect. It was a new author to me, but I'd heard so many good things I had to try. And it was a decision I'll always carry with me as an...

This series was a standout 2017 surprise for me. I loved every minute of it and so The Bitterroot Inn is a bittersweet goodbye for me. I loved every second I got to spend with these richly layered and fascinating characters Ms. Devney gave us, and the compelling storytelling that drove them.Maisy might have been the most fascinating character of all, actually. With her checkered past, and her completely adorable little boy - I was all set up to b...

What can I say? Devney Perry has made 2017 a great year of reading for me. This series has been my favorite, by far! I've loved each story tremendously. The Bitterroot Inn is an AMAZING story! Maisy & Hunter were made to love each other. The connection is immediate and undeniable. Coby is precious.Together they form the perfect unit. Their journey is one of strength and healing. This was exactly the conclusion I needed to Jamison Valley. Absolu...

Sometimes life changes your path in the most unexpected of way. For Maisy – life took a different turn than the one she planned. Giving her a new life with new goals and expectations. As the new owner of the Bitterroot Inn in Prescott, Maisy knows how hard work and the support of family mean everything in life. Always working to expand the presence of the Inn, Maisy knows that every dollar in the fall season means more opportunity to expand on ...

Maisy Holt has dreams for her son, dreams for her hotel, but very few unreached dreams for herself. Having lived through tragedy, she is happy with the things she has and the life she has built quietly. Hunter Faraday is new in the Jamison Valley and though he vows to stick to himself, he finds himself drawn to the pretty hotelkeeper, enough that he changes his plans upon arrival in town. I loved these two together. He is everything she didn't ...

*2018 50 States Challenge-Montana**ARC provided by the author for an honest review*4.5 Stars (which I believe is the lowest rating of the series...so I think that says something. It says READ THIS SERIES!) Since book one, Devney Perry has been on my 'authors I MUST read' list. Her books will always be on my shelf and in my kindle. So I feel like I've been waiting for Maisy's story for FOREVER! Ever since Coppersmith Farmhouse, I've been on the ed...

I enjoyed my last trip to Prescott with The Bitterroot Inn and finally getting Maisy's story.After her nightmare with Everrett she deserves her HEA but is Hunter going to be her dream man?This was a lovely slow paced story, Maisy and Hunter take their time getting to know each other and spending time with little Cody.This story has everything you need for a great romance (a bumpy one though) with some suspense thrown in but I will admit I did gue...

Books 1, 2, and 4 of this series were big hits with me, my fellow romance book loving friends. Book 3, well, not so much. It was only a 3 star read for me. But never in my wildest dreams would I have guessed Book 5, The Bitterroot Inn, would turn out to be such a bitter disappointment. In fact, I never would have pegged this book's writing style to be from the same author who wrote the previous Jamison Valley sequels. I completely take back the...