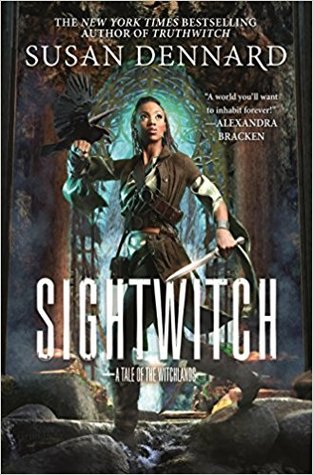 Set a year before Truthwitch, Sightwitch follows Ryber Fortiza, the last Sightwitch Sister as she treks deep underground to rescue her missing best friend. While there, she encounters a young Nubrevnan named Kullen Ikray, who has no memory of who he is or how he wound up inside the mountain. As the two journey ever deeper in search of answers, and as they brave one close call after another, a tentative friendship forms between them—one that mig...
---
Details Sightwitch (The Witchlands, #0.5)
Title
Sightwitch (The Witchlands, #0.5)
Author

Susan Dennard

Release Date
Feb 13th, 2018
Publisher

Tor Teen

Language

English

Genre

Fantasy

,

Young Adult

Rating
Reviews Sightwitch (The Witchlands, #0.5)
5 stars. Possibly my favorite installment of the series, which is interesting because it isn't even a full-length novel. Susan Dennard (and the team at Tor) did an amazing job with this book!***Review to come***

This is my favourite book in the series so far! @stdennard #SightwitchFull review to come!

[Basing this on the 118 pages I got to read, so minor changes will be made when I read the finished copy]Thank you to Netgalley and the Publisher for letting me get to take a sneak peek at this book!Guys, its looking good! No seriously, its got artwork in it and of course the images are gorgeous! Now you're probably wondering why there's artwork and that is because this is being told in diary format.Which completely works! Its got multiple POV's ...

This book was honestly too wonderful and too short and too delightful. I loved it so much, because Ryber's story gives us SO MUCH insight into the world of the Witchlands. I learned so much, and it makes me even more excited for Bloodwitch and the rest of the series! It really is a brilliant companion to the series, and makes a great story to placate one as they await the next book in the series.Note: This e-ARC was provided by the publisher in...

I am a huge fan of the Truthwitch series so I was so excited when I got the opportunity to read an excerpt for the Sight Witch!However, my excitement fell when I started the book. Unfortunately, the book was a bit boring and it started out really slow. I had to put the book a couple of times and pick it back up to get back into it.It followed the path of a specific Sightwitch who needs to find out where all of her other sisters have disappeared i...

I loved this preview! I've never read the other books by Susan Dennard, but I was intrigued the moment that I saw this preview. Even better, it's book 0.5! This meant that I wouldn't really spoiler myself as badly as if it was book two. I loved the photo's / sketches in the book. I haven't read the other books, but I love the main character from this part. Might be an evil character after all, but for now, i really loved her.I'm so ready to read ...

DEAD.I HAVE NEW THEORIES NOW AND I HAVEN'T EVEN FINISHED PROCESSING THIS. BUT OMG.I live for fantasy series like this one, that pepper in tidbits in small doses and the story slowly and truly unfolds with every bite of information and then BAM awesomeness.Full review:Whew. That was a rollercoaster.It's safe to say that by now I really just love this series and don't have anything bad to say about it. While novellas aren't usually my thing...

Another wonderful read from Susan Dennard. With SIGHTWITCH, Dennard shows just how much she masters different voices, as well as weaving in clues in a very, very smart way. Absolutely adored the ending of this book and can't wait to add an illustrated copy to my shelves!

An excellent addition to the Witchlands universe, Sightwitch is told in a rather unusual format: diaries, with illustrations to accompany it. We get to learn a lot more about Ryber, as well as Kullen, and the book does a nice job expanding the world. I don't want to spoil, but it hints at a very big mystery and now I can't wait for Bloodwitch.However, the e-ARC format is off, and I hope it's corrected when the book's actually out. But I really fe...

Set before the events of Truthwitch, Sightwitch offers a glimpse into areas of the world that haven't yet been explored while still providing depth to those mentioned in Truthwitch and Windwitch. Dennard adeptly told the story through the eyes of Ryber in a diary format, complete with amazing illustrations.If you're looking for a story with heart-stopping and heartwarming moments, look no further. Sightwitch is not a book you want to pass up on.T...

Review also on Christina Reads and BlogsI received 118 pages of this story (the book is projected to be 208 pages) so I will need to revisit this review after I complete it, but I wanted to post my initial thoughts on Sightwitch. I was very excited for it. I really like the books in the Witchlands series, and need more! Bloodwitch, if you don't come out soon, I will be very disappointed... Sightwitch was good, but I got confused a lot and kind of...

I read a sampler provide by NetGalley against an honnest review.It is always hard to judge a book on so little but I have to say this book is a nice bonus to the story. From what I read we learn a lot about the Sightwitch and their religion, power and way of live. Some characters from the serie are presents and I stopped just were the story really fall into the main serie.I know some people are a bit sad about waiting for book 3 but I think this ...

I received an e-arc of this novella from Susan as I'm one of the Witchlanders so I am super, super grateful to have been given this privilege.I flew through this book this evening and what a wild ride it was! Fast-paced and chock full of action but with no shortage of emotion running through the different layers of the story that are interwoven with and enriched by Susan's ever-wonderful world-building.In this novella we get to discover how Ryber...

For a novella, this covers a lot of ground with backstory on Ryber and Kullen, a history lesson on how magic came to the Witchlands, a sweet thousand year old tale of one of the most powerful Sightwitches and a glimpse of the future via some prophecies. Oh yeah, there's also a rather spooky story where Ryber goes to save her Threadsister. So yeah, just a few things jammed into this one!The first half is mostly set up and the second half gets into...

I read the preview excerpt from NetGalley.I liked being back to the world of the Witchlands. There is a lot of mystery going on in this novella and there are alternative POVs moving back and forth in time. A certain loved Threadbrother is featured and I know that my heart is going to break with this book!

So, seeing as this was a preview of an ARC as opposed to a full book, I'm going to review this one a little differently! I believe the copy given out was almost exactly half of the book, so I got to read a good chunk to form my feelings from.In a prequel to Truthwitch, Sightwitch covers the backstory of Prince Merik Nihar's first mate, Ryber. Before she was apart of the Nubrevnian (Nubrevnan? It's been a while) navy, she was a Sister Sightwit...