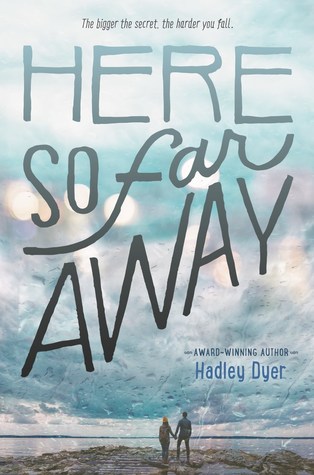 Award-winning author Hadley Dyer's YA debut is smart, snarky, and emotionally gripping, about a rebellious cop's daughter who falls in love with an older man, loses her best friend, and battles depression, all while trying to survive her last year of high school. Feisty and fearless George Warren (given name: Frances, but no one calls her that) has never let life get too serious. Now that she's about to be a senior, her plans include par...
---
Details Here So Far Away
Title
Here So Far Away
ISBN

9780062473172

Author

Hadley Dyer

Release Date
Mar 20th, 2018
Publisher

HarperTeen

Genre

Young Adult

,

Contemporary

Rating
Reviews Here So Far Away
Lately I've been going into books without re-reading the summary of the book, I've been finding that I've been able to get into a book much more this way, and I like the process of figuring things out as they come along. So, you could say I was intrigued with the unravelling of George's life in Here So Far Away, from her dad having his leg amputated and not sure if he could go back to his job as a police sergeant, to George and her friends drifti...

A special thank you to Edelweiss and HarperCollins Canada for an ARC in exchange for an honest review.I don't like to give negative reviews, especially to a Canadian author. My mother also taught me that if you don't have anything nice to say, you shouldn't say anything at all. But here is my dilemma...as a reviewer, I am obligated to provide feedback. So here goes...I couldn't relate to the main character, George, at all. The dialogue was trite,...

*received an ARC for review*Maybe I'm jaded, but I'm pretty over whiny high school girls and the feelings they have. Most of this book was about 17 year old George (the main girl) either drinking, being rebellious, or fighting with her friends. When she wasn't doing that, she was falling in love with *gasp* a 29 year old musician. I don't know, I just wasn't impressed.

oh my heart and so many changes during senior year and in 1992 to 1993. I was a senior back in 1992. older man and a youth in love. loved the friends. loved Rupert

I received an ARC of Here So Far Away via NetGalley. Life's a bad writer, my father used to say. I think he meant that most of us would write our lives differently, given the chance. If I could choose one year to rewrite, it'd be my senior year of high school, and I'd probably start with the first shack party...Here So Far Away by Hadley Dyer is about love, loss, and growing up in a damn hurry. George is a snarky 17-year old, with dreams of leavi...

You have to read this book twice. Once to get lost in the story. A second time to get all the jokes. Only then will you find yourself nodding and truly appreciating the smart dialogue between characters and all the lines that went over your head the first time. The author gets my highest rating on this forum as - just like her main character George, she "never goes for cheap emotion". I won't give a full synopsis here, and hope to avoid sp...

This book is written beautifully by Hadley Dyer. She described people, moments, and emotions in ways I have never thought of before. My favorite being how she described banter as "a good tennis rally". That is exactly what this book is full of: banter, love, and realism.

This was a good book for older teens. A quick read that keeps you on edge, never being able to predict what will happen next. There are so many challenges that George must face and so many setbacks that are in her way. Unpredictable all the way!

I thought the book was pretty good, once I got in to it.

I received an copy of this book from a giveaway. What a book! I could not put it down! The story was great and the characters were well developed. I thoroughly enjoyed reading this book!

George is determined to make her senior year one that she will never forget. Between the parties and spending time with her friends, George wants to make sure that her last year in her boring little town is one for the ages. But when George meets an older man that captures her attention, she may want to stop and savor her experiences; but what will her be willing to give up if they get caught. This book was better than I expected and I fell in lo...

Accurate representation of how I felt finishing this book:In a nut shell I finished this book last night. This book absolutely tore me apart. From about 78% on I was a complete mess and on the verge of tears if not crying. I am not ok. This book was amazing, but man my heart aches. Frances who goes by her middle name George has a lot going for her. She's popular, unattainable, well liked and has a group of close friends. Never one to fall in love...