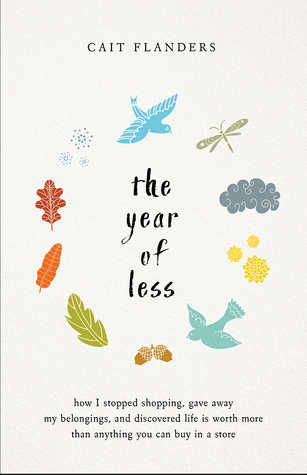 In her late twenties, Cait Flanders found herself stuck in the consumerism cycle that grips so many of us: earn more, buy more, want more, rinse, repeat. Even after she worked her way out of nearly $30,000 of consumer debt, her old habits took hold again. When she realized that nothing she was doing or buying was making her happy—only keeping her from meeting her goals—she decided to set herself a challenge: she would not shop for an entire ...
---
Reviews The Year of Less
Super quick read on a topic I'm interested in - how less can mean more. This book is more memoir than how-to and I was interested in her story and all the ways in which she cake to having and wanting less. Glad I read it. It's so much more than just a story of not shopping for a year.

This book is a courageous and bold memoir. Cait shares honestly her experiences on a shopping ban, but it becomes an illustration of how people can be pulled into believing they are not enough. I can't say enough good things!

I thought this was a good memoir of a year cutting back and being intentional. It's the process I'm going through currently (month 4) so I concur with the lessons learned and the process chosen. That said I listened to this on audio and there were more than a few times I felt like the author wrote 2 nearly identical sentences back to back to make a point. So while I won't give it 4 or 5 stars for writing, I appreciated the honesty and openn...

A beautifully written memoir and a very inspiring challenge--to clean out clutter and stop shopping for an entire year. Cait is unflinchingly honest and I am humbled by how much she shared about her struggles. Highly recommended for anyone who is interested in minimalism and memoirs.

This was a very simple book that didn't try to go very deep into the issues of consumerism and addiction. It floated on the surface and told a beautifully written story of one woman's attempt to be buy less, drink less, eat less and be more organized. I loved it. But at the same time, it highlighted all the things we aren't really and truly mindful of. E.g. This big machine in which we are only a tiny cog. The death of workers' rights, an...

An inherently less indulgent link: Julie & Julia. 😉 Warning: this is NOT a self-help book! It is a memoir and should be reviewed as such. I had to check how Cait Flanders categorized her book after the first few chapters and was pleased to confirm that she was in fact writing a memoir. (Although she does include a perfect little "how to" at the end of her journey in the epilogue.)I cringed when she started to say that she was a blogger –...

Gerade zu Jahresbeginn lese ich gern Erfahrungsberichte von normalen Menschen, die sich für ein Jahr einer besonderen Herausforderung gestellt haben.Cait Flanders, eine junge Frau um die 30, wurde online bekannt über ihre öffentliche Auseinandersetzung auf ihrem Blog mit ihren Schulden und ihrem Weg, diese innerhalb relativ kurzer Zeit zu begleichen."The Year of Less" beschreibt das Jahr, in dem sie sich die Aufgabe stellte, 365 Tage lang ...

When I first saw this book on Hoopla, I thought 'what does a 20-something girl who stopped shopping think she can tell me? First world problems'. Then I read the blurb and decided to read the book and I'm glad I did. She is young, but she's battled addiction, bad relationships, and debt and she definitely has something to say. I admire how she became sober and got herself out of debt, but the real ah-ha in this book for me was the mindful way she...

I'm going to be a bit biased toward this book because I've been a huge fan of the author forever (and have followed her blog for years and years), but I loved getting this in-depth perspective of a particularly life-changing year for her. Sure, I followed her shopping ban on her blog and remembered her mentioning several of the other things she was working on throughout that year, but to see it all in perspective and get a lot of the background o...

I seldom give a written review of a book any more unless it has touched me in some way. And this one has. In "The Year of Less" Cait Flanders tells the raw and touching story of the trials and challenges that led to her self-imposed year long shopping ban. It is a book that many of us can identify with, even though our personal challenges may be different from hers, the reason we mindlessly shop is often to fill a hole in our lives that can n...

This book ended up being pretty different than I thought it would be, but interesting and eye-opening. From Flanders' own story you can extrapolate bits about your own habits and tendencies, good and bad. I was surprised at how different the book felt from the blog in terms of subject matter, even as it touched upon things mentioned briefly in posts, and I thought that was great – nothing is worse than picking up a blogger's memoir, only to rea...

I love Cait Flanders' blog because she writes thoughtfully and honestly about ways she's consciously trying to improve her life. Her book is in the same vein, although it doesn't do the deep dive into topics the way I enjoy on her blog - it's really just a memoir about the year of her shopping ban. A nice read, with the same honesty I expect from Cait, although I missed the broader range of topics that she blogs about.

The title leads one to believe that this is a book about living with less. It is, however, a memoir about a twenty-something who struggles with overindulging in a variety of areas in her life. We hear about her alcoholism, her weight loss journey, her career moves, her romantic relationships, and her family. The information about the shopping ban is minimal. There are 8 pages at the end which outline some practical steps to declutter and live wit...

Raw, honest and full ideas for finding contentment without all the stuff. Cait has written a wonderful book about her journey with addictions (food, shopping, alcohol) and her year of buying almost nothing. While the book is written as a memoir, anyone interested in simplicity, minimalism or frugality will find many useful strategies and motivations in this book.

This book wasn't for me but I can see how it may be okay for others in need of a stuff slim down.

Thoughtfully dives into the emotional reasons we overspend. The author bares it all so we can ask ourselves the very same questions. Such an important read in our consumerist age.

I didn't know what to expect when I started reading this book. I've read Cait's blog for a few years and enjoy her writing and respect what she's been doing to better herself and her life. I was shocked to read about so many tumultuous ups and downs she'd experienced that weren't shared on her blog during the first year of the shopping ban. She's a great writer and told an engaging, tough to put down story about the events happening in her life. ...

I really needed to stop and take a moment before I said what I thought of this book. I listened to the audiobook (a first for me - never made it through an entire audiobook before).I don't want to make negative comments about the author's personal life or what she went through. It's her journey. But I did not know this would be a memoir, like many readers I thought it would be more of a guide to, well, living with less.Being that I do not have an...

What an amazing and incredible journey Flanders took to rid herself of the unnecessary to make room for what really matters most in life and create the life she wants. I commend and cheer her efforts. I really enjoyed this book and was sad during some of her challenges, but, like many of us, she had to go through life's challenges in order to know what really matters most. I love her comment that, one has to go without before one knows what is re...

Quick, easy read about a woman who stopped shopping for anything she didn't need for a year. I've read a lot of books about minimalism over the past few years, and continue to aspire to be more minimalist (I have a long way to go!) As far as minimalist memoirs, there are better ones out there. This one got kind of repetitive, yet didn't go into a lot of detail sometimes, either. I would have liked to have heard more about she decided to get...

I heard about Cait from a podcast I listen to call the Slow Home Podcast. I have recently started listening to her podcast (Honest Money Conversations). I was excited to read this book and surprised by her whole story since the podcasts I had listened to didn't quite tell the whole thing. I only wish the book was longer.

Ultimately, the message in this book was inspiring and relatable. It was clearly outlined and flowed nicely from beginning to end - there were times that I didn't care for too much detail (like which vegetables grew in what order in a family garden) but that's a tiny little piece of the whole puzzle

Her experiment would not be for me because I'm over here thinking about how much I like all my stuff and her tone is a little woe-is-me but an interesting read none the less!

I knew parts of the author's life from her blog before I started her book, but I loved the honesty, the writing, and the stories in this book. It's not a how-to, so don't expect it to be.

Great memoir. Very raw and related, and a true page turner.

Exactly what I was expecting - a relatable, insightful read.If you're already a fan of Cait's, this gives insight into what she went through during the first shopping ban, in much more detail than on the blog.If you're not a already a fan, you will be after reading this book.

I loved this book. I don't read a ton of memoirs, but Cait's telling of her story is remarkable in so many ways. She's vulnerable, humble, and honest about her struggles—yet, she still finds a way to make this book eminently practical in her telling of it all.Cait has a quote that I love toward the end of the book: "whenever you're thinking of binging, it's usually because some part of you or your life feels like it's lacking—an...

In her late 20s, Cait Flanders found herself in not too uncommon situation: trapped in a consumerist cycle, $30k in debt and professionally and personally, unfulfilled. So, she set herself a challenge: no shopping for an entire year.The resulting memoir, chronicled first on her blog Blonde on a Budget, follows her life for 12 months wherein she sought the ultimate goal: to become a more mindful consumer by only purchasing goods she had to have --...

This book is inspirational. It's not groundbreaking. We all know we spend money on things we don't need and some things we never use and we continue to do it.My husband and I have decided to cut back on our spending in 2018. So finding this book at the beginning of the year (having just been released) is serendipitous.She set forth her own rules for her spending ban, making allowances for things she already knew she needed and for things she need...