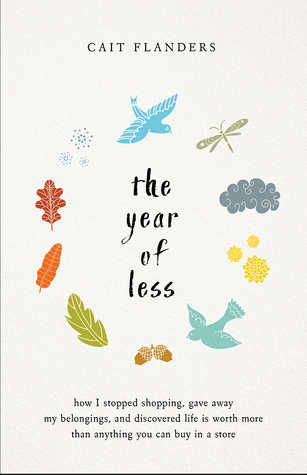 WALL STREET JOURNAL BESTSELLERIn her late twenties, Cait Flanders found herself stuck in the consumerism cycle that grips so many of us: earn more, buy more, want more, rinse, repeat. Even after she worked her way out of nearly $30,000 of consumer debt, her old habits took hold again. When she realized that nothing she was doing or buying was making her happy—only keeping her from meeting her goals—she decided to set herself a challenge: she...
---
Reviews The Year of Less
The title leads one to believe that this is a book about living with less. It is, however, a memoir about a twenty-something who struggles with overindulging in a variety of areas in her life. We hear about her alcoholism, her weight loss journey, her career moves, her romantic relationships, and her family. The information about the shopping ban is minimal. There are 8 pages at the end which outline some practical steps to declutter and live wit...

I got this audio on Hoopla and I have to say I'm pleasantly surprised. Cait Flanders delivers more of a memoir than a how-to guide and the result is a very honest look at some self-assigned lifestyle changes that brought about deep introspection, which led to healing, self-acceptance and deliberate decision making. 3.5 stars

This is not just a 'unclutter your stuff' kind of a book, but also about saving money and getting only things that matter, not just what you think others expect, or what you want to be in your 'ideal self' future. Yeah, it's a 'one-year of __' (doing something, living in another place/country etc.) book, but it's a good one of that kind, and you can trust that all information you can gather to apply on yourself will be there at the end of the boo...

I have been a big fan of Cait Flanders for over two years now. Her story of debt repayment and subsequent shopping ban inspired me to pay off my own debt between 2015-2016. This book was the most anticipated release for 2017 for me. I rarely buy books anymore but I pre-ordered the Kindle version since I wanted to support Cait and give back a snippet of what she's given me.I am very familiar with the ins and outs of Cait's shopping ban and I w...

Interesting concept... a whole year of not buying unnecessary items and clearing your home so it's not cluttered with the things you don't use regularly. It must have had some impact on me as I cleaned the cupboard under the sink half way through reading it! It's made me think hard about all the "stuff" I buy or stockpile that is unnecessary. I don't think I could do a year of this, but it's a fascinating book. There's a lot of stuff in it about ...

This was awful. You can start by not spending money on this book. 99 percent of it is self indulgent millennial whining. I picked it up because I had read The Life Changing Magic of Tidying Up and while parts of that book were kooky, it did help me declutter my house and think about what I wanted to keep. So I thought this book might help me tackle the front end of the problem. How do I learn to buy less stuff in the first place, such that I have...

Super quick read on a topic I'm interested in - how less can mean more. This book is more memoir than how-to and I was interested in her story and all the ways in which she cake to having and wanting less. Glad I read it. It's so much more than just a story of not shopping for a year.

3.0 StarsI love reading these "do something for a period of time" memoirs. However, this one had very little focus on the actual project of spending less money. Instead, the narrative discussed the author's recovery from binge eating and drinking as well as her relationships with family, friends and ex-boyfriends. Given the synopsis for this book, I was disappointed that the narrative was not more focused on her spending habits.

This book is a courageous and bold memoir. Cait shares honestly her experiences on a shopping ban, but it becomes an illustration of how people can be pulled into believing they are not enough. I can't say enough good things!

I really needed to stop and take a moment before I said what I thought of this book. I listened to the audiobook (a first for me - never made it through an entire audiobook before).I don't want to make negative comments about the author's personal life or what she went through. It's her journey. But I did not know this would be a memoir, like many readers I thought it would be more of a guide to, well, living with less.Being that I do not have an...

An inherently less indulgent Julie & Julia. 😉 Warning: this is NOT a self-help book! It is a memoir and should be reviewed as such. I had to check how Cait Flanders categorized her book after the first few chapters and was pleased to confirm that she was in fact writing a memoir. (Although she does include a perfect little "how to" at the end of her journey in the epilogue.)I cringed when she started to say that she was a blogger – I hav...

At the first glance the title seems to suggest that this is either a self help book, or a memoir. I think some who have reviewed it here were looking for a self help book, but it is actually a memoir with a tiny amount of self help ideas. As a memoir I thought it was interesting. It is about a young woman, Cait Flanders, that is dealing with her over consumption. I think we can call it that, but perhaps it is even more about finding what is impor...

I thought this was a good memoir of a year cutting back and being intentional. It's the process I'm going through currently (month 4) so I concur with the lessons learned and the process chosen. That said I listened to this on audio and there were more than a few times I felt like the author wrote 2 nearly identical sentences back to back to make a point. So while I won't give it 4 or 5 stars for writing, I appreciated the honesty and openn...

A beautifully written memoir and a very inspiring challenge--to clean out clutter and stop shopping for an entire year. Cait is unflinchingly honest and I am humbled by how much she shared about her struggles. Highly recommended for anyone who is interested in minimalism and memoirs.

As I strive to live a more minimalist lifestyle, I listened to The Year of Less: How I Stopped Shopping, Gave Away My Belongings, and Discovered Life is Worth More Than Anything You Can Buy in a Store. It is honest, straight forward and I give kudos to Cait Flanders who not only shared her shopping habits but bravely wrote about her struggles with alcoholism, a brief but destructive meeting with her birth father and the painful divorce of her par...

This was a very simple book that didn't try to go very deep into the issues of consumerism and addiction. It floated on the surface and told a beautifully written story of one woman's attempt to be buy less, drink less, eat less and be more organized. I loved it. But at the same time, it highlighted all the things we aren't really and truly mindful of. E.g. This big machine in which we are only a tiny cog. The death of workers' rights, an...

This book ended up being pretty different than I thought it would be, but interesting and eye-opening. From Flanders' own story you can extrapolate bits about your own habits and tendencies, good and bad. I was surprised at how different the book felt from the blog in terms of subject matter, even as it touched upon things mentioned briefly in posts, and I thought that was great – nothing is worse than picking up a blogger's memoir, only to rea...

In the year of less, Cait Flanders being newly sober, decides since nothing she is buying or doing was making her happy, so she decideds to stop shopping for an entire year. The book documents her trials and tribulations while doing this including her parents splitting up and changing relationships with her friends, coworkers and lovers. Doing this ban also made her realize that when tough times happened she couldn't turn to her usual vices to ...

This book was so well written, I felt she and I were talking and she was baring her soul. She does not make any excuses for her behavior (I still am shocked she drank her first drink at TWELVE!) and has come to realize if she had not gone through everything she would not have morphed into the beautiful soul she is now. This was a good read.

Format: audiobook + ebookI was looking for an inspiration/self-help book to continue guiding me through my simple living journey, but this book is far more of a memoir than its title and marketing indicate.There was very little in the way of direction inside these pages, save the short guide to completing a shopping ban included at the very back of the book. The memoir, however, was honest and interesting, which is what saved this book from a one...

When I first saw this book on Hoopla, I thought 'what does a 20-something girl who stopped shopping think she can tell me? First world problems'. Then I read the blurb and decided to read the book and I'm glad I did. She is young, but she's battled addiction, bad relationships, and debt and she definitely has something to say. I admire how she became sober and got herself out of debt, but the real ah-ha in this book for me was the mindful way she...

I was hoping to hear more about her shopping ban, but much of the book was focused on her relationship with alcohol and dealing with her parents' divorce. I had trouble connecting with aspects of her story, but did enjoy when she shared about her finances and what she discovered about herself through the ban.

This book is less of a how-to for starting your own shopping ban and more of a memoir and call to mindfulness. As a chronic shopper who has been working on facing my emotions rather than stuffing them by buying new things, so many things rang true from her shared experience. The biggest and best takeaway that Flanders laid out for readers is stopping to assess your emotional state when you're about to hit the purchase button or swipe your credi...

Gerade zu Jahresbeginn lese ich gern Erfahrungsberichte von normalen Menschen, die sich für ein Jahr einer besonderen Herausforderung gestellt haben.Cait Flanders, eine junge Frau um die 30, wurde online bekannt über ihre öffentliche Auseinandersetzung auf ihrem Blog mit ihren Schulden und ihrem Weg, diese innerhalb relativ kurzer Zeit zu begleichen."The Year of Less" beschreibt das Jahr, in dem sie sich die Aufgabe stellte, 365 Tage lang ...

I've been reading Cait Flanders' personal finance blog for a few years, on & off. Sometimes, when I feel guilty about my inability to manage my finances, I skip her posts in my feed reader & move on to whatever's next. Sometimes, I save up a bunch of her posts & read them all at once for a double dose of inspiration & reproach.When I saw that Cait had written her first book, I knew I had to get my hands on it - & that was before Vogue named it on...

I'm going to be a bit biased toward this book because I've been a huge fan of the author forever (and have followed her blog for years and years), but I loved getting this in-depth perspective of a particularly life-changing year for her. Sure, I followed her shopping ban on her blog and remembered her mentioning several of the other things she was working on throughout that year, but to see it all in perspective and get a lot of the background o...

This was one of the most poorly written, useless and superfluous book I've read in a long time. Not only is the author a whiny millennial with some very first world problems, she also seems to have no credentials except for a blog and a healthy following? This woman is much too entitled and the mere fact that she wrote this book proves that no one has told her that not everyone is interested in her story and that she isn't any more special th...

Here's a start to having less this year - skip this book. I think the only reason I finished it was because I was listening to the audiobook on Hoopla and was doing other things as well (it's a fairly fast go). I felt so mislead by the title - this is NOT a how-to book, or even a broader discussion of 21st century consumerism - it's a memoir from a self-absorbed millennial (but I repeat myself) about her short life of excesses. If you already kno...

Great little book with mindful budget managing tips and a lot about Cait. I enjoyed her journey. How she realized more about herself and why she consumed food, alcohol and shopping for stuff thru the shopping ban.I am 20 yrs older then her but found this aligned with my decluttering I have been doing all Jan 2018. I am still not done but this book gave me additional purpose and direction. Unlike Cait I choose not to sell much of what I am getting...

This isn't the minimalism, living with less book it proclaims to be. It's mostly a memoir about a 20-something year old who deals with alcoholism, binge eating, and a shopping addiction. And it's not very interesting, either. I skimmed over her details about that and her parent's divorce, it was just your average person's inability to cope with things. It would have been more interesting if she dove into why she felt she was driven to do these th...