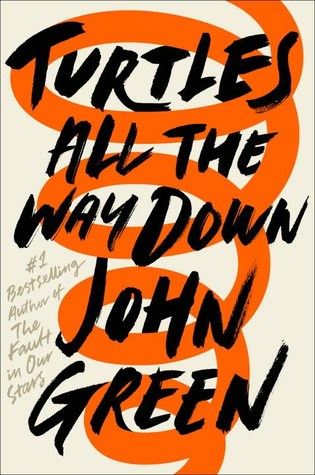 #1 bestselling author John Green returns with his first new novel since The Fault in Our Stars!Sixteen-year-old Aza never intended to pursue the mystery of fugitive billionaire Russell Pickett, but there's a hundred-thousand-dollar reward at stake and her Best and Most Fearless Friend, Daisy, is eager to investigate. So together, they navigate the short distance and broad divides that separate them from Russell Pickett's son, Davis.Aza is try...
---
Details Turtles All the Way Down
Title
Turtles All the Way Down
ISBN

9780525555360

Author

John Green

Release Date
Oct 10th, 2017
Publisher

Dutton Books for Young Readers

Language

English

Genre

Young Adult

,

Contemporary

,

Fiction

Rating
Reviews Turtles All the Way Down
"You're deflecting." I just stared at her. "You're right that self isn't simple, Aza. Maybe it's not even singular. Self is a plurality, but pluralities can also be integrated, right? Think of a rainbow. It's one arc of light, but also seven differently colored arcs of light." This is difficult to rate. Looking back, there were definitely certain aspects that I thought were done well, but I just didn't enjoy either the story or ...

I've been having a bad run with YA lately. I've loved it for so long that I persevere on, remembering that there are gems, that there are treasures, but increasingly I've found myself worried - have I grown out of it? Have I overdone it? Each novel seems to be repeating some unspoken pattern, or at least trying to make something new out of the same ingredients. It was with trepidation, then, that I wandered in to Turtles All The Way Down, t...

The ShortTrigger warnings: anxiety, OCDWriting: 5 starsCharacters: 4.75 starsPlot: 4.5 starsOriginality: 4 stars(all out of 5 stars)The LongIt's hard to believe I just read a new John Green (JG from now on) book. My mind can't really wrap around that. (Especially given where I was 5 years ago, not even knowing BookTube existed, now I can't imagine my life without BookTube and being Hailey in Bookland). But it was a pleasure to read his writing ag...

Even though I just finished this book, I already know it's one that will stick with me for years to come. I can't fully express how cathartic this book was. I finally saw parts of myself represented in a novel - the parts that I was ashamed of and pretended didn't exist. This is by far my favorite John Green novel. I can't say much more about this because I'm still sobbing over it. Just read it, please.

I'm speechless. It's stunning.

Not gonna lie, I'm tempted to flip right back to page 1 and read the book again. THAT NEVER HAPPENS TO ME.

4.5 STARS I REALLY REALLY ENJOYED THIS BOOK.If I leave this review blank for now, I may force myself to film a video review (which I really want to do!) hahah

This was ABSOLUTELY EXCELLENT and also gave me an existential crisis so thanks for that. I'm actually floored by how good it was. I mean, I haven't read a "new" John Green novel in forever, but this is worth the wait. I wasn't actually nervous going in. It's about mental health (#OWNVOICES I REMIND YOU) and missing persons and smol sad rich boys and everything about this just shouts that it's my kind of novel. It really really hit home so hard fo...