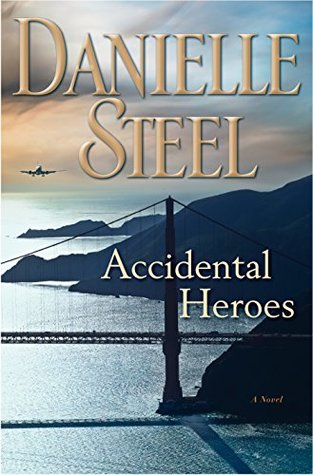 A decorated former Air Force pilot. A pregnant flight attendant. A dedicated TSA agent. The fates of these three, and many others, converge in Danielle Steel's gripping new novel—a heart-stopping thriller that engages ordinary men and women in the fight of their lives during a flight from New York to San Francisco. On a beautiful May morning at New York's John F. Kennedy airport, two planes have just departed for San Francisco—one a 757...
---
Details Accidental Heroes
Title
Accidental Heroes
Author

Danielle Steel

Release Date
Mar 20th, 2018
Publisher

Delacorte Press

Language

English

Genre

Fiction

,

Adult Fiction

Rating
Reviews Accidental Heroes
An entertaining, short read that is wrapped up with a pretty bow for the most part. I did like the plot even if it was predictable. It was like Sully but with a female veteran as the pilot hero. However, the drama of the lives of the supporting characters really brings entertainment to this book. So many different life situations going on in these characters. My quick and simple overall: a good, quick read by Danielle Steel that is very entertain...

I found this book very difficult to get into as there was too much information about the people in the story at the start of the book.When the story progressed it was really interesting but it took way too long to actually get to this part of the book.If I had not listened to the audiobook version of this story I honestly believe I would not have finished the book and would have missed the really great parts.This was a really different and unusua...

I literally could not put this down. The best book she has ever written in my opinion. There is so much mystery revolving around a flight from New York to San Francisco each page is building upon who is responsible that I could not stop reading. Then in the end there is love, sigh. She couldn't leave us without a touch of romance thrown in. Highly recommended!! BTW, first five star of 2018

With apologies to anyone who disagrees but rarely have I felt this negatively about any book in my entire life . . .Danielle Steel has done something quite out of the ordinary. She had a very interesting romantic notion about people becoming accidental heroes and tried making a thriller out of it. So did this best-selling author of romantic fiction and chick-lit succeed in turning it into a genuine suspense thriller as it is currently listed?No. ...

Finished in a day and nowhere near Ms. Steel's best. Lots of cliches and author profiling of characters. 3 of 10 stars

Sorry Danielle Steel, this one just didn't do it for me. DNF

A page turner! I couldn't put it down. A airport security finds a card that makes her feel like something awful might happen. She tells her supervisor who tells her it is nothing and to return to work.....but because of a nagging feeling she notifies security. Is the airplane that just took off going to have an incident or land without any problems. Normal people doing normal jobs and living their normal lives may be turned into heroes.

Possibly the worst-written book I've ever read. Just awful. The first chapter is entirely exposition dump, and it doesn't improve much from there. All telling, very little showing, it seems to violate almost every concept of competent writing known to man. The plot is extremely obvious, and the tying up of lose ends is roughly twice as long as it needs to be for a story of this length.

This might be my favorite book by Danielle Steel ever, and I have read them all.This was about what happens when a TSA agent finds a postcard in the bin at security.We see all the steps that are taken to make sure this is reviewed, and the passengers are safe.

Predictable Steel read. Everything is great, bad stuff happens, everything turns out great in the end. All wrapped up neatly in a bow. Good quick read. :)

This is another winner for Danielle Steel. I don't know how she keeps up the prolific pace of her writing, but I'm surely glad she does. I always feel good after I read one of her books, and this one was no different. Thank you Ms. Steel for making my day.

Wow! I used to be a big Steel fan but after awhile it seemed all her books were cut from the same mold and I stopped reading her. Then Accidental Heroes came along. I was hooked as soon as I read the blurb because I love airplane thrillers. What's more exciting than being thousands of feet in the air in virtually what is nothing more than a tin can, when you discover there's a problem and you and everyone aboard might be doomed to die! So I grabb...

Also Posted on For The Love of Fictional Worlds Disclaimer: A Physical Copy was provided via Pan Macmillan India in exchange for an honest review. The Thoughts, opinions & feelings expressed in the review are therefore, my own. Danielle Steel writes some amazing stories that have the effect of taking the reader into the lives of the characters and investing themselves into it. Accidental Heroes is one such story – this story about a diverse...

This is the first DS book I've picked up since I read Palomino years ago. I thought it might be fun and the story line intrigued me, having worked in the airline industry. Thankfully I borrowed it from our local library because I sure would be kicking myself if I'd paid for it.I expected the drawn out descriptions of everything, but I don't remember Ms. Steel writing so sloppily. Point of view changed within single paragraphs and one character ma...

Really enjoyable quick read. I liked it a lot. I felt it was a little predictable like a Lifetime movie. That being said, sometimes that just what we want. I really enjoyed the "feel good " feeling I got with this book. I came to really like a lot of the characters. Also, there were multiple plots going on. I sometimes find that confusing but, not this time. Or was really easy to follow and I enjoy the new romances and happily ever afters tha...

Very different story from all her other books. Still good though.

Full review @https://ecstaticyetchaotic.wordpress....Let me tell you something about Danielle Steel. She loves her characters. She makes sure each character runs a full circle, as in, is carefully built and maintained throughout the plot.'Accidental Heroes' is a book set partially on an airplane, and partially in the office of Homeland Security. It is based on the concept that, in stressful and scary situations, we meet and get to become hero...

You know those airport TV shows? Border Security, Aircrash Investigations, Blackbox? They're the sort of TV shows that always seem to be on and I always find myself quite easily sucked into them. Accidental Heroes is exactly like one of those TV shows. I've been suffering from an illness these last few weeks and was feeling a bit flat and headachy, wanting something to read but wanting it to be quick and engaging, rather than deep and contemp...

I could have read this book in one sitting, but stretched it out to two. All of Danielle Steel's books are great and this might have been the best she's written in awhile. It was about a plane heading to San Francisco from NYC. A TSA agent discovers a postcard in one of the bins than has a picture of the Golden Gate Bridge on one side and a warning on the other. One person contacts another and soon everyone's top priority is landing this plane sa...

I'm not much of a Danielle Steele fan. However, the description of this book sounded like something I would enjoy. Unfortunately, her writing style is too "Dick and Jane" for me-not sure how else to describe it. I was disappointed in the interaction between the characters. There was really very little drama, and it was very predictable. The book was downhill after the climax so I skimmed the last several chapters.

Different I truly enjoyed this book. It wasn't a typical DS romance. I did enjoy the "suspense" - so not a normal part of her writing. In the end romance wins and everything is tied up neatly with a pretty bow. Is it real life, no but who cares...I read fiction to escape.

I love to read Danielle Steel when I am pressed for time as her stories flow easily. There were a few times I closed to book to make sure it was a Danielle Steel book as it was of a different level of writing. I recommend this book to read. A real thriller.

Why I read this book? As it says in the title, by accident. I'm an audio-book hoarder, what can I say. It's not a bad book. It's not a good book by any means. It's a total waste of time kind of a book, like all books by Danielle Steel, but your time is your own, so waste it. Or don't. I, personally, sometimes need me some good time wasting. And what's always perfect about Steel's writing, it leaves nothing behind. Seriously, I've read more substa...

I've spent all these years steering clear of Danielle Steel novels, fairly convinced I wouldn't much care for them - and then this one came along with a fairly intriguing sounding premise and I thought What the hell, why not. Now I know why not: Cliché-laden, predictable, suffering from a choppy pace and graceless exposition dumps, stereotypes and cardboard characters galore, bland writing, and the whole thing just dragged on far too long after ...

another score for this author . Absolutely loved this book. From the very first chapter I was rooting for Bernice, a single mother out there trying to make a life for herself and her son. All the characters in this book intertwined with each other with their own lives been affected by outside forces never realizing that inside forces were controlling their lives. Ever when there are evil forces try to be bad, most people are good

I haven't read a Danielle Steel book in a long time, mostly because they were so badly written. I picked this one up and decided to read it because my son is TSA agent and I hear his work stories a lot. The book is not incredibly well written, but the subject matter is relevant to the world today. I easily read it in one sitting out on the deck.

A quick read. This book seemed very simplistic in how everyone survived and paired off in the end. It probably could have done without the last 3 chapters drawing everything out all neat and tidy and tying up loose ends.

Couldn't put this book down. One of Danielle Steel's best!