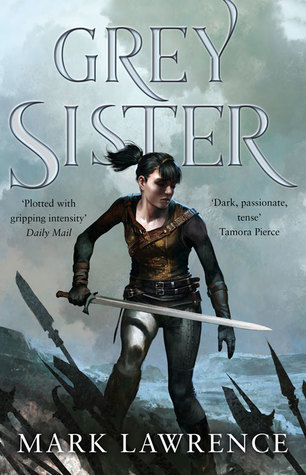 In Mystic Class Nona Grey begins to learn the secrets of the universe. But so often even the deepest truths just make our choices harder. Before she leaves the Convent of Sweet Mercy Nona must choose her path and take the red of a Martial Sister, the grey of a Sister of Discretion, the blue of a Mystic Sister or the simple black of a Bride of the Ancestor and a life of prayer and service.All that stands between her and these choices are the pride...
---
Details Grey Sister (Book of the Ancestor, #2)
Reviews Grey Sister (Book of the Ancestor, #2)
ARC provided by Penguin Random House in exchange for an honest review.1.) Red Sister ★★★★★ "But I must warn you, sister, that a sickness runs in me, and if you fashion yourself my enemy I will make a ruin of your life, for I am born of war." Grey Sister is such a wonderful addition to this world, and it was everything I wanted it to be and more. Mark Lawrence truly never disappoints, and Nona will always be one of my favorite prot...

I've never done one of those "book reveal" that seems so popular these days, so I thought I'd make an attempt at it for this one.Did I do it right?I figure since this book is like, all Harry Potter-ish, with an orphan girl learning about her magical talents, encountering rivals and making lifelong friendships along the way, my bunnies would make the perfect representative for this book. It's such a happy, cheerful, heartwarming book. Rainbows and...

Fanfreakingtastic! REVIEW TO COME LATER!

I received an advance reading copy of Grey Sister in exchange for an honest review. I would like to thank Mark Lawrence and Ace Books for this opportunity. The second entry within the Book of the Ancestor trilogy picks up events approximately two years after the exceptional and breathtaking finale of Red Sister. Nona Grey: the black-eyed and shadowless novice is still studying potions, blade-path, kingdom histories, thread-weaving, and all the ot...

All the goddamn stars!This was some of the best authoring I've ever seen.If you had any idea how lazy I've become with books that don't have pictures, then you would realize how unbelievable it was that I couldn't put this one down. As it is, you'll just have to take my word for it. I'm lazy. This was unputdownable.The Sisters of Sweet Mercy are back and they are kicking ass in their own various ways all over the place! I loved all the Sisters an...

Grey Sister might as well be the most well-written book I've read in my life. It's been two years since Nona Grey killed Raymel Tascis in the Corridor. Now she's back in the Convent of Sweet Mercy and the Mystic Class, training to join one of the four orders: Holy, Grey, Red, or Mystic Sister. But when an Inquisition arrives, Nona has trouble trying to hide two secrets that could get her expelled: A forbidden search of the stolen shipheart, and ...

Grey Sister brings us right back to Sweet Mercy, around two years after the gore stained climax of the first book, where Nona Grey and her new dark passenger dream of deadly punishments for murderer Yisht while continuing a life of relative normality within the convent walls. We're back where we were before, we're learning about thread-weaving, we're fighting with mean girls, we're spending time with friends. It's a moment of relative calm, wit...

4.25ish stars. I've been reading a lot of good books recently. Makes me want to read a gutter book just so I can skewer it in a review. This is a solid follow-up to Red Sister and is a worthy addition to the series even if it can't match the feeling of surprise that came from experiencing the refreshing novelty and creativity introduced in the first book for the first time. I was unsure about the first half-ish of the book. All of the petty middl...

5 walk the path StarsThat moment when you are happily surprised that not more of your favorite characters died, but reluctant because there is one more book and than means that they aren't safe yet and you know there is a bloodbath coming.OMG it is like Mark Lawrence has been the reader of book in a series before and thought 'man I hate all this recapping and I totally forgot who dude#6 was'. Well he saved me from any of those feelings by giv...

I still remember the way Prince of Fools took me by surprise following The Broken Empire trilogy and how I needed a little time to adjust to reading something so different from the same author. Both book series were very much character-driven. Jorg a merciless, broken, cold-blooded killer, but also fiercely intelligent and a philosopher at heart. Hence his tale, just like his worldview, became dark, gritty, dramatic, his observations clever and b...

Mark Lawrence's new Ancestor Series is a triumph. I enjoyed Red Sister but I feel like Grey Sister is its better in every way shape and form. This second book builds on the characters and the world in such huge leaps and bounds it makes the first book feel like merely a set up when in reality it was on, if not top of, every fantasy fan's Best of 2017 list.It's two years since the events of Red Sister and Nona is getting ready to take her fi...

[2.5 stars] I hate to say it, but I think Grey Sister suffered from middle-book syndrome.It kind of did the opposite of Red Sister, which started out slow and gained momentum. Grey Sister started out with a bang and engaged me with all the things I look for in a good fantasy. It was a nice continuation of the story that took place primarily in a school setting (I never get tired of school settings). There were also a lot of great character dynami...

Thanks to Netgalley and Berkley for providing me with an advanced copy in exchange for an honest review!Mark Lawrence, you've done it again. I raved about Red Sister (ps, thanks for sharing my blog post on your Facebook page! I got a bunch of views! WOOHOO!), well, because it was deserved. Like I said in my review for that, I struggle with high/epic/dark/true fantasy because it tends to be slower and harder for me to get into... and harder for me...

Red Sister was probably the best first in a series book I read last year so even if I try to lower my expectations when I read any book, I can't say they were none. The world enchanted me, the characters amazed me, and the plot entertained me quite a lot. While Grey Sister didn't disappoint, it pales in comparison with Red Sister.My memory was fuzzy when I started reading this book and Mark Lawrence provided a summary which was helpful, howev...

I got a review copy from NetGalley in return for an honest review."It is important, when killing a nun, to ensure that you bring an army of sufficient size. For Sister Thorn of the Sweet Mercy Convent Lano Tacsis brought two hundred men."That is the first line in Red Sister, and the line that made me fall in love with Mark Lawrence's book. Just like in Red Sister his writing is beautiful, almost poetic. Every word is chosen meticulously.The story...

This is the second book in the series, and I was very keen to get my hands on it after having read the first one...so much so, that I picked up the audiobook which is out in the UK earlier than the physical book. This once again follows the life of Nona Grey, the main protagonist from book #1. We pick up her story about 2 years after the ending of book one and we see her still as part of the deadly Nunnery and we follow her training and the way s...

4 of 5 stars at The BiblioSanctum https://bibliosanctum.com/2018/04/16/...The saga of Nona Grey continues in the second novel of the Book of the Ancestor series, Grey Sister. A couple of years have passed since the end of the first novel, and our protagonist finds herself advancing through the ranks at the Convent of Sweet Mercy, which has been her home since she was eight years old after being rescued from the hangman's noose by Abbess Glass. ...

Far too often I talk about how with a good book I don't feel like I'm reading but more imagine it like a movie in my mind and there are few authors whose skill and style enables me to see this movie in my mind as well as Mark Lawrence. His writing style is so elegant and descriptive without adding unnecessary words that take me out of that movie in my mind. Throughout his first six novels, set in the broken earth of the BE and TRQW series, yo...

"[…] I must warn you, sister, that a sickness runs in me, and if you fashion yourself my enemy I will make a ruin of your life, for I am born of war."I liked a lot Red Sister but this one I loved to pieces! It has it all: character development, worldbuilding, action, twists upon twists; I only slept 4 hours a night in the last couple of days but was totally worth it. Nona is still that little devil, her powers gradually increased, on par with...

Grey Sister follows on from Red Sister and is the second book in the Book of the Ancients series. It's set on a different world to Mark's previous two trilogies and benefits from creative world building that is both familiar, yet fresh, intriguing and exciting. At least to me, anyway.A strip of narrow land surrounded by huge (understatement) polar caps, anyone? Pretty new to me, that's for sure. There's similarities to our own histories r...

I received an eARC copy of this book through the Penguin First to Read program. Then, since school was bogging down my pleasure-reading time, I used an Audible credit to buy the audiobook once it became available. This was a great idea, because I was able to really devote some good listening time to one of my most looked-forward-to books of the year. Ever since loving Red Sister so much, I've been itching to get back into Nona's world. Without sp...

Whew, that took a while. I think it was a mistake to try and listen to this rather than read it. There's a lot going on in the book and I've been busy this week. I think I'll need to do a skim over to properly review this. I didn't take any notes while listening... also a mistake. Really liked it though :D

Those of you who read my review of Red Sister will know that the Book of the Ancestor series is the first time I've dipped my toe into Mark Lawrence's work. As such, I was curious to see how he handles the tricky middle book – this can be where things go astray for some writers, as positioning their pieces for a finale starts to become a priority. Grey Sister expands on the world and its inhabitants very well indeed, and it balances all the...

This is mostly a review of the author and a bit less of the book. Mild spoilers ahead (mora about feel than about plot).As a disclaimer, I'll say that I hate "school books". I don't like Harry Potter style books because they visit the same items and resolve them in the same way. The bully, the evil teacher, the love interest, the mentor teacher, etc... You could swap the names of the characters and it wouldn't change much.Also, english isn't my p...

You can find my review on my blog by clicking here.There is a lot to appreciate with Grey Sister. It is not only a testament to Mark Lawrence's expertise in storytelling, but also a product of his complex and multilayered imagination. Drawing upon his exquisite writing skills and his natural ability to reel the reader into a world that only he could fancy, this sequel to Red Sister—a masterpiece in itself—turned out to be a formidable insta...

What can I say except that I love this series? As it turns out, plenty.The world that Lawrence created continues to captivate. There is enough world-building sprinkled through that I just wanted to know more. Of course, the idea that the ice is closing on a dying planet, life only sustained through a falling moon/satellite is a terrifying and great one. I was intrigued from the onset, when this idea was introduced in Red Sister, and the expansion...

Mark Lawrence has done it again. Grey Sister is the phenomenal follow up to one of my favourite books of 2017, and I can say with certainty that fans of Red Sister won't be disappointed.As always, the prose is excellent, the protagonists are compelling, and the story never lacks for twists and turns (though the nature of the shifting POVs occasionally makes for a slightly disorienting reading experience). While I confess I felt the absence of the...

Thank you Ace/Penguin Random House for the arc in exchange for a honest review. Buddy reading with Melanie & it's already off to a great start cause Mark Lawrence is KING! & knows his loyal readers have been anticipating this read but its been a minute, his quick recap at the very beginning is a blessing! the fact that he says he does this so as to basically not have to feed us back book 1 is GOLD! Ok, I'm ready to be slllllllayyyyed now haha! .....