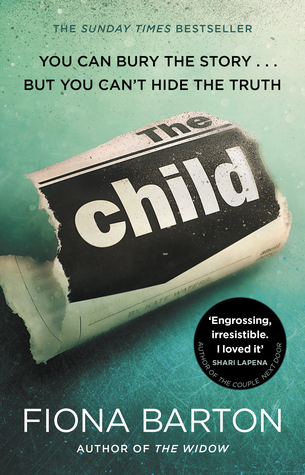 'An engrossing, irresistible story about the coming to light of a long-buried secret. When a paragraph in an evening newspaper reveals a decades-old tragedy, most readers barely give it a glance. But for three strangers it's impossible to ignore.For one woman, it's a reminder of the worst thing that ever happened to her.For another, it reveals the dangerous possibility that her darkest secret is about to be discovered.And for the third, a j...
---
Reviews The Child
3.5 STARS I was in the minority last year when Fiona Barton's The Widow was published; I didn't dislike it, but I felt it was another case of the media hyping up a book to unrealistic expectations and touting a killer twist that wasn't there. None of this is the author's fault; it was simply a mismatching of book to reader. When I saw The Child being promoted in a similar form this year, I decided to shut my eyes, close my ears, and go in...

With a very intriguing start "The Child" by Fiona Barton is one of those books you won't be able to put down until your curiosity has been sated.This is an excellent example of a slow burning, suspenseful psychological thriller with an ending that I didn't see coming and was completely unexpected.Baby Alice Irving goes missing from her maternity crib in hospital in 1970. Forty two years later a baby's skeleton is found by workmen on a building si...

When an old house is being demolished in London, the body of a small child is found buried. The story doesn't garner much attention at first, but journalist Kate Waters sees it and can't stop thinking about following up on it. As she begins to look into it a crime that happened decades ago is brought back to attention but things are more complicated than they appear at first. I personally didn't enjoy The Widow but I really enjoyed this one. I fe...

A traveling sister read with my Canadian sisters Norma and Brenda.This is one of my favorite styles of books. Multiple stories running parallel to one another until at some point they converge in an amazing, unpredictable way. This one absolutely lives up to that! It's told from the POV of three separate women. You know they're going to cross paths in some manner….you just don't know when or how. That's the beauty of this book! Kept me on m...

The Child' by Fiona Barton is a 2017 Berkley publication. Many of us who read "The Widow" have been eagerly anticipating Fiona Barton's next book.This novel centers on a missing child, in a way, but is more character driven, in my opinion.The atmosphere here is suspenseful, loaded with heavy emotions, and addictively readable. I couldn't put it down. The short chapters, which normally, is a huge pet peeve of mine, worked in this case, kee...

I really enjoyed the Widow by Fiona Barton, so I was looking forward to her next mystery. And I have no complaints. If not quite as good, it was still a very enjoyable mystery that I can heartily recommend. This is a fast paced mystery told from the perspective of four different women. Short punchy chapters keep this book moving right along. At first I was worried about keeping the women straight, but no problems there. Kate is a reporter who zer...

3.5 I had recently taken a break from thrillers, they had all started to blend together. Never read this authors first book either, but something about this book, the beautiful blue cover and the synopsis, enticed me enough to read. When an old building is being demolished the bones of a newborn are found. Kate, a journalist, trying to hold on in the new world of internet news, finds something about this discovery that makes her want to find the ...

THE CHILD is an intriguing mystery surrounding the discovery of a decades old baby skeleton at a construction site. Given the premise, I figured it would also be an emotional read, and it was that. The story is told in alternating perspectives of four women, the investigative reporter (who we first met in THE WIDOW) and three others whose lives will be upended by the discovery.Journalist Kate Waters is looking for her next big story when the baby...

The author Fiona Barton delivers again!Kate Waters is a journalist and the main character in this novel. She was also a character on the author's previous novel The Widow but you do not need to read it to be able to enjoy this book because the cases are completely unrelated.Ok, back to the story. The body of a newborn baby is found buried in a neighborhood undergoing construction. Kate develops an interest in the story and her uncanny work and o...

I absolutely adored Fiona Barton's debut novel, The Widow, so I was all-too eager to get my little hands on this one when I heard about The Child. Of course, that's the problem with not reading blindly, isn't it--with already being familiar with an author's previous works: you go in with expectations, undoubtedly heightening your expectations on the author, and it doesn't always pan out. When that happens, those reads seem to fall harder ...

The Child by Fiona Barton is a brand new novel of twisting psychological suspense from the author of the New York Times bestseller The Widow. While I enjoyed he Widow, I liked this one much better, as I found the characters more fully developed in The Child. Many twists and turns with a surprise ending."As an old house is demolished in a gentrifying section of London, a workman discovers a tiny skeleton, buried for years. For journalist Kate Wa...

Traveling Sisters Review by Norma with Brenda and KaceeyNorma's thoughts:  After reading The Widow by Fiona Barton I knew that I had to read this one right away. Although, I did enjoy The Widow I thought that this novel was a much better read!THE CHILD by FIONA BARTON is an engaging, suspenseful, and character-driven psychological thriller novel that was packed full of twists and suspense that had us on another guessing marathon, messaging bac...

Intriguing, disturbing, and gritty!This is a character-driven psychological thriller that reminds us that secrets from the past often find their way to the surface no matter how well they are hidden or buried.It is, ultimately, a story about abuse, neglect, manipulation, sexual deviance, deception, heartbreak, lies and familial dynamics.The writing is suspenseful and twisty. The characters are multi-layered, flawed and vulnerable. And the plot, a...

Emma, Angela, Jude and Kate. An infant's skeleton is found as an old house is demolished. It seems like it has been buried for many years, maybe decades. All these women take notice when it becomes newspaper article.Kate is a journalist. She decides to do a full-length article with follow up ... who does this infant belong to? How long has she been there? Why and how did it come to be buried?Angela's newborn daughter was stolen from her hospital ...

4.5/5 stars!!!! Find my full review here: http://crimebythebook.com/blog/2017/4...I enjoyed this one even more than Fiona's debut, THE WIDOW. It has a fantastic cast of characters, and a killer plot twist that I never saw coming!! It's definitely a bit of a slower read at the beginning, but your patience will absolutely be rewarded. Loved this one!!

I liked this a lot better than The Widow, but I did guess the ending quite early on, so an aspect of suspense was missing a little. Still, an engaging story and I would certainly read this author in the future!Find more reviews and bookish fun at http://www.princessandpen.com

A tiny skeleton is discovered at a construction site in a suburb outside of London. The discovery was made during excavation for updated homes. Kate Waters is a newspaper journalist and reads about this riveting story. It has been two years since she has had a big feature and she is intrigued by the article. She can't stop thinking about what might have happened to this child. As Kate investigates the story, she seeks information about former r...

Out on June 27th An enjoyable mystery from various perspectives. Emma, Angela, Kate, and Jude. And the body of a child found during an demolition. Who is this child and how is he related to the various narrators. The plot is fast and truly a page turner. It wasn't a whodonit as much as a whydonit. I think this book will follow the commercial success of The Widow.

For fans of Fiona Barton's debut thriller The Widow, you will be happy to see that journalist Kate Waters is back and has found her next big story: The skeleton of a baby has been discovered at a construction site. The only evidence the police have to go on are the remnants of shredded paper that the skeleton was wrapped up. As the story starts to unfold, new characters are introduced. each with their own dedicated chapters and stories to share.A...

This novel is told from four women's perspectives Emma, Angela, Kate, and Jude and makes for a fast paced story with lots of twists. When a house is demolished the tiny skeleton of a child is discovered and Kate who is a journalist decides to try and uncover the story behind the remains. Kate discovers a connection to a crime that occurred many years ago when a newborn baby was stolen from the maternity ward in a local hospital and was never foun...

...4+ Stars....Really enjoyed my first Fiona Barton novel.....and Oh Boy!.....It's a series!...THE CHILD is told from four different perspectives with short chapters that flow smoothly making for a very quick and engrossing read.....and don't worry about keeping track of the players as you will soon find it unnecessary....Kate Waters is a journalist who knows her stuff...and has a conscience. On the lookout for a newsworthy story for The Daily Po...

I had read The Widow by Fiona Barton and was really looking forward to reading her new book The Child and I was not disappointed. I really, enjoyed this book, it had quite a few twists and turns. I thought that the story was well thought out and kept me engrossed. It was a real page turner. I would like to thank NetGalley for my e-copy in exchange for an honest review.

"The problem is that a secret takes on a life of its own over time. I used to believe if I didn't think about what happened, it would shrivel and die. But it didn't. It sits in the middle of a growing tangle of lies and fabrications, like a fat fly trapped in a spider's web." Oh, this quote is what makes The Child such an engaging story. Four POV's present multiple secrets and plenty of avenues for this mystery to go...and where it we...

The Child by Fiona Barton is a wonderful mystery read with some great twists and turns.A baby's skeleton was found in a construction site and was named as the "Building Site Baby". Reporter Kate Waters decides to investigate the story. The book is narrated with different POV's , Angela whose baby was kidnapped at the maternity ward ,Emma who is hiding a secret for a very long time and Jude , Emma's self-involved mother. During Kate's ...

An unsolved mystery resurfaced when a baby's skeleton was found at a building site.Along with the skeleton, three main characters emerge too. Kate is a reporter investigating the story. Emma is a nervous adult who became intrigued as well as possessed when she sees the story of the baby. Angela is the mother whose baby disappeared more than 40 years ago never to be found.THE CHILD took a while to get interesting simply because it was a bit slow, ...

3.5 starsLike many print journalists in the internet age, Kate Waters - a reporter for the 'London Daily Post' - is anxious about her employment. The paper is slated to let some reporters go, and Kate - wanting job security - needs a good story to impress her boss. Hence, when Kate learns that an infant's bones were dug up at a London excavation site, she thinks it's just the ticket. Kate proceeds to investigate the incident, with an eye to publi...

For all my reviews, visit my blog at http://ladyjbookishnook.blogspot.com My Review I totally LOVED The Child by Fiona Barton. This mysterious and suspenseful story unfolds over a period of about a year (2012-2013), with flashbacks added from the 1970's and 80's. Each chapter alternates between four characters: Emma, Kate, Angela, and Jude.Emma is the main character and her chapters are told in first person point of view. Emma is a troubled...

I devoured this book in a single day. When the bones of a baby are found during an excavation, journalist Kate thinks there is a story there, even if finding who the mother was will be exceedingly difficult. Angela, whose baby was stolen from her years ago, is certain that the baby is hers, and Emma, who battles a mood disorder and has been treated for mental illness, reads everything about the remains obsessively.Told from multiple points of vie...

A satisfying page-turner! The short chapters and multiple perspectives kept me engaged and up until the wee hours finishing the book. The story opens when a tiny skeleton is found during excavation of a building site. The book is told from the perspective of four people: the journalist Kate, Emma and her mother Jude who used to live in the neighborhood where the skeleton was found, and Angela, whose baby was stolen from the maternity ward many ye...

Check out my GIVEAWAY for this book at Lit·Wit·Wine·Dine.The Child was a quick and enjoyable read from start to finish. It's told from the perspective of four different woman and differs somewhat from many multiple-perspective books in that only one is narrated in the first person. This gives the book a bit of an unreliable narrator feel, which is something I loved.The characters are well thought-out. The author gave just enough to make me f...