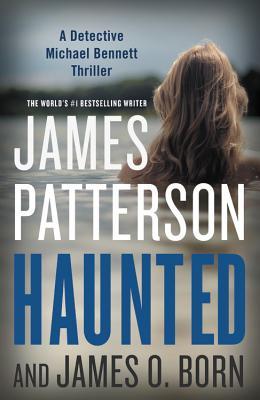 #1 NEW YORK TIMES BESTSELLING SERIESDetective Michael Bennett and his family are about to be haunted...by a father's worst nightmare--the signs he should have seen and a son's desperate cry for help. Reeling from a crisis that would destroy lesser families, the Bennetts escape New York for a much-needed vacation. An idyllic country town in the Maine woods is haunted...by an epidemic emptying its streets and preying on its youth. Turns out the vac...
---
Details Haunted
Reviews Haunted
James O. Born is again working alongside James Patterson on the popular Michael Bennett series. While Detective Bennett has made a name for himself, both as a cop and the father of a massive brood, he is not immune to personal struggles. When his son, Brian, is arrested for possession and distribution of narcotics, Bennett does all he can to climb the ladder. However, Brian knows all too well that 'snitches get stitches' and keeps a low profi...

This is the sixth James Patterson book that I have read so this year. I don't know whether that is good or bad, but I get them from the library because I don't find him good enough to buy and keep in my library. He's mind candy – simple, fast-paced, detective and mystery oriented adventures that can be read in about two to three days and easily left behind. Nice escapism, but nothing super memorable.The first thing that I noticed was the ...

Now I am torn between which installment was my favorite, Alert or Haunted. I guess I can break it down like this. Alert was my favorite crime plot installment but Haunted was my favorite Bennett personal life plot. I was so enthralled in this book that I stayed up till 3 am to finish it last night. I cannot wait for the next Michael B. book! I am still upset about the turn Brian took between Bullseye and Haunted. That was drastic to say the least...

I love Michael Bennett and Danny Mastrogorgio is an unbelievably talented narrator. Patterson books are always an entreating listen.

I actually liked this one from James Patterson. It shows the drug problem that can help any where.

Finally!!! Patterson and Born bring back a full length installment of my favorite family the Bennett's. Shock starts with the first chapter and continues through the whole book keeping my ears open through the whole night!! Ledwidge brings Mike Bennett's voice back as the only way I can imagine him or Shameus now. I don't think I could change a thing, especially with Mary Catherine and Sadie added to the mix!!

I lost interest in this series- which up to that point Bennett was my top five favorite series- around the time the Bennetts disappeared to the country. I love Shamus I thought he was so funny and wonder if he is still alive but have just not been able to get through any of these books lately to find out. This book was no exception. It starts out too slowly and just did not grip me like those written before they went into hiding. I can always tel...

Michael Bennett is my favorite Patterson character. I thought the book started out strong, but once he got to Maine it got a little "meh".

This one was terrible in my opinion. Could've been written by a middle school student. It was a very boring story, and seeing as how it was a Michael Bennett novel, I was even more disappointed in it since this particular series was one that I'd always looked forward to reading. Not anymore.

Another good Michael Bennett read.....

I've read several books by James Patterson prior so I will offer honest review as it's hit or miss with his work for me even though I respect and admire him for not just his writing but his humanity towards others and his generous gifts to others. With this said, it must be noted that Haunted is co authored with James O'Born. This may or may not be important to readers as his past nine in the Michael Bennett series were authored with Howard Rough...

A nice installment in the Michael Bennett series.

As I have said before James Patterson books are either a hit or a miss and this one was definitely a hit. I really enjoyed seeing the storyline develop and seeing more about Detective Bennett and his family. They are unique and I love how they are not perfect.

I bought this book at a book store. I enjoyed reading it. It had a good story to it. I liked the variety of characters in it. I look forward to the next book in this series.

HauntedThis book kind of hit home. This has been a good series since the beginning but it has gotten a lot better as it goes on. I enjoy how it combines real life problems with Detective Bennett's family. It shows that drugs and prison can reach any family even a police officers. Great series.

This book has more meat on its bones than the last couple to have rolled off the Patterson assembly line.I liked it.

The Marines are an elite military group. Their training is high caliber, and when pushed their skills are lethal. Shelly learns that games of death are played, and chooses to help put an end to them. The perpetrators think this is an easy win. Sometimes you get what you ask for. Looks can be deceiving.

Not a bad one in this series but they just seem as tho they're getting very repetitive.

This was a very disappointing and difficult read for me. At one time, I was one of the biggest Patterson fans. Little by little over the years I've stopped reading everything but the Cross and Bennett series. After this read, I may let this series go by the wayside too. Not sure if it was James O. Born as a new co-author but the first half of this book was beyond boring compared to previous books in this series. Some chapters were so poorly wri...

I always enjoy the Michael Bennett series. This one was no exception. As always with Patterson, you can expect a fast paced exciting read with a few surprises and family fun. Like how his family's wholesomeness is combined with grizzly crimes. Unique approach.

For complete review check out my blog at https://booksaplentybookreviews.blogs...

WOW! A vacation for the main character, Michael Bennett and family-does not last long but the plot, drugs, jail, and a ring will make the reader turn the pages quickly.

BoringVery slow build up . Boring story no flow,disjointed, a lot of separate parts,no connections. I could almost tell which was Patterson writing,which was someone else. It read like JP wanted to make a statement about the evil of drugs,and tried to do it in novel form.Failed. Did not like this one AT ALL!!

I would have rated this five stars but Patterson and/or his co-author do a lot of body-shaming in this book that I did not appreciate.

Good, but better at the end than the beginning. Started out in one direction then turned to another but James tied it all together in the end. seems to be a running theme in books I have read lately.I do like the style of writing with short chapters by this author.

I really enjoyed the book, however it did not hold my attention like other James Patterson novels normally do. I would probably recommend other books by him first.

Another great book with the Michael Bennet family.

Detective Bennett can't go on vacation without solving a criminal case. This time, he's not in New York; Maine is the location. Unfortunately, this story didn't have much of an appeal to me. It takes a detective from another state to resolve the crime? Especially when the detective in Maine was not only a former detective in New York but also Detective Bennett's old partner? I don't think so. The title didn't appeal to me...should hav...

This book hits home on some levels; however, I want more action from a Patterson read...or, if talking family, more depth needs to be given to character development within the family. I guess the Michael Bennett stories aren't really for me.