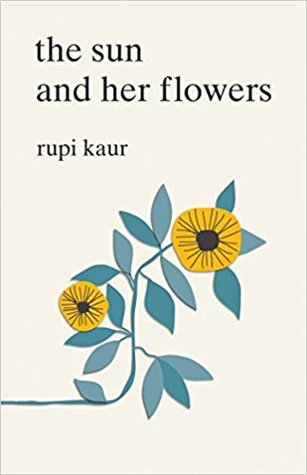 From Rupi Kaur, the #1 New York Times bestselling author of milk and honey, comes her long-awaited second collection of poetry. A vibrant and transcendent journey about growth and healing. Ancestry and honoring one's roots. Expatriation and rising up to find a home within yourself.Divided into five chapters and illustrated by Kaur, the sun and her flowers is a journey of wilting, falling, rooting, rising, and blooming. A celebration of love in ...
---
Details The Sun and Her Flowers
Title
The Sun and Her Flowers
ISBN

9781449486792

Author

Rupi Kaur

Release Date
Oct 3rd, 2017
Publisher

Andrews McMeel Publishing

Language

English

Genre

Poetry

,

Feminism

,

Nonfiction

Rating
Reviews The Sun and Her Flowers
*Thank you so much to Indigo for surprising me with a copy of this!*I never read Milk & Honey. It just seemed like such a fad thing, I had no interest in it. I tend to prefer traditional poetry. It's just my inner English major coming out I suppose! That being said, I enjoyed this more than I had expected. I didn't love the whole thing, but there were some poems that I really loved. The poetic style is quite simplistic and some quotes I felt like...

I don't know where to begin. Listen, as a Punjabi woman of course I gave Rupi a try - that's what we brown girls do, we hold each other up and support each other like crazy because who else will? However, I think we should also be able to speak up when the work just doesn't cut it. Being critical is simply tough love - so don't be so quick to dismiss my negative feeback.First of all, half of this book are one-liners from her first book, and most ...

Rupi, you have my heart ❤ beautifully written and ohhh the art :') Rupi, you have my heart ❤️ beautifully written and ohhh the art :')

This long-awaited second collection of poetry by Rupi Kaur made waves; it was a ride brimming with of every kind of emotion imaginable. Divided into five chapters and illustrated by Kaur, the sun and her flowers is a vibrant and transcendent journey about growth and healing. Ancestry and honoring one's roots. Expatriation and rising up to find a home within yourself.Kaur's voice is as audacious and brave as ever. She nails to perfection t...

Beautiful... The range of emotions are all felt ... sadness, anger, loss, grief, pride, guilt, fear, nervousness, shame, joy, surprise, love ....These stories/ poems are heartfelt... rupi kaur is a lovely gift to the world. "for so long i was lost in a place where there was no sun, where there grew no flowers. but something i loved would emerge and bring me to life again". I love "Milk and Honey"... and I equally love "the sun and her f...

4.5 StarsWow. Let me say I had low expectations going into this, but I was so wrong. Backstory: I'm not a fan of milk & honey. It's not a style I enjoy at all, and the entire book just felt too Tumblr and cheesy and simplistic. this blew me away. it's so different, fresh, and jaw-dropping.it's interesting to see how her writing has grown and evolved. there are very few short poems (unlike m&h), which i was thankful for, because in m&h it seemed...

This was really beautiful and brutal! I totally confess I haven't read poetry in like...forever. I'm kind of terrified of it?! I generally don't "get it" and spent my entire highschool life learning to sprint in order to get away from it. Tbh I'm a great sprinter now so things work out wow go me. However, I really did want to give this a go when I was sent it for review and I'm really really glad I did! It's like so empowering and the words were ...

[Edit: had to change my rating to 5 stars]Rupi Kaur does it once again. Her poetry is blooming. Her words hit home as they always do. I mean, there's a reason why there's a surge in poetry books being sold now. She's the reason. I love what she advocates in her poetry collections, what she stands for. How it is told in a format of stages, of growth. Following on from her previous collection (not that it is a sequel, but the format and themes are ...

Am I reading this book bc my reading challenge is getting a little out of control??? Psshshhhhh no, of course not why would you think something so preposterous ????Anyways so I read Milk and Honey last year and I sorta loved it and when I HEARD there was another one I was like yes this woman can write gimme some moreAnd that's what this book isBut its better than milk and honey imo why is it that when the story endswe begin to feel all of it t...

Beautiful book. Loved that there were longer pieces in this one and that the book was thicker in general. Wonderful illustrations as always though I have to say that since she has used drawings that were quite similar to some in her first book, I kinda got confused and thought for a moment that she has reused some of her old poems too. (I hope I make sense). Definitely gonna keep this book on my nightstand 😊⭐ Beautiful book. Loved that the...

"You're everywhere Except right here And it hurts."

Rupi Kaur has again delivered a palpable collection of perspective on varying issues of significance that range from love to heartbreak and all the things in between. I leave this experience feeling grateful, beautiful, and incredibly empowered. I am in love with this woman's writing.Note: There are a few repeated poems from Milk and Honey but much of this material felt very fresh. My favorite quote: One of my many favorite poems:i reduced my bod...

I hadn't read Milk and Honey so came to this book with no preconceived expectations. As a big fan of poetry I love to find new poets who inspire me and make me question my own view of the World. I enjoy reading poems that are hard hitting and don't shy away from the brutality of the World today. Rupi's poems in this her second book are written with love and from the heart. The offer a glimpse into the life Rupi has lead and the trials and tribula...

5 wilting. falling. rooting. rising. and blooming. STARS Me dio mas de lo que esperaba, más positivo, y sensible. No tan crudo como Honey and Milk, pero especial y hermoso. Una de las cosas que me fastidian de la poesía, es que la mayoría trate de enamorarse y corazones rotos. Y no quiero decir que en este libro no tengamos poemas sobre el amor y lo difícil que es sobrellevar una relación romántica, pero con el estilo único de Rupi, si m...

it isn't what we left behind that breaks me it's what we could've built had we stayed.Grief, self abandoment, the bond between a child and her parents, girl power, and respecting the generations that came before are all themes of the second collection of poetry by Rupi Kaur. Recently I read the poet's debut collection Milk and Honey and I became spell bound by her writing. this place makes me the kind of exhausted that has nothing to do with sl...

The Sun and Her Flowers is my anticipated poetry book this year by the one and only Rupi Kaur. Her poems are relatable and exceptionally written. This collection is divided into five chapters depending on the topic. There's love, relationships, racism, grief, refugees, empowering women etc. and my personal favorite is about self-love. It's straightforward and successfully stirred my emotions. Here are my favorites in this collection:we need more ...

This review was brought to you by the best Real Housewives gifs on giphy.com.Let me start off by saying that I am not a fan of Rupi Kaur's milk and honey; HOWEVER, being the forgiving person that I am, I have decided to give her work a second chance.Warning: The gifs that you are about to see are real reactions to the poems I just read.Alrighty, here we go:i live for that first second in the morningwhen i am still half-consciousi hear the humming...

I don't have the words to describe how impacted I am by "The sun and her flowers." Completely overcome. I hope this serves as testament enough.

I don't know, it really wasn't that impressive.

I have so much respect and admiration for Rupi Kaur.I feel like she gets me, she gets what people go through and she's able to put into words our exact feelings. She just has magic in her fingers.My favourite parts were the one about immigration and colonialisation, and the one about feminism of course, they were so powerful I felt like crying more than once.they convinced mei only had a few good years leftbefore i was replaced by a girl younger ...

her 2nd book and still she has no grasp of poetic language. she writes aphorisms that people like because they're relateable, but they are intellectually and emotionally insincere. an excellent businesswoman but a terrible writer. I would suggest rupi actually sit down and read some poetry once in a while, but I doubt she'd bother with that. her illustrations are alright though.

Okay but honestly what's up with Rupi Kaur's uncanny ability to make me cry every time?? I don't cry easily alright but her poems are seriously something - they just hit me right in the feels and out come the fat tears. But seriously, if you haven't picked this up yet or are planning to soon, please go do so asap because every girl needs to read this book. These poems tell tales of grief, self-love, belonging and change; even though I found that ...

Since I loved Rupi Kaur's previous poetry collection Milk & Honey so much, I was afraid this book could never top that. But I was (gladly) wrong. This book surpassed my (pretty high) expectations and I will forever be astounded how at times Rupi can say so much with so little words, and evoke a whole arrange of feelings. Utterly beautiful. there isnothing left to worry aboutthe sun and her flowers are here. - Rupi Kaur

Actual Rating: 3.25 starsThis was definitely better than Milk and honey but it was somewhat repetitive!I kind of have a feeling that Rupi should write a novel in her writing style, She reminds me of Tahereh Mafi's style that can work better as poetic writing rather than Poem, I don't know if I am making much sense but that's how I feel!

Probably one of most inspiring and raw books I have read about being a woman. I have felt helpless at times and the poetry here encompasses that and so much more. It takes about huge topics that effect us today. Feminism, racism, immigration, abuse, and overcoming all the negative. Everybody should read this.This Canadian author has inspired me.Note: I have not read her first book milk and honey.

Well....for me this was at least better than milk & honey, but I have to admit I still just don't think her poetry is my jam. \_(ツ)_/ Well....for me this was at least better than milk & honey, but I have to admit I still just don't think her poetry is my jam. ¯\_(ツ)_/¯

"my godis not as unreachable asthey'd like you to thinkmy god is beating inside us infinitely" Rupi Kaur's writing has definitely evolved.Any of you who read my review of Milk and Honey will know that I was not a big fan of her short poetry. I found it underdeveloped and therefore slightly underwhelming. Rest assured that this collection goes far deeper; rather than short (and possibly plagiarized) thoughts, Kaur expands on her thoughts and r...

I have never read poetry like this. It had me smiling and sometimes frowning in recognition. It had me misty eyed too.Rupi Kaur is a VERY talented writer.Milk and Honey next.