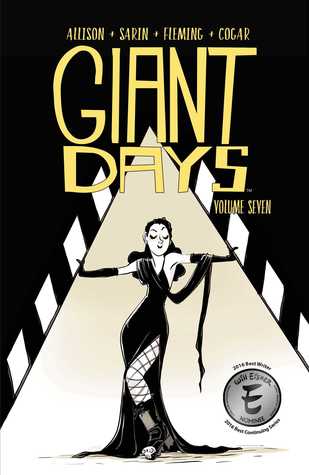 Esther, Susan, and Daisy continue to face the rigors of young adulthood in this Eisner-nominated series.Fast friends Susan, Daisy, and Esther continue their second year at Sheffield University, and these are formative times, indeed. Education and looking ahead to the future isn't all that college holds in-store for these ladies--grocery store protests, family reunions, and even an MMORPG wedding are all on this semester's docket.  John Allis...
---
Details Giant Days, Vol. 7
Reviews Giant Days, Vol. 7
I've just emerged from the longest dry spell of reading any quality books I'd rate four stars or above in years - it's been over a MONTH! So thank goodness that a new Giant Days arc drops just when I think I've got anhedonia. Seven - SEVEN! - books in and this title is still first class all the way. HOW ARE YOU DOING THIS, YOU MAD GENIUS JOHN ALLISON!!!?! Seriously, no other comics series I've read has been this consistently good. In Vo...

Another fantastic volume of Giant Days. This is fast becoming the comicbook I look forward to reading the most each month. It's always hilarious and Max Sarin's artwork gets better with every issue. Highly recommended.

I freakin' love this series.