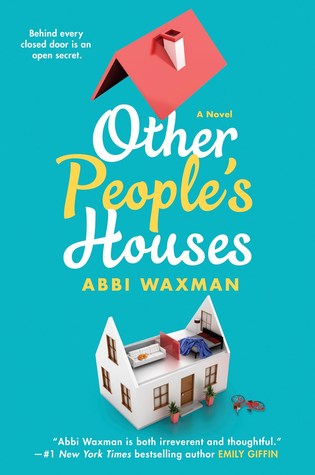 "Abbi Waxman is both irreverent and thoughtful."--#1 New York Times bestselling author Emily GiffinNamed A Highly Anticipated Book for 2018 by InStyle.com, Elite Daily, and Hello Giggles!The author of The Garden of Small Beginnings returns with a hilarious and poignant new novel about four families, their neighborhood carpool, and the affair that changes everything.At any given moment in other people's houses, you can find...repressed hopes and d...
---
Details Other People's Houses
Title
Other People's Houses
Author

Abbi Waxman

Release Date
Apr 3rd, 2018
Publisher

Berkley

Genre

Fiction

,

Humor

,

Contemporary

Rating
Reviews Other People's Houses
3.5 starsOther People's Houses is an aptly titled novel about parenthood, marriage, family, and friendship. There's also a lot of gossip, drama, and snarkiness! It's hard to write a summary due to multiple POVs and plotlines, so I am just going to focus on the main ones.Frances, or "Saint Frances" as some of the bitchy soccer moms refer to her, is the main voice of the novel. Frances runs the neighborhood carpool, happily carting off t...

4.5 Wonderful and Snarky stars 🌟🌟🌟🌟.5From the minute I picked up this book I was sucked into the lives of these characters.... Abbi Waxman did a phenomenal job of bringing to life these characters..... they were so real, so relatable, so compelling.... as a mother of three living in Southern California, who live through the PTA,AYSO, and a teenage daughter.... I found so much of this book so relevant and laughably true.... The scene i...

4.5 stars! Happy pub day to Abbi Waxman and Berkley!I have not laughed out loud this much and this loud at a book in who knows how long. One hilarious line after another. I bow down to your comedic delivery, Ms. Abbi Waxman. She has taken some serious topics and added some light to them, well done. I found the central character of Frances to be my favorite - she was absolutely hilarious, and I kinda wish she was a real person because I would want...

3.5 Charming and so much fun, but not without it's serious side and some devastating consequences. What goes on behind the doors of the families in your neighborhood? Behind the facade of the perfect marriage, the woman who is always meticulously groomed, the one who always seems to have it all together? In this neighborhood, filled with mixed couples, all with one child or more, there is apparently much going on behind the scenes. Ones secret is...

I think we've all wondered what goes on inside our neighbor's houses, and as the long-time car pool mother for her block, Frances Bloom knows and sees a lot of her neighbor's secrets (sometimes much more than she wants!) Abbi Waxman's new novel, "Other People's Houses" takes us inside these houses and relationships, primarily through the viewpoint of Frances. She's a wise and witty woman who frequently finds herself getting more i...

Do we really need another neighborhood book that focuses on the domestic dramas of the people who live there? As it turns out, yes we do! Especially one as irreverent and wickedly funny as this one. The focus is on four families and told mainly from the point of view of Frances, the neighborhood's car pool mom. She's the woman you'd want as your best friend. Nicknamed St. Frances, she's always ready to help anyone in need and puts everyon...

I know what you're thinking... another neighborhood book?!No.. ladies and gents what a deliciously addictive novel about a suburban neighborhood in the city of Los Angeles focusing on four families.What more can you want from a novel?! Gossip, lies, secrets and humor ALL in one! Let's meet our main character Frances Bloom. She is the "carpool" mom that takes all the kids to school. One morning, she accidentally walks in on one of her neighbors ha...

Brutally honest, quirky, and hilarious. This book takes you deep into the lives of several family units in one neighborhood. Often sweet, generally funny, occasionally sad, but always interesting. If you're craving some domestic drama that will make you laugh and really think about relationships, this might be for you. For a lot of readers, they'll recognize themselves in some of the characters. As I'm childfree, it was actually a nice bit of esc...

Other People's Houses is a domestically delicious drama taking place on a suburban street in Los Angeles focusing on four families. It starts off fun right away with a cast of characters and a cute drawing of the map of the neighborhood. Frances Bloom is the "car pool mom" and narrator of the story. One morning she walks in on her neighbor in the midst of an extramarital affair. As word begins to circulate, all of the neighbors begin questioning ...

First of all, I'd like to thank Elisha Katz at Berkley Publishing Group for providing me with an arc paperback copy of this new book which will be on sale 4/3/18. This novel is a delight: witty, laugh-out-loud funny, insightful and even a little painful at times. Have you ever wondered what goes on behind closed doors? How well do we really know other people: our neighbors, our friends, even our own spouses and children? Frances Bloom is the carp...

As last month's Book of the Month Club pick for me, it wasn't one that was on my radar but was bumped up on my TBR list because I generally trust BOTM's picks. After reading I can say that while it was a fun, quick, and easy read, it wasn't phenomenal. It was largely forgettable and I didn't find myself needing to turn to the next chapter impatient to know what happens. Overall, not a bad book but not one that I feel I'll be recommending or picki...

Frances Bloom, stay-at-home mother of three, is the connection between four families who live on the same block in Los Angeles. She voluntarily carpools their seven children to school each day, ranging in age from 4-to 14-years old, and often helps in other ways. They all seem to have lives that are working well from outward appearances but that notion gets destroyed when Frances walks into Anne Porter's home and finds her in the throes of pass...

My daughter is home sick with the flu so I was able to finish my book (in between making sure we didn't have vomit all over the house).Another 5 star book. Should be a movie. I think of tons of A list celebs that should be included in the trailer for this one. So so so good.Frances, a mother of three and stay at home mom is the mama that takes all the kids from the neighborhood to school and picks them up. Four families, four very separate live...

3.5 at times hysterical starsI did enjoy this book that explored the concept of what goes on behind closed doors in neighborhoods. Although in one case the door was not so closed!Abbie Waxman has written what at times is a hysterical and slightly irreverent tale of a neighborhood where everyone seems to know each other's business. Frances Bloom is quite the witness to the comings and goings of her neighborhood. She is the local car pool driver wh...

ARC requested through Netgalley, and kindly provided by Berkley Publishing Group in exchange for an honest review.I quite enjoyed this visit into the homes and lives of Frances Bloom and her neighbours. For some reason (and don't ask me why) I pictured comedian Miranda Hart as Frances and that made me love her character all the more. "That's what I thought," said Frances, walking by and farting silently as she went. She was opposed to che...

I have not laughed out loud this much while reading in a very long time. Full review to come.

3.5 to 4 StarsThe Garden of Small Beginnings was in my top ten list of great books for 2017 which is why I jumped at the chance to read Waxman's sophomore novel and after reading the description, I knew I was going to have a great time doing so.Which, is why this review is a bit hard to write. I loved her debut so much and because of it I think I went into this with really high expectations, like, really high.I did like this and I'm normally not ...

I was grateful to receive an ARC of Other People's Houses from the publisher.I enjoyed the author's debut novel The Garden of Small Beginnings so I had decent hopes for her sophomore effort.Once again, I was duped by my own optimism. ** Beware! Spoilers Ahead ** Other People's Houses is a rambling tale that focuses on several families in an comfortable, suburban LA neighborhood. We have Frances Bloom, carpool mom extraordinare; Anne, the ice ...

I just received a copy of this book from the editor for review. It seems like the perfect book to take on vacation with me. This will be the first book I've read by Abbi Waxman.Full review to review to follow.

Other People's Houses is a guilty-pleasure read; it is filled with gossip, quirkiness, and humorous metaphors. Although lacking a depth of plot, the relatable and comical day-to-day anecdotes kept me laughing until the last page.FOR THE BLONDEVSBOOKS FULL REVIEW CLICK HERE

Oh, Abbi Waxman, I'd love to have you as my neighbor, especially since I I really don't know many of mine! This is the second book I've read by this author and while it is somewhat different than her previous book, The Garden of Small Beginnings, it was written with the same truthful, snarky (maybe even snarkier?), observations of life. Frances narrates and leads us through events on her street, since she seems to be the one everyone turns to for...

After the thoroughly engaging The Garden of Small Beginnings, I was pleased to settle back into the writing world that this author can create.Other People's Houses is a different style standalone story than the other, though happily there are a few minor crossover scenes. This one is a wry, varnish free up close and personal with four families in a typical middle-class LA neighborhood.The main narrator is middle-aged, even-keeled Frances Bloom. F...

Other People's Houses was my pick for Book of the Month this month, and I am so glad I chose it. It was so good with laugh out loud moments, and moments that make you stop and think too. It was a fanttastic read!The story centers around four families and their stories all woven into a domestic drama. From the outside, it is a picture perfect neighborhood, beautiful homes with successful families, with happy and healthy children. But each of the...

3.5I absolutely adored "The Garden of Small Beginnings" and push it on everyone, but "Other People's Houses" is somewhat difficult for me. The first half bored me and I couldn't stand how it switched perspectives; I even contemplated setting it aside. I'm glad I kept with it, because it was a total shift around 45%. It got to where I couldn't put it down and became completely invested in these characters and their shenanigans. So the last half de...

Three and a half stars: A funny book with raunchy humor that exposes the lives of every day people. Frances is the local carpool mom. She picks up all the kids on the block and delivers them to school. It is her way of feeling needed and important. Then one morning she gets the shock of her life after she returns to her neighbor's home to pick up forgotten toilet paper rolls. Frances gets an eyeful of her neighbor, Anne, in all of her naked glo...

**ARC provided by the author in exchange for an honest review**I have fallen head over heels in love with Abbi Waxman's Other People's Houses! This book was like reading Desperate Housewives with a Where'd You Go Bernadette humorous twist. Oh, how I want to move in and be one of the "other people". Frances Bloom and her husband Michael were my all time favorite characters. It was like watching my own family. I connected with them so muc...

Definitely my favorite this year, it's hard to adequately describe my love for this book. Infidelity, finding a balance between work and home life, neighborhood drama, schoolyard/coming of age angst, and female friendship dynamics are common themes in contemporary fiction. Waxman handles them with original humor, grace, and nuance I haven't experienced in literature in quite some time. It was relatable, hilarious, sad, and actually managed to mak...

3.5 stars - this was entertaining and some parts were actual laugh out loud. tons of characters and you only got a bite size chunk of some of their stories but I thought that was the point... we all have tons of neighbors but we only know bits and pieces about them. the thoughts on living in LA, parenting and some of the dialogue on marriage were perfect. loved how the author gave insight into what each character was thinking at the same time and...

4.5 rounded up. Although I've seen some reviews that thought the language and crassness was a little bit too much, I found it very entertaining and laughed out loud several times throughout the book.