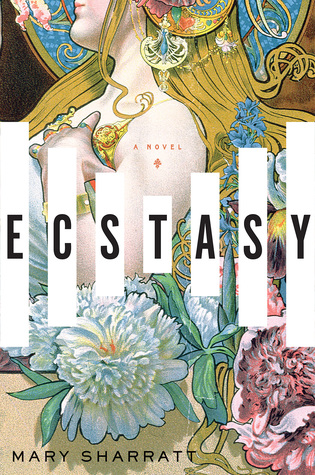 In the glittering hotbed of turn-of-the-twentieth-century Vienna, one woman's life would define and defy an era Gustav Klimt gave Alma her first kiss. Gustav Mahler fell in love with her at first sight and proposed only a few weeks later. Bauhaus founder Walter Gropius abandoned all reason to pursue her. Poet and novelist Franz Werfel described her as "one of the very few magical women that exist." But who was this woman who brought these m...
---
Details Ecstasy
Title
Ecstasy
ISBN

9780544800892

Author

Mary Sharratt

Release Date
Apr 10th, 2018
Publisher

Houghton Mifflin Harcourt

Genre

Historical

,

Historical Fiction

,

Fiction

,

Art

,

Music

,

Did Not Finish

,

Adult

,

Feminism

,

Art History

,

Romance

Rating
Reviews Ecstasy
"Let's raise our glasses to Alma Maria Schindler, Fran Zuckerandl said, who has turned the rest of us poor women emerald with envy. Not only is she the most beautiful girl in Vienna, and that's quite bad enough, she's also a brilliant pianist. That's infuriating. But on top of it all, she composes!"Alma's mother was pregnant with Alma 'before' she married her famous painter father, Jakob Schindler. She tells Alma that she 'had...

First 5-star book of the year! Brilliant book, top-notch writing and such a moving story! Full review to come!

Read an advance copy of this and loved it. I've been fascinated with Alma Mahler every since I first learned of her life years ago—ECSTASY captures the romantic intensity of Alma's life. Bittersweet and compelling. More to come closer to publication.

It's hard to imagine a more glorious subject for a biographical novel than the passionate and spirited composer Alma Mahler. Since receiving an Advanced Reader Copy, I've been engrossed and mesmerized by Alma's story, reading it in the wee hours of the night. What a character, what a life, and what a book Mary Sharratt has created!

Dnf @ 26%Unfortunately this was too heavy on the romance for me to enjoy it. I can't stand to read about talented women who only talk about men, men, men. I understand Alma was young and maybe a bit naive but she had like 5 possible love interests in the first 25% of this book. Maybe calm down? She just ended up looking confused and unsure of herself as an artist.

---- Disclosure: I received this book for free from Goodreads. ---- Well, the cover isn't bad, & the prelude was good. Struggled to get through the 1st chapter. Unconsciously started hard skimming the thing somewhere after the middle of the 2nd chapter, & gave up during the 3rd chapter. I set it down after the 1st chapter hoping it would be better when I came back to it, but obviously that didn't pan out. I hate the protagonist. The writing was...

A fascinating look at the life of Alma Mahler née Schindler, married to Gustav Mahler, Walter Gropius and Franz Werfel, all three creative geniuses. Who was Alma? A daughter, sister, mother, wife, lover, composer, femme fatale, muse? Certainly a complex woman ahead of her time who defied convention to find her own voice.

"Don't you know that another person can also be a paradise?" Our protagonist Alma asks us in reference to her relationships with men. This book relates the story of Alma Maria Schindler-Mahler, admired by Gustav Klimt and Gustav Mahler. She is a strong female lead in an era of not very strong female characters. I greatly enjoyed the insight into the mind of a working composer and could tell that this novel was very closely researched in dep...

I received an advanced reading copy of this title via NetGalley for an honest review.This novel oozes with passion. Passion for music, life and love. The author provides us with a glimpse of society life in Vienna and the dreams and expectations of those living it. I cannot remember reading a book that so successfully exhibited the emotional turmoil in a character. As the novel progresses, there was a distinct shift in Alma's personality once she...

At the outset, Ecstasy showed a lot of promise. I was intrigued by the tale of a young, ambitious woman wanting to do away with the expectations placed upon her and follow her passion. Having studied the work of Gustav Klimt, and in the process become somewhat familiar with his contemporaries in the art world, I was eager to dive into the time period and learn more.Unfortunately the tale of Alma Mahler (nee Schindler) was anything but atypical. S...

I love a good book about a strong woman, especially ones from history. Alma was a very interesting woman to read about, but I felt at times that the author could have done more to illuminate her inner life. I was still fascinated and definitely went on to look her up for even more information about her.

A very interesting and engaging read about Alma Mahler's relationship with her craft and artistic men around her. I really enjoyed much of the feminist undertones of this work.Hopefully, I will remember to publish my in-depth review closer to the publication date in April

My Review of "Ecstasy" by Mary SharrattI loved everything about the Historical Fiction novel "Ecstasy" by Mary Sharratt. The timeline for this story is the turn of the century, when the various forms of the arts show changes. The story goes to the past and to the future when it pertains to the characters or events. The story takes place in Vienna, Austria, Europe, and and New YorkMary Sharratt describes her characters as complicated and c...

In "Ecstasy", historical novelist Mary Sharratt charts the life of Alma Schindler Mahler from 1899 to 1911: the naïve and impulsive nineteen-year old who at the start of the book receives her first kiss from Gustav Klimt is, in its final pages, mourning the death of her husband Gustav Mahler. The succession of events in the intervening pages is so extraordinary that it would stretch credibility, were it not based on true facts. Sharratt draws on...

Thank you Netgalley and Houghton Mifflin Harcourt for the ARC.Meet Alma Maria Schindler, on the verge of womanhood, desperate to make a life for herself. A bohemian soul in a bourgeois almost all-male society. She has a dream, but no plan, yet somehow the stars align and she meets the men who could make it happen. First Klimt, then Zemlinsky, then Mahler. She makes her choice, and marries Mahler, which almost destroys her. Throughout this marvel ...

I really liked this book! I am rather new to Historical Fiction, but this book captured and kept my attention! I went in knowing next to nothing about Alma Mahler, thanks to this book I have independently researched the Mahlers. It made me want to go to the symphony! I highly recommend this book. I read this book before release thanks to the publisher and NetGalley

The book 'Ecstasy' by Mary Sharratt is a historical fiction book set on the life of Alma Maria Schindler, a brilliant Viennese-born composer.This book captures the essence of Alma Schindler, a larger-than-life woman whom we can only look up to in this day and age. The author of this book wove a brilliant story of love, passion, music and the society of Vienna only by referring to the Diaries of Alma Mahler-Werfel, and the collection of letters th...

Really loved this! And not just because I know Mary Sharratt.But what she has done here is very... musical. I am not very knowledgeable about music, especially classical music. I barely know who Mahler is. But I can sense a tempo building when it's being done. And I love the way she has taken the life of Alma Mahler and built it up to a crescendo until you just absolutely can't put the book down and suddenly the big kettle drums are rolling and t...

I got this last night from a fellow Goodreads member. Apparently she'd just set it down for the final time before I arrived. Noting the interesting cover I asked how it was & she just said, "It's a no." I laughed & she said she was going to toss it unless I wanted to have a go at it, so of course I took the book home. After reading the back blurb I realized I'd also signed up to win it on Goodreads, but had not been chosen to receive a copy. Just...

I love a good book about a strong woman, especially ones from history. Alma was a very interesting woman to read about, but I felt at times that the author could have done more to illuminate her inner life. I was still fascinated and definitely went on to look her up for even more information about her.

My review of this book will appear in Historical Novels Review 84 (May 2018).