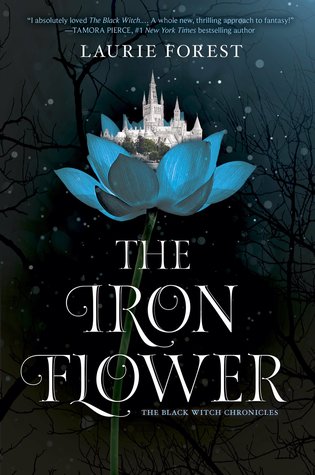 Elloren Gardner and her friends were only seeking to right a few wrongs, but their actions have propelled them straight into the ranks of the realm-wide Resistance against Gardnerian encroachment. As the Resistance struggles against the harsh rulings of High Priest Marcus Vogel and the Mage Council, Elloren begins to realize that none of the people she cares about will be safe if Gardneria seizes control of the Western Realm.With tensions heating...
---
Details The Iron Flower (The Black Witch Chronicles, #2)
Title
The Iron Flower (The Black Witch Chronicles, #2)
ISBN

9781335917393

Author

Laurie Forest

Release Date
Sep 18th, 2018
Publisher

Harlequin Teen

Language

English

Genre

Fantasy

,

Young Adult

,

Romance

Rating
Reviews The Iron Flower (The Black Witch Chronicles, #2)
Busy editing The Iron Flower today - very excited to share the continuing story with you all in 2018 - thank you to all my readers for so much support and enthusiasm for this series and its anti-prejudice message. #grateful (and I can't wait to share the cover with you).

OMGOMGOMGOMGOMGOMGOMGOMGOMGOMGOMGOMGOMGOMGOMGOMGOMGOMGOMGOMGOMGOMGOMGOMGOMGOMGOMGOMGOMGOMGOMGOMGOMGOMGOMGOMGOMGOMGOMGOMGAll my theories from the first book are null and void! My head is so confused and foggy. My heart just hurts! *Spends rest of day starting off vacantly*

UGHHHHH SO GOOOOOOOOD. Full RTC.ARC provided by the publisher for a fair review. YAYY!January 1, 2018When did this cover come out!? I love it! Gimme!!August 18, 2017I need this in my life.

***** 4.5 Stars *****Cannot be read as a standalone.I want to cry right now....I want to cry because the next book isn't available yet!!!The Iron Flower is even better than the first book. All the characters are wonderfully written, and the relationship between Elloren and Yvan is so heartfelt. This story is dark and ugly. High Priest Marcus Vogel rules the land and plans on purifying the race and conquering neighboring territories. It isn't safe...

2/5 starsDNF at 33 %So not the rating I thought I was going to be giving this book, I was pretty sure that this would have been a 5 star, boy was I wrong. Gorgeous cover though, so that's something. To start off, I'm not giving this 1 star, despite having dnf-d it, because I only save 1 stars for books I really did not like. And I just didn't care for Iron Flower, it's not a bad book, but it isn't a book for me, unfortunately. The Black Witch was...

June 24th: I finally wrote my review!You can read the full thing on my blog HERE!\\June 23rd:I just finished this after devouring the final 300 pages today! This is sooooo good and it makes me so so sad that more people are not reading this series due to Lots of Reader Issues a couple years ago with The Black Witch. BUT ANYWAYS, The Iron Flower is such a fantastically beautiful book and so many SHOCKERS that I was dumbfounded. Laurie Forest reall...

If you like added gifs, you can also check out my review here! =)If you liked the first, chances are you'll like the sequel. It carries on in the same vein as the first with predictable plot progression but an unfortunate lack of character growth. Grammatically, I have zero issues. The book was actually very well written. My inner English major was content that I didn't have any hang-ups that pulled me out of the story. And story-wise, the c...

I really enjoyed this sequel to The Black Witch, the controversial YA fantasy book that explores racism by way of a world filled with many races such as Urisks, Lupines, Kelts, Fae, Icarals, etc. who all have their own prejudices against each other. In the first book, we saw a young girl overcome the ignorance she was raised with and learn to be better. In this sequel, we see tensions rise in Verpacia and a need for the Resistance to act. Ellore...

*I was lucky enough for NetGalley and Harlequin Teen to approve me for this ARC in exchange for an honest review*Holy Jesus! I did not see that twist coming! I still can't even fully process what just happened and I'm so upset that I have so long to read the next one. You can't just leave a girl hanging like that!!!Okay, let my try and reign myself in here. The Iron Flower, in my opinion, is even better than The Black Witch, it's still very very ...

I finished this book in less than 24 hours. I couldn't put it down. I cried, I screamed at certain parts, I was happy to see some of my thought of what might happen in the next book come true. The worst part of this experience is the fact that none of my friends have read it yet so I can't cry on a friend's shoulder for support. Laurie Forrest did an amazing job on the sequel, I can't wait to read it again. This is flat out my favorite bo...

See this review and more like it on Bookbastion.net!________You might remember that last year I championed really hard for a little young adult debut fantasy book called The Black Witch, which was being unfairly lampooned by some overzealous keyboard warriors on Twitter who hadn't even bothered to read the book before judging it. Well, I read the book, and I became pretty passionate about defending it because it turns out, it was actually a pr...

I find this super dissapointing considering I loved The Black Witch and ..... I have a ship The Black Witch series have created great awareness regarding racism but its getting very old when the two novellas and now the second book also talks about racism. In Iron Flower, we have to keep reading about how oppressive Kelt/Gardneria is and Elloren always have to listen to someone else's sob story. The whole chunk of it is Elloren trying to save opp...

ACTUAL RATING: 4.5 STARSI didn't like Elloren that much in the first book but the story was great so I was definitely looking forward to reading The Iron Flower.And WOW.I'm glad I decided to continue on with this series! Here's a summarized/short review for now:PLOT - 4.5 (So goooood!)WRITING STYLE - 4.5CHARACTERS - 4.5 (Diana is my absolute favorite! And there's definitely character development.)ROMANCE - 5 (I loved the tension between Elloren a...

I was lucky enough to get an ARC of this book!Here is my review of the book! I'm trying not to include spoilers, but please read with caution and I'll try to catch anything I might write by accident! I only had one issue with the book and that will be addressed but, just so you know, this novel was great!What a breath of fresh air. Laurie Forest seriously knows how to write epic fantasy. Forest knows she doesn't need a book filled with plot for t...

This was a very entertaining, creative, and fantastical sequel to "The Black Witch".In this follow-up, I continued to really enjoy the unique world that was created. Laurie Forest truly created a unique world of her own and the world-building was exemplary in that all of the background was explained in detail. With that being said, there were moments that that novel felt longer than necessary, but I appreciated the attention to detail.This novel'...

I'm stunned. I have a serious book hangover, and I'm currently unable to give a proper review.The Iron Flower wrecked me. It went kinda like this:YES!Wow.What?!!NOOOOOOOOOOOO!Why?Oh, dear gods! YES!*Swooning*AWWWWW, so cute.I can't believe it!It was about time.I did not expected that.NO! NO! NOOOOOOOOOOOOO!I cried, I laughed, I swooned. I need more. Laurie Forest is amazing. Full review to come once I get out of the shock.UPDATE 26/07/18"Welcom...

I received an e-arc copy of this book from netgalley in exchange for an honest review.It feels wrong not address what happened to the first book in this series. The Black Witch (TBW) got a lot of undeserved negative feedback, almost unanimously coming from people who did not take the time to read the book themselves to form their own opinions and simply went ahead rating the book one star while all linking back to the same review. This flew in th...

Not a fan of the first book cover, but this one is gorgeous

Without giving anything away, this book picks up exactly where it left off (which makes sense since Laurie Forest told me that most of the two books had originally been one long one), and immediately sweeps you up into extreeme FEELINGS of big important STUFF! I want to say everything, but the September release date is a long ways away. Elloren has grown as a person in leaps and bounds from where she began in Black Witch- I LOVE her heart. The bo...

My oh my!! I love Laurie Forest and I love this series and I love this world!!! I'm going to die having to wait so long for the next book!!! This series is amazing and wonderful and heart breaking and so very relevant! I love that Laurie Forest doesn't hold back. I adored the first book and this one did not disappoint, I may love it more! Laurie Forest is now an instant buy author for me! 😍😍

I'm not going to share any spoilers, but this book had a lot more action than the first one, and it was an emotional roller coaster all the way through. Just like the first book, it leaves you anxiously waiting for the next book to come out!

Sometimes the Goodreads First Reads gods smile at you. When I received that golden ticket email informing me that the First Reads gods found favor with me and were sending me this ARC; a brief period of fan girl shrieking might have occurred....I reread The Black Witch in anticipation and to allow myself to be in readiness to read The Iron Flower. Laurie Forest does not disappoint. I couldn't put it down. A personal litmus test for me that hallma...

Hoooooo boy. Where do I start? First, let me say that this is one of the most amazing and relevant series to ever grace your bookshelves EVER. Forest does not back down from showing how religion and society and cultures create a divide. But with our group of loving misfits, we also see how those differences bring joy and laughter and love and understanding. I loved seeing our group grow. Elloren has become so strong and the bonds she has created ...

Exquisitely written. I marvel at the character developments and the progression of the story. Truly, one of the best books I have read this year.

I was provided with an e-ARC by the publisher via edelweiss for an honest review.After I finished "The Black Witch" I really didn't know what to do with myself, all I knew is that I needed to get my hands on "The Iron Flower" asap! So thank you for approving me for this ARC!I could not put this book down, and probably wouldn't have either if I didn't have to do boring things like, you know, work, sleep, eat and be social. Most of this book was pr...