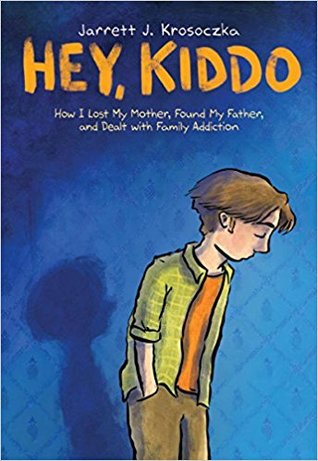 Hey, Kiddo is the graphic memoir of author-illustrator Jarrett J. Krosoczka. Raised by his colorful grandparents, who adopted him because his mother was an incarcerated heroin addict, Krosoczka didn't know his father's name until he saw his birth certificate when registering for a school ski trip. Hey, Kiddo traces Krosoczka's search for his father, his difficult interactions with his mother, his day-to-day life with his grandparents, and his pat...
---
Reviews Hey, Kiddo
I only realized I have read this author before (five times, actually) when I read the author's note and realized that he's the creator of Lunch Lady.No wonder I didn't figure it out. This is not humorous, or light, or action-packed like Lunch Lady is.Because this is a memoir—the author's. And a very honest one at that. It's never easy to share your truth with the world, because what if your words are not well-received, what if you'r...

4.5 stars!What a wonderful memoir! I honestly cannot remember what made me request this graphic novel from the library, it is so not my normal reading zone. But I am very glad I did. Jarrett Krosoczka, author of the kids graphic novel series Lunch Lady, tells the story of his childhood and teenage years. His mother's addiction and father's absence had an impact on his life, but not as profound as the grandparents who stepped up and raised him.Thi...

I understand that when others read this book they may only focus on the fact that there is so much darkness, but from someone who experienced similar circumstances as a child and into adulthood - there was brightness in the fact that grandparents raised us, but the negative light that shone of biological parents was just that, negative. As someone who could relate to a lot of scenes in Hey, Kiddo, I am thankful to know that my experiences are who...

Despite this being a graphic novel, Hey, Kiddo is not an easy or light read by any means. It tells a moving, sad, but also hopeful story of a family affected by addiction and loss. I had not known about this author before, because I don't read many graphic novels, but I would be curious to read his other work as well, because this book was just excellent, definitely among the best books I've read this year. It's a memoir, and the author doesn't s...

Utterly phenomenal. Krosoczka takes his talent to a whole new and utterly personal level.

After just a few pages of this book, I wanted to find Jarrett Krosoczka and hug him. Just . . . hug him for a minute. I met him, got my book signed, he was so nice! And handsome, and well dressed! And I was like, Hey, what a great guy! Love those New Jedi Academy books! But now, having read this raw and wonderful memoir of his childhood . . . I just want to hug him. This book is every bit as amazing as you've heard. I want it to win all the award...

I received an advance copy of this at ALA 2018.Hey, Kiddo is an incredibly timely comic about a addiction, family, and resilience. Drawn in an almost hazy style with purposeful use of burnt colors, the artwork makes you FEEL the story rather than reading-from-above. Jarrett is honest - at times unflatteringly so - and that honesty gives weight to the story, even if in the moment it might feel too much. If no one else takes it up, I may write a mo...

Most definitely deserving of the praise it's receiving.

If you find a puddle on the floor, don't step on it because it's me after finishing this story.When I went to the Scholastic Graphix party at SDCC, everyone was talking about Hey, Kiddo, the graphic novel memoir from a well-loved graphic novelist. I'm a fan of telling personal stories in this medium, because the art just adds a layer of depth that you wouldn't get otherwise, especially when the storyteller is also the artist.Honestly, if ...

A few years ago, children's author Jarrett J. Krosoczka (Punk Farm picture books; Lunch Lady graphic novels) did a TED talk with 4 hours' notice, about his unusual upbringing: "How a Boy Became an Artist" (https://www.ted.com/talks/jarrett_j_k...)This book is the graphic novel memoir of that experience. Since his mom was addicted to heroin and he didn't know his dad, he was raised by his grandparents. His portrait of them was my favorite part of ...

Did you ever finish a book and immediately want to hand it to everyone you know?This year, it's this one.Jarrett's story is disquieting, genuine, and ultimately so full of hope my heart beat right out of my chest. This acknowledges that childhood is hard and ordinary. That families are important and toxic. That everyone is a factor of their biology but not the summation.

Powerful. Honest. Beautiful. The author's note had me in tears. I believe this book is powerful beyond measure. It gives a voice to children of addicts, and it's a voice of hope and courage.

This memoir is every bit as good as people have been saying--a powerful true story of the artist growing up in a family that was so severely affected by addiction. Stunning artwork accompanies raw, real, moving text. I just booktalked this to students and have lots waiting in line to read it.

*4.5This was such an amazing way to tell a life story, the drawings were fantastic and fit so perfectly with the feel of the story. This book reminded me of a draw my life video and sucked me in totally. I don't typically read memoirs of people I don't know but I'm so glad I read this one. Definitely recommend you pick it up, but be warned this isn't a warm and fuzzy family story! It's real and it's harsh and heartbreaking, but also has silver li...

Emotionally raw and honest. I admire the courage of Krosoczka in sharing his story and Graphix for publishing such a daring book.

Richie's Picks: HEY, KIDDO by Jarrett J. Krosoczka, Scholastic/Graphix, October 2018, 320p., ISBN 978-0-545-90247-2"I've seen the needle and the damage doneA little part of it in everyoneBut every junkie's like a setting sun"-- Neil Young (1972)"My mother started using when she was just thirteen years old. Joe and Shirl tried to help her, but things just got worse and worse. For everyone.Things were bad at home--things were bad wherev...

After putting my kids to bed tonight, I picked up this book. I had pre-ordered it for my classroom, and when I saw that a Goodreads friend had enjoyed it, I was reminded to take it home. I met Jarrett Krosoczka in 2001, just after graduating college when he was writing and illustrating his first picture book, GOOD NIGHT, MONKEY BOY. I remember looking through the galley in his studio almost twenty years ago. I remember not only his vibrant talent...

This is where graphic novels can really make a difference. Krosoczka writes not only of his reality growing up but of a reality that is engulfing parts of America in the case of parents with addiction issues and around the world - the reality of your family not necessarily consisting of your biological parents - think of all the children of migrant workers being brought up by their grandparents or relatives. The fact that it's in a graphic novel ...

Every once in a while, a seminal reality-based graphic novel hits with profound impact. Fun Home. Stitches. March. Persepolis. Maus. Blankets. Hey Kiddo can now sit at that table. Bravo, Jarrett.

Beautiful art work, but the most important thing about this book is that it is so raw and real. I just loved this true story done in a graphic form. Jarrett tells his true life story of being raised by his not so perfect grandparents because his mother was a heroin addict, and his feelings of not knowing who his biological father is. Grab a box of tissues because you will need it.

One of the best graphic memoirs of the year. This ticked all my boxes: fantastic art, incredible storytelling, and that "stays with you after you put it down" factor. Can't recommend this enough.

I picked up this book simply for the title. My dad called me kiddo. I'm the end, this slice of life graphic novel snuck up on me and hit me in all the feels. Well done

What an inspirational story! The author's honesty is amazing and coming from someone who usually makes you laugh made it all the more powerful. The art and the words work together to make the story flow and you really feel like you have stepped into the author's life.

Powerful. A testament o to the saving grace of art.

Hey Kiddo was an excellent graphic novel that tells the story of Jarrett's life as a child when he was raised by his grandparents after his drug addicted mother spent time in jail. Jarrett's grandparents are loving but are depicted as most people should be: flawed. The book is very well written and definitely tugs on the heartstrings. I really thought it was very well done.

E ARC from Edelweiss PlusIn this graphic novel style memoir, Krosoczka describes the difficulties he faced growing up in the 1980s and 90s. His mother was not married and did not even list his father on his birth certificate, and struggled with addiction, mainly to heroin. After the age of three, Krosoczka was cared for by his grandparents and learned not to rely on seeing his mother, who was in and out of residential programs. His two aunts were...

A heartfelt reflection on his own life, author/illustrator Krosoczka decided after a TED talk gone viral to share his life's story in a graphic novel biography because the story makes anyone feel like their life could be understood when oftentimes there was tragic, scary, uncomfortable, or unfortunate events to happen in their life. For Krosoczka, his mother had him very young and was addicted at a very young age to drugs, notably, heroin which e...

This is not a light book, but then Jarret's life was not light. Although the drawings are simple, clean, cartoon style, the story is dark.Jarrett's mother is a drug addict, but we, and he, don't learn this until he is quite older. However, his grandparents see it, and take custody of him, before his life is too upended. HIs grandparents, though they are rough around the edges, make sure he has everything he needs in life, including his access to ...