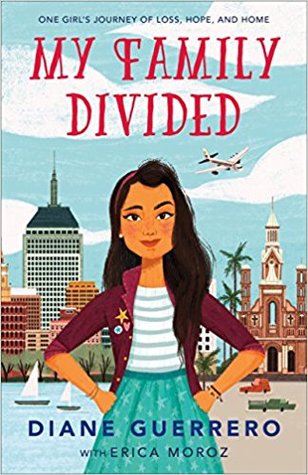 Before landing a spot on the megahit Netflix show Orange is the New Black; before wowing audiences as Lina on Jane the Virgin; and before her incredible activism and work on immigration reform, Diane Guerrero was a young girl living in Boston. One day, while Guerrero was at school, her undocumented immigrant parents were taken from their home, detained, and deported. Guerrero's life, which had been full of the support of a loving family, was turn...
---
Details My Family Divided
Reviews My Family Divided
I won a copy via Goodreads giveaways in exchange for an honest review. All my opinions are my own.:)----Confession: Didn't know this was the edition for younger readers when I entered the giveaway.. my bad haha.The good: Her personal story is compelling, my heart broke for her and her family and what they had to endure. I think she was brave for sharing her personal story, including all the warts and fears. I love how passionate she is in her act...

It was really heartbreaking to read Diane Guerrero's story, though you could certainly tell it had been condensed down into this version friendly for a younger audience. It's a story that shares the real experiences of many folks in our country, and I think the way it's told makes it a story that we can learn from, empathize with and be inspired by.

ARC provided by publisher at ALA MidwinterActress Diane Guerrero's father and mother came to the United States from Colombia in the 1980s in order to make a better life for themselves and for their son. They came on a ninety day tourist to visit a sister and did not leave. While they struggled, they were able to hold down jobs and have places to live. They tried to obtain citizenship, but were thwarted by the bureaucracy, as well as by a fraudule...

I remember when the adult version of this book came out. Recently, I saw this middle grade version at a bookstore and figured I'd read it for my students. I can't wait to put it on my shelf at school. Guerrero's language is perfect for young teens, and while her story will resonate most with kids who've been traumatized in the immigration wars, it's appropriate for all teens.

This first hand account of the immigration experience would be a good read for any middle schooler.

maybe 3.5 (I really like the family photos).