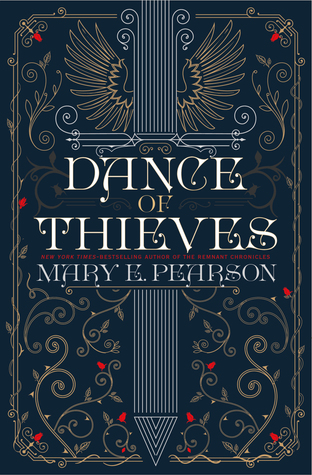 A new novel in the New York Times–bestselling Remnant Chronicles universe, in which a reformed thief and the young leader of an outlaw dynasty lock wits in a battle that may cost them their lives—and their hearts.When the patriarch of the Ballenger empire dies, his son, Jase, becomes its new leader. Even nearby kingdoms bow to the strength of this outlaw family, who have always governed by their own rules. But a new era looms on the horizon, ...
---
Details Dance of Thieves (Dance of Thieves, #1)
Title
Dance of Thieves (Dance of Thieves, #1)
ISBN

9781250159014

Author

Mary E. Pearson

Release Date
Aug 7th, 2018
Publisher

Henry Holt and Co. (BYR)

Language

English

Genre

Fantasy

,

Young Adult

,

Romance

Rating
Reviews Dance of Thieves (Dance of Thieves, #1)
I am SO HAPPY to have this chance to return to one of my favorite YA fantasy worlds and get a seriously awesome story. I was worried that maybe I'd have a hard time getting totally into a different plot in the same world (kind of like with Flamecaster after the Seven Realms series) but the author approached it SO well. There are mentions of "the queen" and events from the Remnant Chronicles, but it's held at a distance so you care just as much ab...

I absolutely love Mary's writing. Just like with the Kiss of Deception, Dance of Thieves sucked me right in from the get go! Also if you read the last trilogy, there is a glimpse of a few of the people from it! So I was fangirling about that!!My favorite aspect of this book was the bond between Kazi and Jase—they were a bucket full of cuteness. Or course being on opposite sides of things caused disagreement and secrets, but it made the story mo...

I can't even begin to explain how much I've missed this world and our old characters. I think it might be time for a reread soon!Although The Remnant Chronicles has a special place in my heart and will probably never be replaced as my favorite Mary Pearson series, Dance of Thieves did not disappoint. It was great to see more of this world beyond just Morrighan, Dalbreck, and Venda.Every character in this spin-off has already captured my heart...

I have a soft spot for Mary E. Pearson's books. She's a master at worldbuilding and angst, and her other series sent me over the roof with feels. Naturally, I was eager to get my hands on this new series set in the same world! In short, I loved it, but I will say it was long and took me a while to get my bearing. Since it's been a while since I've read her other books, I had a hard time figuring out where I was in the world. To be honest, I'm sti...

"This was more than an unexpected turn. It was an unchecked slide into hell." 4.5 stars!!! As always, I think that it's important to point out that Mary E. Pearson is the most underrated author in YA fantasy. And for the life of me, I can't understand why that is! Her world-building, character development, and plot progression abilities are superb! This was supposed to be a buddy read with Diana, but she went POOF, so...\_(ツ)_/I'd also l...

We were alone, we had each other, and we had a whole wilderness ahead of us.Dance of Thieves was a wish come true. I absolutely loved The Remnant Chronicles, so I was more than happy to read a novel set in the same universe. You can call it capitalism, but I'll read anything that has something to do with my beloved Lia and Rafe. Their special cameo was so satisfying that it almost made me forget about the one and only problem that I had with this...

*I received a copy from the publishing house in exchange for an honest review*4.5And the award for most underrated ya writer goes to ... Mary E. Pearson, again! If there's one thing I don't get about Goodreads and the Book community in general is why everyone is sitting on this amazing author and her series. Seriously, pick these books up!The plot"Get him and get out. That was our task, and that was it. I told them that we also had the bad timing...

I'm ready for girl power, sneaky thieves, malicious plots, and stabby, underhanded characters!!Blog ¦ Bloglovin' ¦ Tumblr ¦ Instagram

Loved this book! Mary writes such rich worlds and swoony romances. The characters were so easy to relate to, and the plot was fantastic. An all-around great read that I highly recommend!

"What is this, Kazi?I knew what he meant. This. What was this between us? Just what game were we playing?I had wondered too. Because now our kisses were filled with pauses, our gazes filled with more questions instead of fewer.I don't know, Jase.What do you feel?Your lips, your hands, your heartbeat.No, Kazi, in here, what do you feel in here?His finger stroked a line down the center of my chest.I felt an ache pressing within. A need I couldn...

Without question, this novel was one of my most anticipated reads of this year. I loved the original "Remnant Chronicles" trilogy and was so excited to hear the announcement that the series would be continuing (albeit with different main characters). I wanted more from this world and I wanted more of Mary E. Pearson's writing. I don't think I could be more disappointed to say that I didn't really enjoy this novel and am giving it 2.5 stars. I don...

I couldn't put this book down, which is basically one of the biggest compliments I can give lately. Pearson knows how to write romance, ya'll. It wasn't easy or simple, and it got me right in the heartstrings.If you haven't read the Remnant Chronicles, no worries. This book uses some of the same characters in a minor way, but you can go into this without knowing anything and be totally fine. The only thing I wished for was a book map (always).Alt...

I was all over this book when I heard Mary talk about it. I loved her other series in this world and couldn't wait to get back to it. And here we are months later and I'm finally getting to it. Love loved loved Kazi and Jase. They're both loyal and they don't trust people easily and I absolutely adored how they clicked so quickly. Their chemistry was fantastic. I also loved her fellow soldiers and his family. And of course getting to see ...

3.5 StarsI am so thrilled to be back in this world! I'm happy that it's a whole new story but still has brief mention and appearances of all the characters I loved from the Remnant Chronicles. Ok... The two main characters have quickly become some of my favorites! They are perfectly imperfect! The angst and contempt but utter passion they hold for one another is fantastic!In true Mary E. Pearson fashion, there are betrayals and twists and tur...

So much girl power here 🌼I'm really surprised for how much I enjoyed this book. Kazi is soft and badass. 💕 Jase's family is cute. Must protect at all costs 🌻

Yes, love, love, looooved this book! So good from start to finish.

*heart eye emojis* I'm SO glad Mary & Macmillan teamed up for more books in the world of the kingdoms of the Remnant! I really enjoyed exploring Tor's Watch & Hell's Mouth and seeing this world through the eyes of new characters, but I was also REALLY glad to see some of my favorite characters from TRC in Dance of Thieves.This book packed an emotional punch from PAGE FREAKING TWO, in which we see the grave of one of my favorite TRC characters and...

Ugh! So🙌damn🙌good🙌 it's just like the vibes of Remnant Chronicles and the details thrown in about the world from the trilogy just hit me in the feels! Ugh I need the sequel!

There's a special word I reserve for books such as this. And that is: Bakwaas. It's Urdu for 'rubbish' or 'garbage' only ten times sassier and meaner. If the last 200 pages (of this 700 page book) hadn't been as redeeming as they were, I would have said this with considerably more venom and rage. As it is, I'm only feeling irritated at the moment.Let me get the good out first because it's short. A)The writing was great and B) th...

This review can also be found here!Thanks to Netgalley for the advanced copy!DNF at 41%I think the first thing you'll notice is the lack of trigger warnings at the start of this. That's because, despite getting nearly 50% into this book, I had no clue what was going on and what the importance of it was.Now, I didn't read Pearson's Remnant series. I think that bit me in the ass with this one. It felt like I was missing something important....

Absolutely LOVED this book. New addition to my favorites list. Full review to come.

Wow. I re-read The Remnant Chronicles books so I'd be prepared for this, but I still wasn't. Maybe because I didn't get to it right away and then I put it off some more because I was sure it couldn't be as good. But it was! Definitely different but set in the same world as TRC, just maybe a decade few years or so later. Familiar faces and familiar places but also new characters you'll care for just as much. I hope to review this in full soon, b...