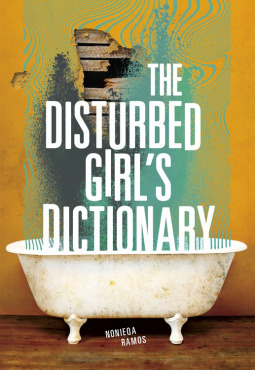 Macy's school officially classifies her as "disturbed," but Macy isn't interested in how others define her. She's got more pressing problems: her mom can't move off the couch, her dad's in prison, her brother's been kidnapped by Child Protective Services, and now her best friend isn't speaking to her. Writing in a dictionary format, Macy explains the world in her own terms—complete with gritty characters and outrageous endeavors. With an honest...
---
Details The Disturbed Girl's Dictionary
Reviews The Disturbed Girl's Dictionary
Macy Cashmere's one-of-a-kind, no-holds-barred teen memoir will blow your mind and break your heart. Her unforgettable voice is hard-hitting and unflinching, compassionate and street wise, delivered with a linguistic and structural playfulness that both dazzles the reader and draws them in deep. With Disturbed Girl's Dictionary, NoNieqa Ramos establishes herself as a literary star on the rise.

I give this book 5 out of 5 Freakin Fantastic Stars! I am over the moon about this BOOK!What attracted me to this book was the cover and the title, then I read the premise and was sold. This book meant more to me than pages in a book, I understood Macy. I was Macy.I saw many reviews on this book and so many DNF this book because of the spelling and grammatical errors. I understand the need for proper grammer but this was about Macy expressing h...

Oh my. This book. I'm still trying to find the words to describe how much I was charmed by, fell in love with, then had my heart ripped out by this EXCELLENT piece of literature. @nonieqa.ramos , I HEART Macy. She is the headstrong, imperfect, big-hearted heroine I've been waiting for. I am so grateful for the chance to have read an ebook from Edelweiss, and now sing its praises to the world.•The school Macy Cashmere attends calls her "di...

I was granted the ARC by Netgally. It took me a bit to get into the rhythm and style of this very unique book, and when I did... BAM!! I was getting up in the morning before everyone else so I could read more about disturbed girl Macy. As a teacher I felt sad for her yet frustrated. Reader be aware, the content and language is mature but completely appropriate to the situation. Again, thank you Netgally for this opportunity. Meet, Macy Cashmere, ...

Macy's story broke my heart. I think this will be a book students will read and recommend to their friends.

Thank you to NetGalley for this ARC in exchange for an honest review.I'm but a few chapters into this book and, already, I'm very impressed. I can already see this book hitting home with many of my students because it's rare to find a book that is willing to present us with a protagonist who has social and environmental cards stacked against her, as do many of my students.Macy Cashmere describes herself (as does everyone else seem to say) as dist...

I feel conflicted about this book and I put it down several times, but once I hit page 60 (see entry, "Bestie"), I was glad I gave it a chance. It was beautiful & intense & hard and reminded me of some parts of real life. There was such stylization, though, it made it hard for me to discern what was honest and what was to make a point. Even for a walk of life I've only tiptoed into, there were times that felt slightly pastiche. Regardless, it is ...

I received this book from NetGalley in exchange for an honest review.Swearing and spoilers to follow.If you're here for my usual snark and 'oh dear god why did I read this book,' you may just want to move along. This is not the review you're looking for. This book. Holy shit. This book. I just. I want to pass this book out to my students and go "Look! Literature isn't just written by white people. You don't need to just read books by dead, white ...

Almost anything terrible that can happen will happen (even if offscreen) in this book. Kidnapping? Prostitution? Dead babies? Foster care? Shootings? Parlorless piercings? Sexual Assault? Starvation?AND MORE. A little overdramatic, but great for fans of truuuuue diary fiction like Go Ask Alice.

Still currently reading but just had to put in my two cents in regards to people "rating" this novel. I'm just wondering if any of these readers been teachers in an inner city school or if any readers (who gave low ratings to this novel) have ever come in contact with children (yes, children) who behave this way? Life in an urban setting is very scary and this character has (not acclimated to) but grown up in this setting. Thus the manner o...

Kirkus Reviews wrote: "...her voice is inimitably unique in contemporary teen literature. The heartbreaking events are almost unbearable, but the author depicts them with authenticity and empathy—even when Macy wields a machete to fix a problem." I couldn't agree more. I laughed and I cried. The Macy Cashmere character is someone I'll never forget.

Thanks to Net Galley for the ARC. This book is not for everyone. The is really only for a select few. It is hard to read because of Ms. Ramos' style and the book is hard to read because the story is so painful. There is no redemption here. I understand that not all books need redemption and terrible thing happen to good people, but at some point Macy needs to make decisions that are not so stupid. She wants to save everyone but herself and that i...

I've read better fan fiction than this. The stylistic choice (I hope it was a choice and not the author's) to write with terrible grammar and accent pulled me from the story so much that I really don't know what the story was truly about. Very amateur all around.Free copy courtesy of NetGalley in exchange for an honest review.