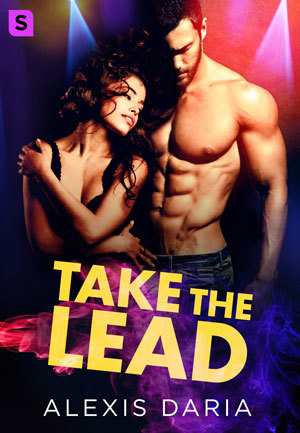 The first book in a sizzling duology about dancers who find love from #OwnVoice's Alexis Daria.Gina Morales wants to win. It's her fifth season on The Dance Off, a top-rated network TV celebrity dance competition, and she's never even made it to the finals. When she meets her latest partner, she sees her chance. He's handsome, rippling with muscles, and he stars on the popular Alaskan wilderness reality show Living Wild. With his sexy physiqu...
---
Details Take the Lead (Dance Off, #1)
Reviews Take the Lead (Dance Off, #1)
In the UK we call it Strictly Come Dancing, across the pond it's Dancing With the Stars, but whatever name it goes by, if there's glitter, sequins, fleckerls, foxtrots and fake tan involved I. AM. THERE. So a romance centralising around all this? No stranger to reality TV, gorgeous 6'7 bearded Alaskan wilderness star, Stone Nielson is more at home chopping wood than shimmying his hips. But when he's partnered with LA based pro dancer, Gin...

***4 Stars***Loved this debut! Puerto Rican professional dancer + Mountain man reality star + dance competition = One happy reader!! ♥ ♥ "You light me up. You helped me remember who I was before, and see clearly who I am now and who I want to be." Gina and Stone were fantastic together. Both dealing with unwanted expectations and trying to break free from the molds the public put them in, they find comfort and so much more with each other....

If you're a fan of Dancing with the Stars or other reality TV show dance competitions you are definitely going to want to pick up Take the Lead, a lively, energetic and sexy contemporary romance by début author Alexis Daria. And if you've never watched one of these competitions before, after reading this story you'll likely want to add it to your viewing schedule. The plot is fresh and original, giving the reader almost a voyeuristic behin...

A copy was provided by the publisher through Netgalley in exchange for an honest reviewI loved this! It was completely gripping; I stayed up way too late last night because I could not put it down. I loved these characters so much, fell hard for them both, and particularly for Gina. I was rooting for them all the way, as a couple, as dance partners. I wanted them to get a happy ending. The obstacles and conflict felt so right, they unfolded in a ...

Mind-blowing, heart-wrenching, tear-jerker. Okay, I exaggerate. We're talking about a book on reality TV. Actually, its 2 reality TV shows. Where things are exaggerated, faked, blown totally out of proportion for the sake of ratings.Gina, a born dancer waiting for her big break is in danger of losing her current shot to fame by not pandering to what the tv exec wanted by playing up the stereotypes. She especially do not need an attraction to some...

Also on Romances Ever After.Take the Lead follows Gina and Stone, two reality TV stars, as they compete with the other contenders in The Dance Off, a network-TV dance competition. Both have different reasons of joining; Gina is in it to finally win it, since it's already her fifth season, and Stone sees the prize money as a chance to alleviate his family's financial troubles. However, Gina realizes immediately after meeting Stone that they'...

I really enjoyed reading this novel because I love dance competitions, so this book really won me over. I also enjoyed the Puerto Rican culture that's woven into the story since Gina is a Puerto Rican main character whose ethnicity and culture is very important to her. Her drive to break stereotypes placed on Latinas was like a breath of fresh air to me because I related so hard to her character and everything she stood for which was hard work,...

4.5 starsI've never watched Dancing with the Stars but after reading this book I have real admiration for the dancers on that show!This book was so much fun! It's fun, fresh, and very steamy I couldn't stop reading from the moment I started to read. Add in the Latinx rep and I was sold on this from the get-go.I loved Gina and Stone and I thought they had some really great chemistry. Stone is honestly so perfect I loved how much he cared for Gina ...

Actual rating: 3.5 I think Take the Lead was a pretty addictive, solid debut. It has an awesome premise and pretty good relationship development, but could have been better with a little writing and pacing improvement. Nonetheless, Alexis Daria definitely has potential and so I'll definitely continue reading her books.You can read my full review here.

Thank you so much Coral for reviewing this book, if it wasn't for you I would not have read this. First of all a brilliant premise, a dance reality TV show. Second I loved the heroine, she was ambitious and passionate about dancing and didn't want to take shortcuts or do something that would compromise her image in front of her family even if it would ease her way. I liked that about her, even if I felt she was worrying way too much about it late...

Listen. Take the Lead by Alexis Daria is perfect. PER.FECT. I loved this book. I want to take this book out behind the high school and make out with it. This book was goddamn good that after I finished reading it, I spent the rest of the day watching Strictly Ballroom, the Step Up movies, and Magic Mike. This book made me want to sign up for dance lessons----and I am a white girl with NO rhythm! I clap on the wrong beat and my husband jokes I nee...

A thoroughly entertaining and engrossing debut, Take the Lead uses the structure of a television dance competition to show the love story between a professional dancer and a reluctant reality show star.I enjoyed the absolute hell out of this book. The main couple stood out as real and relatable against the artificiality of the reality show backdrop. The secondary characters were also charming and endearing. A review of a romance often references ...

Take the Lead is a fantastic romance that takes an ambitious heroine who has her eyes set on the win and a man forced by his circumstances to be the Quiet One. Together, Gina and Stone discover that they can have more than what they had eyes one. Happiness and success can coexist with a partner who'd uplift you (literally and figuratively) and support you. Sizzling romance aside, these two and the rest of the cast provide a beautiful picture of...

THIS WAS FVCKING AMAZING THE BEST ROMANCE A+ OMG WOW

I received an advance copy of this book from NetGalley. My thoughts have not been influenced in any way. This was a really fun contemporary romance. I've never watched a celebrity dance show, so I don't know how realistic that part was, but I really enjoyed the characters and the story. The author did a great job of connecting the reader with the characters before there were any steamy scenes, which you don't see enough of in contemporary romance...

I'm crying. Why am I crying?

https://celebrityreaders.wordpress.co...3.5 stars -- I received a free copy through NetGalley in exchange for an honest and unbiased review/opinion.There were a few things that stood out and made this a must request book for me, and it was those things that I enjoyed the most in this story.First, I'm a sucker for a book about dancing.  I'm really not a very good dancer myself (though I still try, I have, like, ZERO grace), so I ALWAYS admire da...

Soooooo this book danced its way into my heart (i couldn't help myself ok? lol) I have to thank twitter for cluing me into this wonderful book! It wasn't on my radar til recently and when i requested it on Netgalley I didn't think I'd get approved but yayyyy!Listen I love reality TV. Granted, I haven't watched much Dancing With The Stars, was more an America's Best Dance Crew watcher buuut I love dance movies and I have seen some episodes of DWTS...

TL;DR: SEXY DANCING WITH THE STARS-ESQUE ROMANCE BY #OWNVOICES AUTHOR***THE STORY:I want to start by saying that I loved this story. It was something I'd heard some buzz about and decided to read because of that. I was so happy that I did! Reality TV isn't really something I enjoy, but this book really doesn't require much investment into that, as the settings and characters are so richly developed.Gina Morales is on her third season of The...

This review was originally posted on As Told By TinaTake The Lead is Alexis Daria's debut novel and a pretty good debut at that. Take the Lead is centered around Gina and Stone who are competing on a reality TV competition similar to Dancing with the Stars. This is the second book that I've read that has dealt with reality TV, the other one is Kissed by Reality by Carrie Aarons but that is more of a bachelor style book. One of my favorite thi...

"Stay with me. Remember what I told you? Channel whatever's happening in your head into the dance. Into me. Let me help you carry it." *ARC provided by the publisher through NetGalley for an honest review*If you want an adorable, entertaining and cute romance book that will make you think but also will make you swoon, this is the book for you. I had such a good time reading this, it's very addicting from the first chapter and it actually d...

Thank you Alexis Daria and St. Martin's Press, for my ARC of Take the Lead. I received this ARC from Netgalley in exchange for an honest review. A book with a dancing competition tv show? Count me hooked. The description of the book got me intrigued pretty fast. And woah. It did not disappoint me. Actually I think this is one of my favorite books I've read this year so far. From start till end I was fascinated with the whole reality show dyna...

SERIES: Dance Off #1ROMANCE: Opposites Attract. In Secret. "Stay with me. Remember what I told you? Channel whatever's happening in your head into the dance. Into me. Let me help you carry it." QUICK REVIEWThis was absolutely amazing and I read it in one sitting! I'm a sucker for music/dance themed books and this did not let me down. I loved both Gina and Stone as individual characters and as a couple. They had so much personality, chemistr...

"City girl, this is way beyond country living," he drawled. "This is living wild."Alexis Daria's Take the Lead has such an original storyline that I was salivating for this book like nobody's business. It meshes a Puerto Rican dancer, a gruff Alaskan survivalist, and a Dancing with the Stars like competition. How fun this book was!Stone doesn't want to be on a dancing show, but because of his family he finds himself flying down to LA and ho...

This book is everything I always want dance movies to be, and while they always leave me a little disappointed, this book left me utterly satisfied and grinning like a fool. Perfect for fans of Step Up and Dancing with the Stars.The premise is fun-a reality show Alaskan survivalists goes on a dancing with celebrities show and falls for his dance partner/choreographer. And then the writing took it to a whole other level of emotional depth that mad...

I got an ARC of this book from NetGalley. Thank you! The following is my honest opinion about the book:I requested this book because I love Dancing With the Stars. I'm the type of fan that follows the dance-pro's I admire on Instagram and will read articles in magazines that feature them. I enjoy watching the behind-the-scenes footage/ the rehearsal antics and love finding out about how these pro's/celebrities are like when they aren't on the sho...

Si vous lisez en VO et si vous êtes fans de DALS ( si vous ne savez pas ce que signifie ce sigle c'est que vous ne suivez pas assidûment Danse Avec les Stars) cette romance est faite pour vous et ne pourra que vous conquérir. Je découvre la plume d'Alexis Daria avec ce premier tome de la saga A dance Off Novel et j'ai hâte de lire d'autres romans dans cet univers qui me parle complètement. Fan de la première heure, je n'ai jamais manqué u...

Romance is not a genre I typically read.And I have despised reality TV since MTV's Real World pushed music videos off the air. But sometimes it is good to test your boundaries, to step outside your comfort zone.I am glad I did. Gina and Stone are fully realized protaganists - learning, breathing, feeling, making me care. My belief that reality TV is at least partly to blame for the post-truth condition of the world today remains undented, but nev...

The premise of two reality tv stars just screams for a miscommunication/misunderstanding conflict, and this book supplies that in plenty. It manages to do this without the annoying 'but if you just talked to each other' trope, and gives great reasons for why they misunderstand each other. Stone goes on a strong journey in this book, starting out as someone loyal to his family at huge cost to himself, and through the process of dancing with Gina, ...

Okay so I am going to admit something. My guilty pleasure. Definitely one of my higher guilty pleasures is dance shows. Any kind of Dance movies, reality tv, scripted tv shows, if it involves dancing, I am so there. So when I read the premise of this book, I was like take my money. I need this book now! I am so so glad I read it. This book was addictive. I loved the dancing. I loved the characters. I loved the storyline. Everything about it had m...