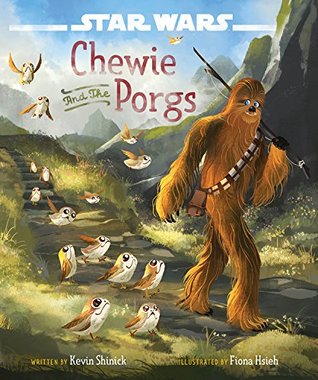 Chewbaccca is a Wookiee on a mission! He has traveled to a mysterious island on the planet Ahch-To with his friend Rey to famed Jedi Knight Luke Skywalker. But Chewie doesn't expect to find the porgs, cute and mischievous creatures that inhabit the island. For years the porgs have lived in peace and harmony. But when Chewis arrives, the cute little creatures must learn to share their island--and their food--with the might Wookiee.And so begins th...
---
Details Chewie and the Porgs
Reviews Chewie and the Porgs
Kind of a cute story for young ones. What was Chewie up to while Rey argued with Luke? Why, he was trying to get something to eat, while fending off the curious porgs. And Chewie is, of course, a real softie. While the story is ok, the artwork by Fiona Hsieh is beautiful!

This was a beautiful, sweet little book that's sure to get kids to fall in love with Chewbacca and Porgs. I didn't grow up during the time of the original trilogy, I actually came of age during the Prequel films, but I did grow up watching the VHS tapes of the original trilogy my parents owned. Chewie was always the character I got stuck playing because I was so tall, but I didn't mind because Chewie was awesome. And so seeing Star Wars become po...

No, I don't have children. Yeah, I still buy picture books. The artwork is adorable and the story is something I would read to my child to turn him or her into a Star Wars fan :)

The cuteness makes my heart swell.

My first book of the new year is a Star Wars picture book and I'm okay with that. It's a cute story for the youngest Star Wars fans.

Great picture book! Loved the pictures and the story. There were a couple times when I laughed out loud. A feel good book!

*incoherent joyful shrieking and crying*

I was a bit concerned about this book, especially after a certain scene in The Last Jedi, but it is so darn cute. The illustrations are simply phenomenal and it will make a great addition to a family Star Wars program we usually have at my work around May 4th.

I love artists renditions of Chewie. He is always fiercely cute. The pictures are REALLY cute, the story flows even though it is a little wordy. The story shows that Chewie is quite intelligent. I am guessing that this is how the Porgs get introduced into the movie. So this little introduction is FAB!! I would totally buy this in a heartbeat.

I bought this for my husband as a Christmas gift. Was cleaning up in the living room and found it again so I read it finally. It's funny, cute, AND sweet. You're never too old for a little story time.

The cutest picture book ever. I'm obsessed with Porgs to the point where I'm going to buy this book... #sorrynotsorrySuper cute illustrations and adorable story.

This should be the next spin off Star Wars movie.

Die Porgs waren ja eine der neuen Figuren des TLJ-Films, die schon im Vorwege für einigen Rummel und etwas Gegrummel bei Fans gesorgt haben. Nicht überraschend gibt es daher auch ein sehr liebevoll gezeichnetes, humorvolles Kinderbuch (ggf. mit Read-Along Funktion) zu diesen Lebewesen, welches die Geschichte erzählt, wie die Porgs und Chewie Freunde wurden. Die Szene aus dem Film, wo Chewie sich zwei Porgs gebraten hat, findet sich in diesem B...

Spoilers: Chewie doesn't eat any porgs in this story. My kids are still smallish enough that we could read this together and have a good laugh. It tells the story of Chewie interacting with the porgs of the Last Jedi, in a cute and heartwarming fashion. If you're looking for Star Wars canon, I'm pretty sure this isn't it. But it is a fun little story about everyone's favorite Wookiee with some really cool artwork.

This was a bit cutesy for these characters. There's a decent amount of out of character behavior from Chewie and it's kind of hard to forget the image of Chewie roasting and eating (or nearly eating) a Porg in TLJ. *shrug* If you're looking for cute and no substance or in-world realism, okay. But for kids who actually like and watch Star Wars this kind of contradicts a lot. You can say they're too young to get it, but then maybe you haven't met a...

Story didn't quite woo me, logistics (because I'm the idiot trying to make sense of a children's book about Star Wars) didn't quite woo me, and the picture were somehow too cute... which I think fully defines me as having a cold, black heart. I'm bummed I wasn't more into this, but little Star Wars fans won't care.

Hmm...feel like something is missing here...what could it be...hmmm.... Pretty cute and cuddly version of a predator vs. prey becoming friends story. (Big part of the food chain left out here, boys and girls, go ask your parents; don't ask me!)

My boys have been waiting for this book to arrive from the library for a long time. The art work is beautiful. The story is cute. The boys love the porgs. They also love how the story connects to the movie.

Yeah...so this book is awesome. Who would have thought? And now I honestly feel like I have way more backstory on the porgs, caretakers of Ahch-To and what was going on with Chewie in the Last Jedi. And great artwork too!

This is the perfect story for a quick read and will make you smile. Everyone loves Chewie and the new fan favorite Porgs.The art work is brilliant and exactly what's trending in art. I didn't get to listen to the read along so no idea of how that sounds but the story is worth the purchase.

First off, I have to say this. I think Porgs are beyond freakin adorable. Secondly, this book was cute both for adults and children. There's a little mystery to it, which was a fun little twist at the end. A wonderful book about the Porgs and Chewie!

This book was pretty terrible, despite our low expectations for such an egregious money grab. The story somewhat contradicts what happens in the movie, and there is a bit of retconning of Chewie's character. Overall, very disappointed.

Funny with super adorable artwork, this story gives a bit more depth to the porgs. (Well, as much depth as you can give them.) Thankfully Chewie doesn't kill and roast one so its safe for kids of all ages.

This book is really darn cute and the art is awesome, but there's just one really big problem here-That was no fish that Chewy was eating in The Last Jedi...it was a frikkin Porg!!!!!!!!! There's entire webpages devoted to it and stuff...it's a thing....Lol. So don't let this book try to fool you!

Cute, but I disliked several of the illustrations and actions. And of course ignores the fact that Chewie killed and roasted a porg or two while he was there (as book intended for kids probably should).

This is adorable and the art is gorgeous...but it somehow manages to skirt around what Chewie actually does with porgs in the movie. *hmmm emoji*

Pretty silly, I think almost as much for older readers as for children.