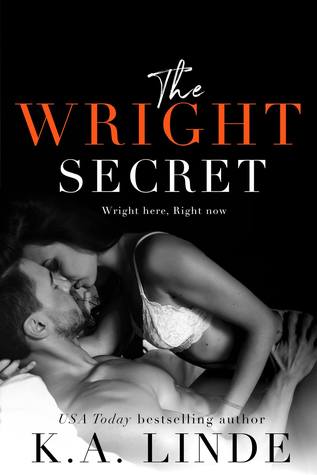 A new brother's-best-friend stand alone romance by USA Today bestselling author K.A. Linde…I was just his best friend's little sister.But he was always more than that to me. After twelve years of pining over Patrick's easy smile, baby blues, and captivating charm, I decide to take matters into my own hands—and completely blow my chance.Who knew a self-proclaimed manwhore would decide to be a gentleman the first time I'm naked in his b...
---
Details The Wright Secret
| | |
| --- | --- |
| Title | The Wright Secret |
| Author | K.A. Linde |
| Genre | Romance |
| Rating | |
Reviews The Wright Secret
PRE-ORDERAmazon US * Amazon UK The Wright Secret is hands down my favorite in this series that isn't a series. It follows Morgan Wright, new CEO of Wright Construction, and her brothers best friend, Patrick. That's right, this is a brothers-best-friend trope. *cue fangirling*It doesn't happen often that I like the heroine of a novel more than I like the hero, but Morgan stole my heart in this book. I loved how she took her work so seriously and w...

As a lover of this series from the very first book. I was really excited to read Morgan and Patrick's story and this definitely didn't disappoint. I loved it. Stay tuned full review to follow shortly as part of the blog tour!

"You'll know when I have all of you, Morgan. You'll be able to feel it. You'll be able to taste it. You'll feel when not just our bodies connect, but our souls. Then, I'll have all of you and not before then." Oh Patrick, how you make me SWOON! If you're looking for a hero that will bring you to your knees in more ways than one, look no further! THE WRIGHT SECRET gives us the highly anticipated happily ever after between Morgan W...

The Wright Secret ticked off all my boxes. Sexy, smart heroine who takes no crap? Check. Sexy, dirty talking, alpha male lead who isn't afraid to love? Intricate, smart, well written story that keeps my interest from the first to last page? Check.I've been waiting for Morgan and Patrick's story to unfold and I loved every minute. Morgan in her tough as nails CEO role was sheer perfection as was her softer, sexy side with the moments spent w...

4.5 golden mashed potato stars I think it's only right that if we got a book for each of the Wright brothers—Jensen (The Wright Brother), Landon (The Wright Boss), and Austin (The Wright Mistake)—that we get that of the ladies' too. Because Morgan? She certainly didn't let me down. This tale just highlighted and magnified her inner strength and beauty like no other. She did what she does best and took on life and all of its aspects—ma...

4.5 stars... review to come

I've read all of the Wright Brother's stories and it's only fitting that we finally get to read Morgan's story - the little sister who rose through the ranks to become the running show of the Wright family business. Having had the opportunity to follow the series from the beginning, i had had the joy of watching/reading the dynamic that existed between Patrick and Morgan as well as the rest of the family. I'll admit that secretly i was cheering f...

Panty Scorching- 4Angst- 3Value- 5Overall Rating- 4.5eKindle Review by: JenThe Wright Secret by K.A. Linde gives us the amazing journey of Morgan and Patrick. Patrick is Morgan's older brother, Austin's, best friend. They have always been in each other's lives but Patrick never allowed himself to look at Morgan than anything else as Austin's little sister. Morgan on the other hand has always had a crush on Patrick but realized he would ne...

NO SPOILERS!The Wright Secret was absolutely amazing and my favorite standalone contemporary romance in the addicting and entertaining Wright series so far! K.A. Linde is beyond talented, and I have come to adore her writing style and all of the amazing storylines and characters she creates. Ms. Linde has truly outdone herself with the Wright series, and each book gets better and better. The Wright Secret completely exceeded my expectations and w...

I was especially looking forward to Morgan and Patrick's story since they were first introduced in the series. I love that Morgan is such a strong female lead and breaking down barriers in the professional world. As a female in a male dominated profession myself I love reading about females who are leaders and aren't afraid to take on the men! This story about Morgan and Patrick was everything I hoped it would be. Yeah Morgan doubts herself a...