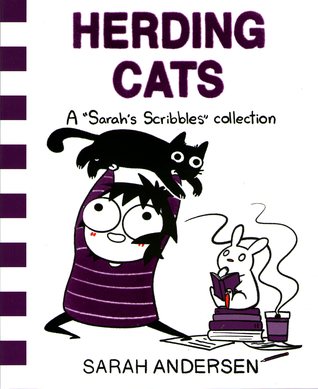 Adjusting to life as a world-famous cartoonist isn't easy. Terrifying deadlines, piles of junk-food wrappers under a glowing computer screen, and an ever-growing horde of pets....umm, never mind--it's pretty much the same.With characteristic wit and charm, Sarah Andersen's third collection of comics and illustrated personal essays offers a survival guide for frantic modern life: from the importance of avoiding morning people, to Internet troll de...
---
Details Herding Cats (Sarah's Scribbles, #3)
Reviews Herding Cats (Sarah's Scribbles, #3)
Sarah Andersen just KNOWS.

oooh, goodreads choice awards semifinalist for best graphic novel 2018! what will happen?more of the same sarah andersen-style charm and doodles; if you liked the first two books, you're bound to like this one. i find her endlessly delightful, and the only reason i liked this book SLIGHTLY less than the first two is that the last part is a long essay directed at young artists about how to handle self-doubt, internet trolls, and criticism in gen...

'''Go make stuff!'' I don't know what it is about Andersen's creations that make me feel so excited. Is it the cute girl with the big eyes, hungry to understand the paranoia around her? The modern, unassuming style? The honest way in which she approaches the problematizations depicted in her sketches? The sensitivity in which she describes a difficult reality? I don't know. Whatever it is, I always find myself reading her work with utter enthusia...

This is my first time to come across Sarah Andersen's graphic novel and it never failed to make me laugh. There are some comic panels that I can relate to, but there are also some panels that I can't understand. Nonetheless, it didn't lessen the impact of how entertaining to read this.The second half, Making Stuff in the Modern Era, is a good addition to this graphic novel; I can fully understand Andersen on her anxiety and the criticisms she enc...

These collections of comic strips by Sarah Andersen always magically appear in my life just in time to cheer me out of a foul mood. They're short and entertaining enough (for my attention span at the time) to successfully take my mind of things and feel a proper sense of relief. And I'm beyond grateful, as always. With characteristic wit and charm, Sarah Andersen's third collection of comics and illustrated personal essays offers a survival ...

This is a graphic novel about Sarah (the author) who (sometimes) struggles with anxiety and social situations (among other things). The stories within reflect her experiences and are completely relatable, insightful, and funny. It was a very quick read and I loved it. This is the second book I've read from this author, the first one was Adulthood Is a Myth which was also excellent. If you love cats and have a quirky, introverted personality then ...

My Rating: Read. Laugh. Repeat. Yes thats exactly what I did while reading Herding Cats by Sarah Andersen. This comic is hilarious and very relatable. I could relate to so much in this comic as if Sarah has written exactly about how I feel and what I would say and do in that particular situation.I am sharing some of my favorite comic strips. I hope you too have a good laugh like I had.My Blog: The Mystique Reader

I love Sarah Andersen. She depicts an introvert's life perfectly. I've read the previous two comics in this series, and I hope she keeps them coming in the years to come. In the meantime, I'll settle for her facebook page. *I thank Sarah Andersen, Andrews McMeel Publishing, and Netgalley for this copy in exchange for an honest review.

It's absolutely fascinating how much her life is similar to mine! I can relate to most of the things. At first, I found it a bit creepy but right now I take it as a sign that I am not completely insane!EDIT: So, I could not really sleep and re-read it, and I suddenly realized that there is no "theme" to this book. Just randomly chosen cartoons. There is nothing really connecting them. I thought there would be way more cartoons about cats or even ...

I have wanted to read the Sarah Scribbles collection for a while now, but it was the title Herding Cats that finally got me to pounce. Jokes are funnier when they involve cats. This is an indisputable fact of the universe. I very much enjoyed the strips where Sarah pokes fun of her irrational devotion to her feline friend but was disappointed they were so few in number. Despite the title and cover picture, most of these comics are not animal rela...

Sarah Andersen returns with another Sarah's Scribbles book - and unfortunately it's one too many. Looking for a series of trite, lazy, uninspired and unfunny observations, cascading one after another likes waves of diarrhea? Herding Cats is for you! The book is jam-packed with way too many vacuous strips about how much Sarah: loves cats and dogs, likes Halloween, is anxious in general, hates but can't avoid procrastinating, hates periods, a...

After being disappointed by the second book in this series, I had hoped this one would be back on track with the enjoyable humor as in the first book. No such luck. Some chuckles here and there and a few outright laughs, but overall not that relatable for me. I most enjoyed the comics featuring cats, and the title was certainly appropriate for a volume dedicated to the antics of our feline friends, but it was a random collection of comics coverin...

If you're friends with me on any sort of personal social media account, you probably already know that I have an unhealthy obsession with Sarah's Scribbles. While I adore webcomics from all sorts of artists and sources, Sarah's are some of the few comics that can, without fail, always make me laugh out loud, smile, or even just go, "Yep, been there." This collection is probably my favorite so far. I just about died laughing over some of the comic...

3.5 StarsI still like and enjoy the first book more than the other two books! This one was okay, not as funny as the first book. Yet it made me smile sometimes but at the end, it got really serious and give some advice to artists. Actually, I think that pieces of advice are not only for artists, but everyone can use them in their life! It's a graphic novel and the third installment in the "Sarah's Scribbles" series. All in all, it was a good ...

"Change is possible, but more importantly, no one should be stopping the many creative kids who have things to say and pictures to paint."How can you be that relatable, so creative and such a good person? I love Sarah Anderson and (all of) her comics.

Instagram || Twitter || Facebook || Amazon || PinterestThis is why I love being a book blogger - getting early access to books written by my favorite authors before they're available to the general public. I was reading over my review for BIG MUSHY HAPPY LUMP, which I received as an ARC in early 2017, and I was bemoaning the wait-time between books. Sarah Andersen gets what it's like to be a moody, anxious, cat-loving, people-avoiding artist, and...

This book was provided to me by Netgalley in exchange for an honest reviewThis is a simple but extremely expressive set of comics. Almost anyone could find a panel to relate to. I love that Sarah's brand of humour is so all-encompassing - a lot of people could relate to it.This is for pet lovers and people who feel overwhelmed by the polarised politics of today. This is a comic for the socially anxious or the person overwhelmed by news; the book ...

I absolutely LOVE IT!! Sarah Andersen never fails to make me laugh! Herding Cats is hilarious and full of positive energy and actually made me laugh out loud many times (it has been a while since a book made me do that). I was afraid that it won't be as good as her first two books, but I might actually like this one even more because of her personal touch and the bits of advice to young artists at the end.It simply made my day :)I highly recommen...

A bit darker than the previous volumes

Cute and funny, as her other previous works. You'll get some good chuckles. And you'll definitely find yourself in at least one of her drawings. Compared to the first in the series, this one also has some advices for young artists, accompanied, of course by some amusing sketches. This time, these two hit closest to home:Recommended if you need something light and relaxing. >>> ARC received thanks to Andrews McMeel Publishing via NetGalley

I LOVE Sarah's drawings. They're always SO relatable and often make me laugh out loud. This instalment was a little different to the first of Sarah's books that I've read, because it includes a little self-help guide for artists towards the end of the book. There's more text than usual, accompanied by her illustrations, but this section only takes up 20 pages or so. If you haven't picked up Sarah's books or haven't checked out her drawings online...

I enjoyed the other two books in this series and was thrilled to see Sarah's latest up on Netgalley. The first half was more enjoyable for me as it had her trademark relatable, quirky, life happenings depicted in humorous comics. The latter half was more Sarah giving advice to aspiring artists. Overall, another fun installment in this series, and I am grateful I was able to spend some time with Sarah and her drawings. Thank you to Sarah Andersen,...

This has cool purple fuzzy stuff on the cover! I loved this! The (dark, sarcastic) humor is right up mu alley and I love that a lot of the panels are about anxiety. Also, it has a lot of "be yourself" positivity and seems like it would be a great thing for teenagers who aren't all shiny and happy types.There is an awesome section at the end that talks about online bullying and criticism. It's an encouraging ending for young artists not to give up...

Another solid installment from Sarah Andersen. I laughed out loud several times, as per usual the only con is that I wish it were longer. This book is extra fun to read with friends.

I like how this may be the most relatable web comic ever!3 issues and this does not disappoint, so funny, light and once again,relatable!If you are in a bad mood and want something to cheer you up, this is too perfect!I am going to give this to my brother as he is an artist and he loves cats, this was made for him!I received an ARC in exchange of an honest review, all opinions are mine

2.5 starsI HATE to give this such a low rating but the comics in these just weren't that funny, and most of them, well, pointless :( Her first two books I have LOVED but this seemed like a re-hash of older sketches with lots of 'filler'. The last section seemed to jar with the rest of the work and went from being 'cute' to preachy :/ Having read this book I would sum it up in one word - meh. I really hope that if there is a fourth book ...

Maybe...if I stop watching these images when Andersen post it, this will be as good as was the first one...maybe-RTC-

This book was much better than the second! I was running around making my coworkers read it, which means it's excellent!!!

I've read most of these already on Sarah's instagram page, but I loved this all the same! I wish there were more pictures and a little bit less text, though, I appreciated that stuff about artists and self doubt. Still, 20 more pages of comics would've been nice, right?This is me.