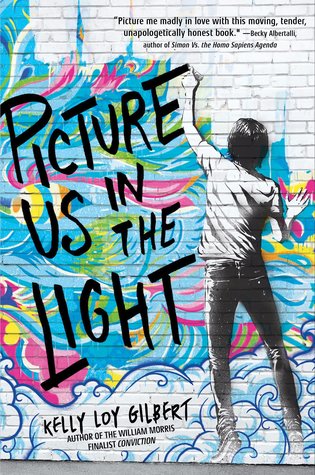 Danny Cheng has always known his parents have secrets. But when he discovers a taped-up box in his father's closet filled with old letters and a file on a powerful Silicon Valley family, he realizes there's much more to his family's past than he ever imagined.Danny has been an artist for as long as he can remember and it seems his path is set, with a scholarship to RISD and his family's blessing to pursue the career he's always dreamed of. Still,...
---
Details Picture Us in the Light
Title
Picture Us in the Light
ISBN

9781484726020

Author

Kelly Loy Gilbert

Release Date
Apr 10th, 2018
Publisher

Disney-Hyperion

Genre

Young Adult

,

Contemporary

,

Lgbt

Rating
Reviews Picture Us in the Light
PICTURE US IN THE LIGHT, like THUNDERHEAD, is a book I will shoving down everyone's throats for the rest of the year my life. I was initially drawn in by the beautiful cover and then I was captivated from the first page and finished in my usual fashion: crying uncontrollably into my teddy bear and pillow.So, #sorrynotsorry for name-dropping this book up the wazoo…because I will not rest until everyone has read this beautiful book and we can a...

My first contemporary, and I am very pleased with it! I don't usually read contemporary, but my English teacher got an advanced copy of Picture Us In The Light and when I saw it, I was immediately drawn to it (mainly because of the gorgeous cover, but also because of the synopsis on the back). I really enjoyed this book with its diverse set of characters and heart-wrenching story line. It had me laughing, and it had me crying. Picture Us In The L...

Maybe the most perfect book ever. Just saying.

Such a beautiful book. Full review to come!

Received advanced reader copy from publisher via Baker & Taylor book supplierDanny is a talented artist who has just been accepted to Rhode Island School of Design (RISD). His senior year should be lots of fun. Yet, as the one-year anniversary of a tragedy that shook his group of friends to the core approaches, Danny begins to uncover some secrets about his family that throws that part of his life in upheaval as well. Sometimes you must face the ...

This book was all the magic of The Sun is Also a Star by Nicola Yoon meets I'll Give You the Sun by Jandy Nelson. That is to say that if contemporary YA with a focus on family is your jam, you will not be disappointed. I read the whole book yesterday in one sitting. I can't wait for it to come out in a few months and everyone to love it. You'll definitely want to buy this one and then pawn it off on friends you want to send on an emotional trip. ...

This review is a little bit difficult to write because I still have very mixed emotions about this novel. I think the writing was beautiful, there were some very difficult topics that I think were handled extremely well, but I had a really hard time engaging with the characters. It had a very dark quality to it that actually made me sad while reading it. I think this shows the depth of the writing, but I really don't like to be sad while I read! ...

My thoughts changed quite a bit as I read this book. I wanted to give up on it early on due to pacing and labored narration, but I was intrigued just enough to continue. Glad I did....I ended up settling into the characters, but not loving them. The twists and turns were nicely done, and some of the character choices/actions/ethnic backgrounds are typically underrepresented in YA lit. I was surprised by how much I wanted the story to continue whe...

4.5/5 starsI liked this book quite a bit. I thought that it was a cute, well laid-out contemporary that pulled at my heartstrings. There was such a diverse set of characters and I loved all the representation that we saw. I also hardcore ship Daniel and Harry (just saying). There were so many amazing aspects of this book. It tackled a lot of big issues and each of them were written with care and precision and made my heart wrench. It's so honest ...

(Disclaimer: I received this free book from Netgalley. This has not impacted my review which is unbiased and honest.)This book has taken all words away from me. I finished it sobbing and days later I don't think I can even do justice to the beauty of this book. After this book I needed the biggest of all hugs. Picture Us in the Light is wonderful. It has skyrocketed into my top contemporaries. It tackles hard topics: suicide, adoption, family, im...

Kelly continues to write books that make my head and heart explode so I'll just be over here trying to recover from her words.

(I received a free copy of this book from NetGalley and the publisher in exchange for a fair and honest review.)Have you ever had that feeling when you read about a character's biggest insecurities on the page, that you're really learning about yourself? That was a gut-punch to me as a read this novel. I mean, I requested this galley because it featured an LGBTQ+ protagonist of color, written by a woman of color. That's what I came for. But...

Read an ARC and loved it. Timely, sensitive, and masterfully told.

This is probably one of the most beautiful books I have ever read. I just want to throw all the stars at it!

UPDATE: It's been a few days and I'm still thinking about this book. I really enjoyed the characters. I'm finding myself missing them and wishing there has been more at the end, especially invoking Harry and Daniel. Also, I forgot to mention how much I related to Daniel and his fear of the night and all his feelings associated with it. It's the first time I've seen it spelled out so well that I've been able to relate to so much. It ma...

This book was a coming of age story about a young, gay, Asian boy with parents illegally in the country. He goes to a prestigious high school and is a very talented artist - he got into RISD! The author makes him an "outsider" because he is not as rich as his peers and his dad (the main breadwinner) loses his job.It tackled many issues (suicide, immigration, job loss, depression, family ties, adoption) but it felt like too much. The entire su...

Danny is an only child; one whose parents work very hard to help him achieve his goals in anyway but also keep secrets from him. When he stumbles across a box with some information on a very wealthy couple, Danny's life will be changed. While Danny is trying to figure out his parent's secrets, he is trying to figure out how life is going to be without his best friend, Harry, seeing as they may not be close to one another in college. (Plus, Danny ...

Three and a half starsSome really terrific writing here - the reader totally sinks into Danny's head as he slowly, (unwittingly) unravels the secrets behind his seemingly perfect life. His confusion, frustration, pain, resentment, hope....it's all there.Consequently, the story isn't completely linear since current events trigger memories/rabbit holes. Danny is still dealing with a lot of unresolved tough issues so the structure is impressiv...

I received this as an ARC from the publisher for an honest review.Danny Cheng's parents have secrets. These secrets cause an abrubt, middle of the night move to California when Danny is only 6 years old. But it's not 12 years later and Danny's about to graduate high school and attend RISD on a massive scholarship. But the secrets are catching up to the Cheng family and Danny can't seem to let them go.This book tackles a LOT of issues, but in a wa...

There are so many story lines in this book, I couldn't get emotionally attached to any of them. Some were unnecessary to the story (Danny being gay) and some took away from what I felt was the "true" story (Danny's parents' secret). I don't generally have a problem with multiple plots, but in this particular novel, I wanted to feel more from the characters and the issues they were dealing with at the time. The story wasn't complex o...

This is not usually my kind of story(to be honest, I picked it for the pretty cover), but I thoroughly enjoyed it. The characters seemed *real* and like they could almost walk around the next corner in your high school hallway. The themes hit a little close to home in places, especially with the struggle to escape academic pressure, but it was a good experience to recognize how much worse my situation could be. This book tore my heart apart and p...

Netgalley provided me an eARC of this book in exchange for an honest review.Though I enjoyed this more than Gilbert's Conviction, I still have some mixed feelings about Picture Us in the Light. The last third of the book was intense and emotional and I couldn't stop reading. The mystery surrounding Danny's sister and parents was by far the strongest plot line, and I was glad when it took center stage and gained some depth.Unfortunately, I felt li...

***ARC received from YallFest***((cries)) This book was beautifully written. I don't usually reach for contemporary books, but I am so, so glad that I got this one. The story deals with love, longing, and loss in such a way that really pulls on the heartstrings.

Beautiful, remarkable, and memorable. Loy Gilbert touches on so many important things in this novel--and she does it so deftly, tenderly, and believably that it never feels strained by all it is asked to hold.

Wonderful and touching book. Danny is such a relatable character, not because he is perfect but because of his flaws and misgivings. While this is categorized as a YA novel, it is a universal story of love, family, redemption, and regrets that will resonate with readers of all ages.