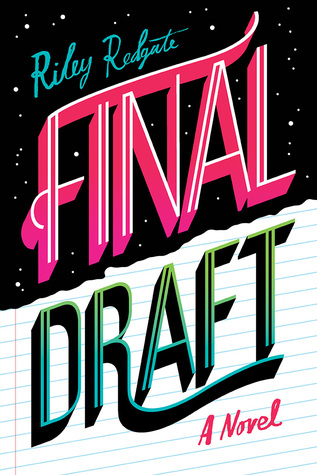 The only sort of risk 18-year-old Laila Piedra enjoys is the peril she writes for the characters in her stories: epic sci-fi worlds full of quests, forbidden love, and robots. Her creative writing teacher has always told her she has a special talent. But three months before her graduation, he's suddenly replaced—by Nadiya Nazarenko, a Pulitzer Prize–winning novelist who is sadistically critical and perpetually unimpressed.   At first, Nazare...
---
Details Final Draft
Title
Final Draft
ISBN

9781419728723

Author

Riley Redgate

Release Date
Jun 12th, 2018
Publisher

Harry N. Abrams

Genre

Contemporary

,

Young Adult

,

Lgbt

Rating
Reviews Final Draft
This is one of those rare books that is an organic piece of life itself. It has been a full month since I read this book and I am still so shook by it and so invested and,,, oh my god. Guys, do not sleep on this. This is going on my preemptive top ten of the year and no one can stop me. Okay, so now that I've stopped crying again, let's get to why this book is so good. At its heart, I think this book is a perfect conveyment of what it is re...

Trigger Warnings: death, car accident, grief, depression, anxiety, underage drinking, drugsMY REVIEW FOR FINAL DRAFT BY RILEY REDGATE CAN BE FOUND ON MY BLOG. CLICK HERE TO SEEElise @ The Bookish Actress has Final Draft in her Twitter name, so obviously, it meant I had to pick it up. Elise is my #1 go to for f/f romance and she is yet to let me down. I'm not even sure how to begin describing Final Draft by Riley Redgate. Honestly, I am still mi...

"When had she risked anything, really? She looked back through her life and saw a procession of schoolday routines, chores, conversational chatter. She felt like a witness to the massacre of all her time. For a horrible moment, she wondered if she'd only ever written science fiction to build an escape chute from her life's insistent monotone." Thank you so much to ABRAMS Kids/Amulet Books for providing me with an e-ARC of this via NetGalley!!!!!r...

1.5 stars Admittedly, I am not the biggest Riley Redgate fan. I didn't enjoy Seven Ways We Lie & I've had Noteworthy on my TBR forever. But when I read the synopsis for this, I was hooked. Perfectionism? Creative writing assignments? Queerness? Check, check & check. I didn't have high expectations but still I walked away feeling disappointed. First off, the relationship between Laila & Mr. Madison was cringeworthy for me. It was not sexual in any...

Hello this book was adorable, writing struggles, adorable romance, relatable main characters, I reaaaaaaaaally enjoyed this and please add it to your TBRs.

"Laughter formed coils around them, thick rings between their bodies and the world. The galaxy drew in and in until its entire contents were this room, hardwood to crown molding, this light, gold splashes from low iron cages, and the feeling of this proximity, heat, and security. The timeline had broken like a seal and let loose something weightless. For a crystal instant Laila was borne up on its back and was invulnerable and immortal, and she...

3.25*This story is "organically messy". I don't know if that's a good thing, but I liked reading it. I didn't really like the characters. Literally everything in this story went nowhere except the romance. Well Laila's character developed also. I liked the romance. Laila's friends besides Hannah didn't do much. Laila's whole writing plotline fell to the wayside later on.So when I first read Laila's story I was like oh no I hate it so I had it out...

She bowed under the heaviness of the hours she hadn't lived yet* * * * 4 / 5When I finished Final Draft my main emotion was sad. Redgate portrayed depression and grief so realistically, it made me feel a bit empty inside, which is how I know an author has hit the nail on the head. This isn't really a happy book, but it's definitely a great one. She wanted to pierce the furthest frontier of her abilityLaila Piedra is half-Ecuadorian, half-French C...

Of all the books Amulet scheduled to release this Spring/Summer season, Final Draft was the one I was looking forward the most.The premise sounds just right up my alley, as I also like to write and rewrite, so having a main character who's so into writing was (in my case) a recipe for commonality.Diverse representation is always a plus, and this novel represents pensexuality, homosexuality, Ecuadorian, Korean and anxiety (if I missed something,...

Gosh I wanted to love this book. I have love her other two books so much. This one just felt all over the place. There was a story or stories within the stories which were fun. However, there was something holding me back from connecting with the characters like I did with her previous stories. I am not sure what exactly it was though. There were definitely parts I liked, some parts I wished were explored more. It felt like it was a bit slow then...

Painfully beautiful passages scattered amongst a slowly chaotic coming of age story.

CW: Masturbation, underage drinking, drug use, sudden death of a loved one, depression, grief.Full review originally posted on my blog: Word Wonders After reading Riley Redgate's Noteworthy and loving that one, I knew I absolutely had to read eveything else she puts out (do not mention the fact that I've had Seven Ways we Lie for over a year now and haven't touched it yet) and I had really really REALLY high expectations for Final Draft ...

I really enjoyed Redgate's previous book, "Noteworthy", and again I could see how unique her style is. But the book didn't work for me.Laila is an introverted mestiza who loves reading and writing science fiction. She's always had the support of her creative writing teacher until Mr. Madison is involved in a serious accident and a substitute comes to his place. Laila had always suspect her stories weren't all that Mr. Madison always s...

This review, and many others, can be found at Lost in My Library. I received an eARC from the publisher via NetGalley in exchange for an honest review.I've read a book by Riley Redgate before, NOTEWORTHY. Considering that that one was an instant favorite, I was pretty sure that I was going to enjoy this one. What I wasn't expecting was how different it was going to be. If I hadn't already known, I'd never have guessed that these are from the same...

4.5 starsThis book took me on a journey. Laila was awesome even though I wanted to shake her sometimes. I enjoyed the relationship between her and Hannah. It was simple and understated, which is refreshing from what we normally get in a YA novel.

4.5 "Have you ever had a day that felt like it changed the trajectory of your entire life?" WHERE DO I START?? This is one of the most beautifully crafted and written books I have read this year, if not ever. I've suddenly lost my ability to write words because I literally just finished this book and it took my breath away. PLEASE read this book, but also, prepare yourself for being an emotional mess because I WAS NOT PREPARED. First off, ...

hooooly smokes. this book really blew me away.something about the portrayal of laila's all-encompassing love of spectacular fiction as a way to avoid her own life combined with love and tragedy all at once at a pivotal time of her life... i am definitely very different from her but at the same time i saw so much authenticity in her journey and story and it really, really resonated with me.i was completely engrossed from start to finish. what a tr...

TW for teacher deathI don't know if i can actually talk about this yet because I'm shaking but lord this captured a part of my life and ahhhhh

A review will be up sometime soon!

First of all, this book was something I wasn't expecting. I liked the author's writing but I thought it was hard to get into. The author wrote Laila's story in 3rd person and for a while I didn't know what I was reading. I thought this was contemporary, not science fiction. Apparently, the author wrote Eden's story (Laila's writing) before getting into Laila's POV. As if Laila had been writing her own science fiction story the whole time. Since I...

WILL RILEY'S TALENT NEVER CEASE? GOOD GOD FRIEND.

(Disclaimer: I received this free book from Netgalley. This has not impacted my review which is unbiased and honest.)I enjoyed Final Draft on so many different levels. On the surface level there is a phenomenal plot, at the same time there's this almost self-reflexive commentary on writing. Laila is a fantastic main character who I could instantly empathize with. Laila was me when I was in school (except I never wanted to become a writer because ...

This was just one of those books that fell flat for me for no apparent reason. There's A LOT of things that I really appreciate about it but overall there wasn't really anything that I LOVED.I listened to the audiobook and it really took some getting used to the narrator. The audiobook is okay overall but I wasn't a big fan of the narrator's voice. Soooorry.But here's what I appreciated:- FEMALE MASTURBATION- amazingly well written (YA appropriat...

* I received an ARC of this book from the publisher through NetGalley. This in no way affected my opinion of the book.Laila Piedra lives for the stories she writes, and the only person who reads them is her creative writing teacher. Until he ends up in the hospital and he's replaced by a Pulitzer Prize-winning novelist who is exceptionally critical and continuously unimpressed. Her strange assignment leads Laila on an obsessive journey to win h...