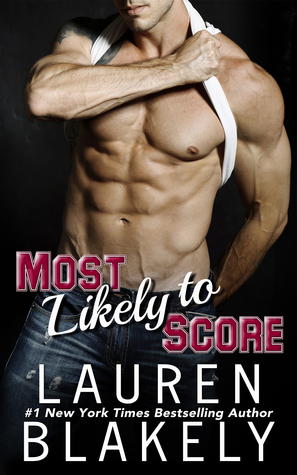 A sexy new forbidden romance from #1 NYT Bestselling Author Lauren Blakely It seemed like a good idea at the time…As the team's publicist, I need a football player to be the face of our charity calendar, and Jones Beckett needs a savvy PR woman to manage his new sponsorship deal. A simple give and take, and I'm sure I'll have no problem following my iron-clad rule — don't date a player. And never ever fall for one. No matter how charm...
---
Details Most Likely To Score
Reviews Most Likely To Score
Most Likely to Score is Lauren Blakely's new forbidden romance. It's a standalone but we met these characters in Most Valuable Playboy. I love a great forbidden romance and add in some football and it's a winning combo. Lauren knows how to write sexy, fun, sweet and alpha men. Every time I meet a new Blakely hero I can't believe I love him as much, if not more than the one before him! I loved Cooper, I did. But Jones just does it for me. He's per...

***ARC Provided by the Author***I loved Jones and Jillian. Absolutely loved them, and their pets, and the rescue animals, the calendar and the kitten.At this point, writing a review of a Lauren Blakely title and stating that I loved it is, well, a little anticlimactic. We all know I loved it, because she is a fabulous writer who writes the sex, the romance, the characters, the supporting characters, and the scenes perfectly. When you have an auth...

Jones Beckett is sexy, outgoing, flirtatious, and has BIG...hands...and he knows how to use them. He's the star receiver for the Renegades and his career is going well. But his reputation off the field could use a bit of rehab to dispel his party guy, womanizer image. He is need of direction not only from a new agent, but the team's PR Director is also stepping in to help.Enter PR guru, Jillian Moore. She is beautiful, witty, personable, responsi...

Jillian Moore and Jones Beckett are the newest couple that Lauren Blakely has given us. A couple that should be off limits to one another, but when the chemistry is off the charts you can't help feel that this needs to happen. Jillian is an Director of Publicity for the Renegades and Jones Is a wide receiver for the Renegades, work should be the only thing that they do together but when they spend more time together they can't help feel that ...

Most Likely To Score is yet another out of this world delightful story by Lauren Blakely about a love that can't be denied. Jones Beckett as the very talented wide receiver and former playboy would like nothing more than to clean up his image with the help of one Jillian Moore, publicist for his football team. These two have been secretly lusting for the other for more months than either of them wish to admit and as they find themselves spending ...

Another hit by Lauren Blakely. Loved this story of Jones and Jillian. We met them both in Most Valuable Playboy and I couldn't wait to read their story. Theirs is a forbidden attraction so they deny their feelings and both just play it off with witty flirts. Time and just life shows them there is more there. More than just lust. Now what? Risk it all for love? Read to find out. This is a touching story. It's not about football although Jones ...

Most Likely to Score is another brilliant love story from Lauren Blakely. Every single book is better than the last!I adored Jones, the professional football player and Jillian, a coworker that he has no business lusting after. I really enjoyed the journey this story took us on. Adoption, rescue animals, a forbidden romance and football, what could be better??Everything about this book was perfection. The dual POV lets us all in on the fact that ...

There's honestly not a better way to ring in the new year than reading an upcoming release from one of my favorites. Jones and Jillian's story has been one I've been crazy over and anticipating to read ever since Most Valuable Playboy . They've both given us enough peeks and teases into their budding relationship to get us hyped and overly excited for their own book. And reading it—indulging on yet another sensational Lauren Blakely bo...

Dear Ms. Blakely,Thank you so very much! Thank you for always providing me stories to entertain me, stories to provide me smiles, stories to make me swoon and stories to make me wish I could be one of your leading ladies. You are one of the most talented authors I know and I'm thankful that the start of 2018 starts us off with a bang...a banging book that is…literally! Now back to the story, Jones is incredible! He's down to earth, charming...

I'm in LOVE. Yes, with capitals. Lauren Blakely always leaves me in awe with her books, and I should learn she's just putting better and better books on my plate, yet I still can't cope with this amazing book hangover she left me with this story. It's the greatest feeling a book lover can have. No one writes romance like Lauren Blakely. Funny moments, oh-so-sexy times, deep-deep emotions. She has the talent of giving her book a heart. And...