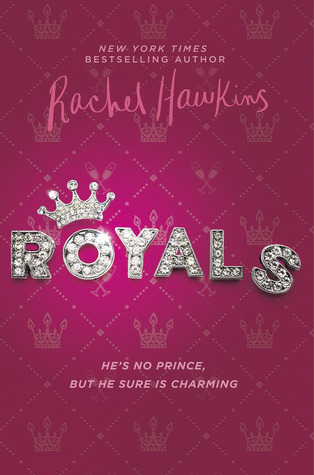 Meet Daisy Winters. She's an offbeat sixteen-year-old Floridian with mermaid-red hair; a part time job at a bootleg Walmart, and a perfect older sister who's nearly engaged to the Crown Prince of Scotland. Daisy has no desire to live in the spotlight, but relentless tabloid attention forces her to join Ellie at the relative seclusion of the castle across the pond. While the dashing young Miles has been appointed to teach Daisy the ropes of be...
---
Reviews Royals
3.5 stars. Magic school, paranormal, princess story… Rachel Hawkins will write about anything and everything that comes to her mind and I love that about her. Princess stories are my thing. I don't care if they are unrealistic, as long as they make me want to become the heroine of the book and live this fantasy myself.And boy do I want to be in Daisy's shoes right now. It's not as though she is on her way to become a princess (her sister ...

Release date: May 1, 20182.5 stars. Ok so first of all, I really do like this author's other books and would normally be ALL over a book where a girl becomes famous because her sister gets engaged to a prince. I got up at a ridiculous hour and skipped school to watch the royal wedding and I absolutely love those ridiculously cheesy royal Hallmark movies. I really wasn't looking for anything serious here and just wanted a fluffy, fun read! Buuuuut...

3 stars!!! ARC provided by the publisher via Edelweiss in exchange for an honest review Arc #2Well I thought this book was going to be difficult difficult lemon difficult but alas! It turned out to be easy peasy lemon squeezy (thank god for that)!I kind of struggled to like it in the first six chapters because I was annoyed with Daisy's relationship with her family but after that chapter I surprisingly enjoyed this book. It was a cliche young adu...

Sometimes you need a good fluffy contemporary to balance out the heavier books you read, and Royals by Rachel Hawkins fits that bill perfectly. It also comes at the perfect time just before Prince Harry marries Meghan Markle in May 2018.The book draws definitely inspiration from Prince William and Prince Harry. In the book, Daisy's sister met the prince at university just like Will and Kate and her sister is an American just like Meghan. But in t...

It's sort of ridiculous how enamoured I am with this book but BOY AM I IN LOVE WITH IT. there's like one scene I absolutely hated which I'll write about in my review that none of y'all will see until like March of 2018 or some shit, but yeah. Hence the 4 stars. But this was so cute! So fun! I love Royal romances man.

3.5 StarsThis was so much adorably fluffy goodness. And of course there is excellent humor and flirty banter as you would expect from a Rachel Hawkins book. We follow Daisy Winters as her life changes thanks to her sister, Ellie's royal engagement to Prince Alex. I really liked Daisy, she's hilarious and doesn't really have a filter. Which makes for a lot of entertainment in a buttoned-up environment. I loved meeting all the royal family me...

Super fast and light. A great summer read or something by the pool side to get your mind off things and just enjoy the day. Everything was solid, though not a ton of depth to make you stop and gasp. It was hilarious and if your a fan of Scotland but know absolutely anything about the UK you'll love it. If you are are acquainted with the Uk you might be completely put off by the cultural rewrite?!?! Like def not accurate And that can be super of...

Charming charming CHARMING. This book is sheer fun spiced with Rachel Hawkins's trademark wit and social commentary. Filled to the brim with Burberry-model princes, Scottish flavor, and ESCANDALO! it is the perfect warm-fuzzy read for the summer.

GOSH I LOVE RACHEL HAWKINS! What a talent she has for voice. Daisy was such an easy character to fall in love with and her story was every bit as charming and hilarious as you'd expect a Hawkins book to be. I also really appreciated the modern and feminist take on royalty, that still allowed for the glitz and glam of fancy ball gowns and tiaras. My only problem with this book is that I didn't really know who to ship at first! I love Hot Tub P...

Thank You Edelweiss for providing me a free review copy in exchange for an honest reviewSo, I have never been into the royal family. I can count on one hand the times I've thought about them even within the context of their highly publicized weddings. But, royalty has been a stable in literature since reading became a thing, so the concept of royals has essentially been unavoidable. Royals, a book that has the worlds best timing from a publicity ...

Well, that was cute.Review to come!

4.5 starsWhat a fun read! It had me laughing. The MC, Daisy, is so funny. I adored her dad and her bestie. Just a really fun, light hearted read.

Rating: 4.5 StarsI am not a royal watcher, but I am a fan of Rachel Hawkins' books. Her previous work has been mostly paranormal. Therefore, I was surprised when I learned she would be writing a contemporary romance. No need to worry! There may be no supernatural elements in this book, but it still was fairly magical for me. Tell Me Five Things If I were forced to tell you only five things about this book, they would be the following:•Humor - T...

I haven't enjoyed a YA book this much in a long time. This was so delightful and charming! I loved Daisy's voice! RTC

3.5 starsI've always enjoyed Rachel's books, so I knew I would be reading this one, even if I don't really have Royal Family Fever. I really liked Daisy. She's sassy and snarky and her inner monologue was fun. I especially enjoyed that she seemed to talk first and think second. There are loads and loads of other characters and it definitely took something away for me; however, Daisy's dad is hilarious. The boys were okay, but again, way...

3 and a half fun, fabulous, and delightfully sassy stars. Who knew all the YA troupes smashed together would be so much fun? Review to come.

ARC provided by Penguin Teen in exchange for an honest review. I loved this one! I haven't read a cute YA romance in a while and this was adorable. I blew through this book so quickly. It had me laughing almost the whole time I read it. With her sister marrying into a royal family in Scotland, Daisy is hoping that it doesn't interfere with her life in Florida. When a Scandal happens, she is sent to Scotland for the summer where the royal fami...

I received a copy from Penguin's First To ReadThis book was like a giant rom-com cliché. The alternate history for the Royal family was eye rolling and cringe worthy. That being said once you over look those things, it was actually a very entertaining read. Irritating as hell, but fun. (Especially like me if you have a guilty pleasure for Royal gossip)In this alternate world there is a Scottish Royal Family, and the heroine Daisy's sister El...

I received The Royals by Rachel Hawkins from First to Read by Penguin Random House. Thank you Penguin Random House for giving me the chance to read it. Here's what the book was about listed by Penguin Random House: " Meet Daisy Winters. She's an offbeat sixteen-year-old Floridian with mermaid-red hair; a part time job at a bootleg Walmart, and a perfect older sister who's nearly engaged to the Crown Prince of Scotland. Daisy has no desire to live...

3.5 stars. While you obviously have to allow yourself to roll with a lot of the details (or lack of) in this story, it was just real fun to read ROYALS. I liked the characters a lot, and the story was entertaining (if a little predictable). I'm definitely going to check out the next one (if there is one, like Goodreads tells me)!

Y'all. This book is so perfect. I LOVE Daisy SO MUCH. I've also missed Rachel Hawkins's voice in YA - her YA books stand out so much to me because there's so much snark and sass on every page and the love interests are so Soft and Good. I'm just kinda mad because I can't read the next book right now, so I'll have to pull another royalty book.

I will order 2 copies and hopefully one of them is signed.Probably my fave book this year (so far). **Full review in my book blog. And huge thanks to Penguin's First to Read program for access to this book.

*3.5* I can always expect a good time from Rachel Hawkins' books. Her Hex Hall series, for instance, is one of my favorite YA series. Witches, snark, and romance...it's epic to say the least. Therefore, when I caught wind that she had a new book coming out (one involving royals!!) I couldn't have been more excited. The result? Combining Rachel Hawkins' characteristic wit with royal drama and a touch of romance, ROYALS is fluffy, flirty, and laugh...

THIS WAS SO MUCH FUN I ADORED IT TO PIECES

3.5 starsThis book, though an enjoyable read, was just a *bit* too fluffy for me. There were no dragons! And the main character kinda looses all of her wits every time she sees a good looking guy. Which is just... kind of annoying? And though the writing wasn't outstanding, it was definitely good enough.I did enjoy reading it, though, despite the utter lack of dragons.

I received a copy of the book from First to read in exchange for an honest review.It's hard to find a nice young-adult, first POV, that doesn't make your eyes roll all the way... this book is a winner, because not only did I never roll my eyes, but I had a smile painted on my face through all the 256 pages. I never thought I could find clichés so much fun and enjoyable. The book is narrated through Daisy's POV, a funny, sweet, colorful, lively, ...

I have absolutely loved everything I've read by Rachel Hawkins so to say I was excited about Royals would be an understatement. I was lucky enough to get my hands on an early copy, and I couldn't put it down! I'm kind of obsessed with stories that deal with Royalty (who isn't right?) but I found myself really enjoying the fictional take on Royalty that Hawkins has created with this story! Daisy Winters is just like every other teen… exc...