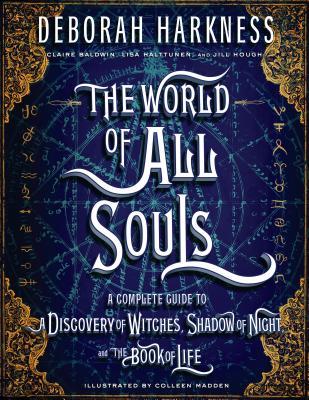 A fully illustrated guide to Deborah Harkness's #1 New York Times bestselling All Souls trilogy--"an irresistible . . . wonderfully imaginative grown-up fantasy" (People)A Discovery of Witches introduced Diana Bishop, Oxford scholar and reluctant witch, and vampire geneticist Matthew Clairmont. Shadow of Night and The Book of Life carried Deborah Harkness's series to its spellbinding conclusion.In The World of All Souls, Harkness shares the rich ...
---
Details The World of All Souls
Reviews The World of All Souls
This is a companion book to the author's trilogy about Diana Bishop and Matthew de Clairmont.I shouldn't have to say it because it's obvious, but just in case: one really should only read this book AFTER having finished the trilogy because of major spoilers.The book contains the following chapters and sub-chapters:1) Synopses (summary of the books, the calendar and even music from the trilogy)2) Creatures3) Characters4) Organizations (the univers...

Imaginary worlds are just as deserving of guidebooks as the real world places we all love, and the All Souls universe now has a Baedecker's worthy of it. The World of All Souls is an amazing guide to my favorite universe. Talk about a swoon worthy total package. It's a work that definitely needs to be savored, and its clever set up allows you pop in to explore a compelling topic or meander through. It's definitely a book I'll revisit again and ag...

A must-read for hardcore fans of All Souls trilogy, but do not expect to be WOWed. Illustrations are amazing but beside two deleted secenes and one new interview with author, written part left much to be desired.

All this book is, is retelling what the entire trilogy is about. There's about 2 hrs of just going over each character's name and what the names mean. Very boring. You must be a die hard fan of this trilogy to enjoy this and care about any of this. I was very disappointed. Not what I expected at all. 14 hrs of this. Yes, I got the audiobook. There's no way I could have "read" this.

The World of All Souls is the perfect companion to the All Souls Trilogy. It allows the reader to experience the All Souls universe in vivid technicolor!As a reader, you not only get to know some of the minute details of the characters, their backgrounds, and origins, you'll also get to experience some of the places mentioned in the books! And this is not just by listing geographical locations, but by exploring the minute details of the places....

I wasn't even aware that this book was a thought until it popped up on my library's website. I grabbed it thinking it was the new book coming out, didn't pay that much attention, just knew it was in the series. Turns out this book is essentially the bible of the series. The author goes into depth with so much of what makes the books. I especially liked when she talked about how the book came to be and how it sold. I did listen to the audio ...

I received this as an ARC from Netgalley.com.First line: Dear Reader, Welcome—or welcome back—into a world of daemons, humans, vampires and witches, where a reluctant witch and a fifteen-hundred-year-old vampire discover the secrets left in a mysterious manuscript. Summary: A complete companion guide to the All Souls Trilogy. There are synopses of each book, the races, characters and locations plus so much more. Highlights: I wish this had be...

I love the All Souls Trilogy by Deborah Harkness so I was thrilled to get to read this preview of the guide to the series. It looks to be fascinating and engaging even though I only saw a few pages of it. I eagerly look forward to reading the complete work later this year. I am reviewing this book based on an ARC received from NetGalley in exchange for an honest opinion.

As always love anything relating to Discovery of Witches by Deborah Harkness.

This book is basically the Bible of All Souls trilogy. So much information, it's a massive book, I skimmed a lot of details I didn't really need or want to know, but love all the little details about Philippe. I also appreciate Deb giving us Matthew's entire library collection and the books he enjoyed and the ones that shaped his worldview over the years.

Brilliant! Must have for any DOW fans.

This book is a compendium of information about the All Souls Trilogy. Some of the information can be found in the books, but much of it is only hinted at or not mentioned at all in the books. For fans of the All Souls world, this book is an excellent read as it gives you insights both into the author's creation of the books, but also into the characters, locations, organizations, and events in the trilogy. There are also outtakes -- chapters that...

Honestly, this was not for me. You SHOULD NOT read it while you are reading the series, because even if you wanted to look up a specific character you would be treated to spoilers for the series. Spoilers are throughout this and I can seriously only recommend you read it after you have read the entire series. I have yet to read All Souls Universe (because at the time of writing this review, it isn't even released yet). However, it doesn't even ap...

Excellent. Very informative. Beyond all the historical references, including photos, glossary, etc. one of the most enjoyable parts of the book were two small sections where the author gave you a quick short story from a place in the books where she could insert a little something interesting.

Series Companion Volume or a "Great Course" in Historyhttp://fangswandsandfairydust.com/201...THE WORLD OF ALL SOULS by Deb Harkness: A richly-detailed alternate-world series often benefits from a companion volume; here you get series info and excellent history!If you loved the "All Souls Trilogy" then you will definitely want this companion volume which provides all those little extras you wondered about. It includes character bios, a sy...

Great information and insight. I will use the book as a reference guide when I need to refresh myself about something in the All Souls Trilogy.

Great book. A book that delves into the details in the All Souls series....insights, back history.....just a great book to accompany the series. The history of locations and characters.....it is hard to find the right words but this is a wonderful book for those that "live" the All Souls series.

I read bits here and there. But I don't think this is a book I'll finish straight through. It's an interesting reference. I read all the cut chapters/outtakes for books. There is one for DOW and one for SON. Unfortunately, nothing from BOL. I enjoyed those and the author notes. I think it will be fun to reference on a re-read. Like Hmm, I'm spending a lot of time in this location, let's read a little more in depth. It's something to broaden your ...

Wow! Not an encyclopedia but a compendium of interesting information about the All Souls Trilogy. The drawings are fabulous and render the images from the books faithfully and creatively; truly the images are a joy to behold. Definitely a must for All Souls trilogy lovers.

Enjoyable, though missing some things I really hoped to learn (e.g. all of Gallowglass's names--we know one of his names because one of the twins is partially named for him, but in his entry under full name it just says "Gallowglass de Clermont")--there are a few instances like that where it almost seems like maybe they meant to put more info but given how many people were working on it, it just got overlooked. Glad I read it, though, as it is a ...

I will come back to this book regularly, even just to find new reading suggestions

The perfect tell all companion reader to the All Souls trilogy. This book has dictionary style lists of characters, places and events from the books. Lovers of this series will find the book invaluable and will go back and reread with new understanding. Illustrations of dress and places add to your understanding and enjoyment.

I had to snap this beauty up right way, I did PreOrder it the minute I knew it was available thanks to DH's FB page, I did PreOrder the next book from her too, that name is so not coming to my mind, nuts!! too much info. in that brain-O of mine, LOL!! can not wait!! ... I love Deborah's writing style and have been hooked on this series since I 1st found it ... gosh lost track on how I 1st found it? I think that was on my very 1st kindle ... then ...

The format was a pleasant surprise- the various narrators, the author herself, the organization of the book, it's all new to me; as a long time Harkness fan, it was not what I expected yet it turned out to be better than I expected. Harkness answers nearly every question a reader might have about the trilogy. It's like you got to spend a long weekend in the country with unlimited access to your favorite author. I find it especially interestin...

More through and detailed than I could have ever hoped for. Just fantastic.

A must-have for fans of the All Souls Trilogy! Filled with all the background (and more) to make the Trilogy's world come even more alive, it has history and fantasy and wonderful art. Not one's usual compendium, it's a beautifully researched and drawn expansion of the world we've come to love.

Gives lots of background to the characters, places, things from the series. I like that many of the houses or things are real and historic. I did not realize how many characters were real figures in history. I love the Elizabethan era of history, sometimes so much so I feel I missed my true calling as a historian.

I love watching and reading "behind the scene" stuff so this was awesome! Lots of background information on the characters and the historical lore that Harkness pulled upon to make her series magical.Just wish I had the physical copy so I could see the illustrations!

I wanted this to be another addition to the book series because I really loved the whole story line. It is a fantastic series but this is not what I expected. I got it last night and returned it this morning. Just a guide and not of any interest to me at all. Read the outline is my best advice. Sooo disappointed but if you have read her series it is so fun!

Hardcore fans of All Souls Trilogy will enjoy this beautifully illustrated reference book. I received this as an ARC from Netgalley.