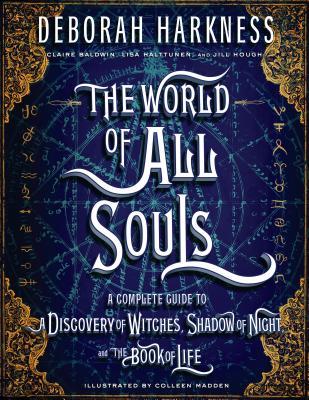 A fully illustrated guide to Deborah Harkness's #1 New York Times bestselling All Souls trilogy--"an irresistible . . . wonderfully imaginative grown-up fantasy" (People)A Discovery of Witches introduced Diana Bishop, Oxford scholar and reluctant witch, and vampire geneticist Matthew Clairmont. Shadow of Night and The Book of Life carried Deborah Harkness's series to its spellbinding conclusion.In The World of All Souls, Harkness shares the rich ...
---
Details The World of All Souls
Reviews The World of All Souls
Imaginary worlds are just as deserving of guidebooks as the real world places we all love, and the All Souls universe now has a Baedecker's worthy of it. The World of All Souls is an amazing guide to my favorite universe. Talk about a swoon worthy total package. It's a work that definitely needs to be savored, and its clever set up allows you pop in to explore a compelling topic or meander through. It's definitely a book I'll revisit again and ag...

I love the All Souls Trilogy by Deborah Harkness so I was thrilled to get to read this preview of the guide to the series. It looks to be fascinating and engaging even though I only saw a few pages of it. I eagerly look forward to reading the complete work later this year. I am reviewing this book based on an ARC received from NetGalley in exchange for an honest opinion.

I received this as an ARC from Netgalley.com.First line: Dear Reader, Welcome—or welcome back—into a world of daemons, humans, vampires and witches, where a reluctant witch and a fifteen-hundred-year-old vampire discover the secrets left in a mysterious manuscript. Summary: A complete companion guide to the All Souls Trilogy. There are synopses of each book, the races, characters and locations plus so much more. Highlights: I wish this had be...

As always love anything relating to Discovery of Witches by Deborah Harkness.

All this book is, is retelling what the entire trilogy is about. There's about 2 hrs of just going over each character's name and what the names mean. Very boring. You must be a die hard fan of this trilogy to enjoy this and care about any of this. I was very disappointed. Not what I expected at all. 14 hrs of this. Yes, I got the audiobook. There's no way I could have "read" this.

I wanted this to be another addition to the book series because I really loved the whole story line. It is a fantastic series but this is not what I expected. I got it last night and returned it this morning. Just a guide and not of any interest to me at all. Read the outline is my best advice. Sooo disappointed but if you have read her series it is so fun!

Enjoyed this series especially the first book.

Hardcore fans of All Souls Trilogy will enjoy this beautifully illustrated reference book. I received this as an ARC from Netgalley.