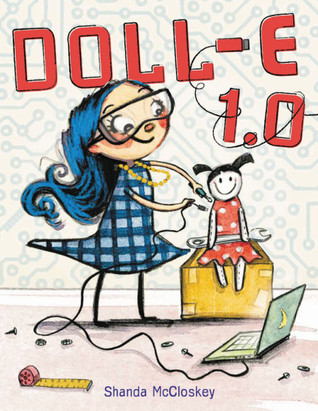 A STEM-friendly tale of a girl and the doll she upgrades to be her new friend, for fans of The Most Magnificent Thing and Rosie Revere, Engineer.Charlotte's world is fully charged! With her dog at her side, she's always tinkering, coding, clicking, and downloading. She's got a knack for anything technological--especially gadgets that her parents don't know how to fix! Then, she receives a new toy that is quite a puzzle: a doll! What's she suppose...
---
Reviews Doll-E 1.0
Sometimes you feel like reading a super cute picture book haha 😂😂

Fantastic book for STEM lovers and kids who love to tinker with their toys.Charlotte's parents are concerned that she's a little too tech-y, so they buy her a doll. But when she discovers the doll has batteries, she sets out to transform her "plain" doll into a wonderfully unique companion.The kids LOVED this book and voted to give it 5 stars. They giggled at many of the illustrations.

This is my new SUPERFAVORITE!!!

It's techno-trouble for clever Charlotte, the heroine of McCloskey's DOLL-E 1.0, because she doesn't comprehend the purpose of her new toy, a doll. With her trusty canine sidekick Blutooth, Charlotte is constantly on call for fixing the gadgets and devices that break and baffle her family. However, her constant coding and tinkering spark concern from her parents, who want Charlotte to unplug a bit.The new "human-shaped pillow" doesn't...

Originally posted on Creative Madness Mama.Today's generation of children has different toys from the past days I remember. Everything today is very electronic and active. In some ways there is less imagination at play, but not completely. Doll-E 1.0 is a fun, creative, and attractive book for the electronic age child. While I have, personally, been pretty adamant about unplugged-play... my children still were able to really enjoy this book. It o...

Doll-E 1.0 is the first book I've read by Shanda McCloskey. It follows a young girl named Charlotte who is totally plugged in. Everything in her life has a plug, battery, or some other power source. Everything except the new doll her mother has just gifted her. Not accustomed to things without power, Charlotte at first doesn't know how to play with it but soon, she and her pup give the dog a bit of an upgrade. A fun book with lovely illustrations...

I absolutely loved this book! Charlotte is such a lovable, memorable character. She's girly yet geeky, sweet and smart. Her little dog Blutooth is a happy fellow... most of the time. He isn't particularly thrilled when her new toy doll arrives. And neither is Charlotte! But with a brain like hers, she knows exactly what to do about it!I adore the illustrations, the character's expressions and all the tiny details that McCloskey illustrated, such ...

When Charlotte's parents get in the way of her techie world by giving her a doll that has a built in speaker and battery box, they were not expecting her to upgrade Doll-E! My favorite moment in this book is when the doll calls Charlotte Ma-Ma, and Charlotte is aghast! How can she be anyone's mama when she's just a kid herself? Charlotte's curiosity drives her to understand exactly what her parents were expecting her to do with the doll, but when...

I love the way this book turns gender stereotypes on their head. Charlotte loved to tinker, code, and fix. Worried she spent too much time in virtual world, Charlotte's Mom bought her a doll. "Charlotte dragged the human-shaped pillow to her room." Not surprisingly, she didn't know what to do with the doll.In the end, she found a clever way to blend her love of the virtual world with the real doll in front of her. I especially love the images of ...

Charlotte loves to build, tinker, code, and create. She is happy with technology and enjoys fixing things. When she receives a doll as a gift from her mom, she is disappointed until she realizes she can use her tinkering skills to give this doll some life. With the Makerspace Movement being embraced in schools and libraries, this is a timely, adorable picture book that should find room on shelves everywhere. The illustrations are fun and the text...

There is so much to love about this book. The main character, Charlotte, is brilliant--like a pint-sized professor. She's always coding or tinkering or fixing the household electronics.When her parents become concerned that she is too plugged in to electronics, they buy her a low-tech doll. At first, Charlotte doesn't know what to do with this "human-shaped pillow." However, eventually she finds her own way to play. This is a good mash up of crea...

I really enjoyed this book and my robot-loving girly-girl did too. A cute concept with lots of vocabulary and themes that today's kids will find familiar. The perfect companion to Rosie Revere, Engineer and The Most Magnificent Thing.

I like that Charlotte is tech-savvy, but why can't the doll just be a doll? I was desperately hoping this would focus a little more on imagination and how that fuels creativity. You know, the actual power of the mind instead of just knowing how gadgets work. Instead of focusing on "I'm a girl and I can code, too" it would be great to have a book that shows technology being a tool that can be turned off. That to get ahead one doesn't hav...

This is a delightful read for parents who occasionally think the world should slow down and their kids should take a break from technology and instead play with a low-tech doll. Author/illustrator Shanda McCloskey beautiful portrays the creative and stem-inspired Charlotte (and her trusty sidekick dog Blutooth) as Charlotte cleverly bring a new and improved version of Doll-E into their lives. A great addition to any picture book collection!

Charlotte is good at tinkering, coding, clicking and downloading. When she gets an ordinary doll she knows she can create something more when she spies the battery pack. In the spirit of taking things apart and seeing how they work, putting things together and rediscovering, this book encourages children to be science minded. Fun illustrations will have young readers smiling and thinking, hopefully with mom and dads consent and maybe some help.

Definitely agree that fans of Rosie Revere, Engineer and The Most Magnificent Thing should check out Doll-E 1.o. This book has so much to offer. I love the fact that it has a bit of a graphic novel feel. This feature will draw in a different set of readers. Also, I am a dog lover and a doll lover. So, this book hit many of my sweet spots.

Love it! Cute, clever, great STEM selection that kids will read again and again. And the super twist with the two interwoven layers of the parent storyline and the child storyline is primo picture book storytelling!

This one leaves me ambivalent. I love Charlotte's creative and inventive spirit, but why does she have to turn the doll into a gadget before she can enjoy it? How about just some imaginative, non-technological play?

Do you have a child who is always "in the cloud"? This picture book celebrates the little maker with the story of inventive Charlotte who hacks her one-word-doll to create a more interactive play companion.

This book is great fun and I love Charlotte's clever inventiveness so much. I hope the author writes a whole series about her.

Super cute. EngineeringDollsTechie

A techie blue-haired girl doesn't know what to make of her new toy doll- until she discovers just what to do with it. I love the fresh, modern feel of this story and the illustrations.

Very cute, love that it encourages STEM, especially for young girls! Not crazy about the parents trying to stifle her creativity by giving her a doll, but whatevs.

This was so adorably awesome! I loved the creative approach to blending typical girl toys with a young girl's interest in STEM!

Little tech-savvy girl gets a non-tech doll. It's time to modify it.

A young girl highly connected to tech, gets a doll and doesn't know what to do with it until she realizes it has batteries.

A great story of how a kid scientist makes a new toy her own, despite her initial lack of interest!

Super fun book with expressive characters and tons of amusing details throughout the illustrations. My two girls (ages 4 & 8) loved the story!

Great story, STEM, awesome art. This one is a winner

Cute story about a tech-savvy girl who is not sure what to do with a low-tech doll that her mom gets her after hearing a news story about kids who spend too much time plugged-in.