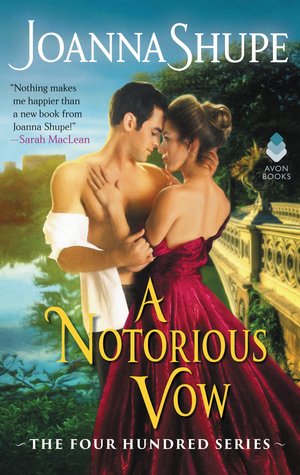 Joanna Shupe returns to New York City's Gilded Age, where fortunes and reputations are gained and lost with ease—and love can blossom from the most unlikely charadeWith the fate of her disgraced family resting on her shoulders, Lady Christina Barclay has arrived in New York City from London to quickly secure a wealthy husband. But when her parents settle on an intolerable suitor, Christina turns to her reclusive neighbor, a darkly handsome an...
---
Details A Notorious Vow (The Four Hundred, #3)
Reviews A Notorious Vow (The Four Hundred, #3)
What a lovely story. I am really enjoying this author. RTC

😻😻😻😻😻 Joanna Shupe's latest historical romance is powerful and affecting, beautiful and heart-wrenching. Lady Christina has lived her whole life at the mercy of her mercenary parents, paraded around and primped for the highest bidder. Enter Oliver, Christina's American cousin's handsome recluse neighbour. Oliver lost his hearing at 13 and has been struggling to find his place in society ever since then. When Christina is in danger ...

Round up to 4.5 stars. This was such a delight! Review to come to AAR.