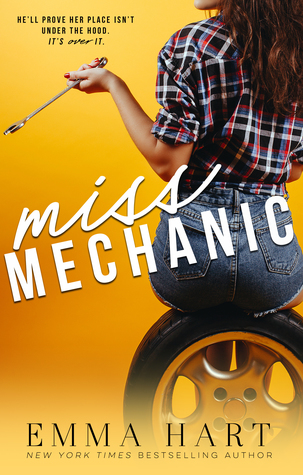 Two mechanics. One rivalry.She'll prove she's as good as she says she is.He'll prove her place isn't under the hood.It's over it."Don't let the bastards get you down."For twenty-six years, I lived by my daddy's motto. Which is why "Mechanic Wanted" is all it takes for me to apply for the job at the garage we once owned. And I meet the biggest bastard of them all.Dexter Ryne. Hotter than Hell in July and a firm believer that ...
---
Reviews Miss Mechanic
I'm a big fan of enemies to lovers. Jamie and Dexter have a strong attraction despite the fact that they don't get along. The snark that flows between them is quite entertaining. The balance between the two was executed well. At first, Dexter comes off a certain way that wasn't endearing him to me but then as he develops, I got to see that there's more to him than I originally thought. His relationship with the women in his family really ...

Dissenting opinion ahead. I seem to be the only person who feels this way.I picked this book because of the female mechanic aspect. I thought this would be a book that challenged gender stereotypes with a strong female lead who does her job well and is respected for it with a hero who respects said woman. What I got was a sexist book filled with sexual harassment and dubious consent with a heavy dose of misogyny. When a person (any gender) tells ...

ARC provided by author in exchange for an honest review Witty, charming, cute and sexy as hell!! Yup, you guessed it Emma Hart strikes once again as she delivers a heart filled romantic comedy that had all the nuts and bolts to keep her readers motor's running! Right off the opening pages, sassy smart humor and a strong willed heroine will keep you glued to this book. Toss in banter and an enemy to lovers storyline….you know you got yourself ...

3.5 starsWell, it was definitely funny.Sassy heroine, sometimes a bit childish and immature, but overall a decent girl with hot temper!I take them in any form, but please not a doormat! The hero was ok. Poor guy, he didn't stand any chance against her. LOL. Liked many of their 'sparrings'. Some were odd, but some were funny.No drama, no OM/OW, no silly misunderstandings. "I love you, you crazy little shit."

Great book!! I really enjoyed this book. The story was cute and sexy. With loads of sexual tension thrown in. I really liked Dex and Jamie's characters. From the start they were fighting with each. They could never see eye to eye on anything. Dec would just get on Jamie's nerves and she would the same. Basic this is how the story goes. But the story is really good and full of very funny parts. It has my laughing out loud in quite a few parts. I r...

"Just remember that no matter how hot he is or how tingly he makes your lady bits, he's a sexist asshole who doesn't have the capacity to give you the respect a badass chick such as yourself deserves." The QUEEN of Romantic Comedy has struck again! Her latest release, MISS MECHANIC, delighted, thrilled, and bulldozed its way straight to my heart! Emma Hart is a rom-com GENIUS and she proves herself time and time again. The HUGE SMILE neve...

This book was one of those perfect weekend reading experiences for me. This was fun, light and a really enjoyable story.Jamie has spent her whole life surrounded by cars and their engines so it was only natural that she would become a mechanic like her father. From a very young age she would help out in her dad's garage business and there isn't anything she doesn't know about the cars and the people that drive them in her town.Sadly, due to...

*5 Stars* ARC kindly provided in exchange for an honest review. I am so in love with this book. Right from the very start it had me hooked. The attitude and smart ass comments between Jamie and Dex from their first meeting were hilarious, and the fact that they start off enemies was awesome because thats a favourite trope of mine.Jamies inner dialogue is hilarious, she is extremely sassy – "Since opinions were usually closer to assholes tha...

"3,5 Cross My Heart Stars""Miss Mechanic" was a pretty enjoyable reading!I really liked this one.Dexter and Jamie were so funny and their bickering were the best foreplay.This book was a nice and easy reading with witty and hot moments. There were times were the characters acted a little immature but it didn't bother me too much. I really liked that both Dexter and Jamie had something to say to each other and didn't get shy or backed down from a ...

Release Date: December 12, 2017 Genre: Enemies to Lovers RomanceEmma Hart always writes enjoyable romances. She brings readers realistic and likable characters, an entertaining plot, and books that are easy to read in one sitting. Miss Mechanic is all of this and more. It's fun, sassy, angsty, and satisfying. It's the perfect enemies to lovers romance that will make you laugh out loud at the ridiculousness of it all and even touches upon seriou...

I picked up this book very randomly but it turned into a fun quick read. I enjoy books that are hate to love romances and even though this wasn't my favorite it kept me turning pages and laughing hard. I think that if you are looking for a quick fun read you should pick this book up.

***AVAILABLE NOW - FULL REVIEW ***4 TACO CROWNSMiss Mechanic is full of all the hate/love shenanigans one could want. From the very beginning, their dislike for one another creates the chemistry between Jamie and Dex until it evolves into much more, making their journey entertaining and fun.Dex is a chauvinist, a complete pig when it comes to female mechanics. Surprisngly, though, I still really like him. His banter with Jamie and seeing him inte...

And this is why I love all things Emma Hart. As always, she grabbed me from start to finish. From Ms. Fix Up to Ms. Mechanic, everybody's gonna love this series so much. Emma Hart raised the girl power with this new series to the nth power and I don't need to say much because this book is EVERYTHING you needed and more. Emma is brilliant with her words and I will be forever in awe of her.I have said this over and over that Emma is my go to author...

*4.5 Stars* When the opportunity arises for Mechanic, Jamie Bell to work for her family's previously owned mechanic shop, she does not expect new owner Dex Ryne to completely blow up her life (and her temper!!) This book was absolutely fantastic! I had a smile frome ear to ear while reading this book as it was full of sass, swoons and banter. Gahh it was everything. I completely fell for Jamie and Dex from the getgo. There is something about enem...

Nothing really happened besides Dex and Jamie bickering in a garage while doing oil changes for about 70% of the book and the sexy parts weren't that sexy if you ask me.Not the worst book I've read, just a bit boring sometimes.

Funny + sexy = a perfect combo for me. Safety Note: completely safe, no ow/om drama at all

What the fuck was this?Review tomorrow

Miss Mechanic by Emma Hart is easily in my TOP 3 fave books Emma has ever written! I absolutely LOVED IT! Dex has my heart right now! He was pure male perfection! Gah! Emma writes the best rom-coms. And just lately she's included the gender-flip that is just sheer brilliance. I can't even begin to tell you how much I've come to love this trope and Emma nails it every time. Miss Mechanic was so funny, so sassy and so sexy. I'm 100% addicted to it ...

Okuduklarımın üstüne gerçekten iyi geldi, baya eğlendim.

Originally posted on NallaReadsI am so glad I decided to listen to my bestie and go for this book because OOH WEE are Dexter and Jamie HOT!Nothing beats the explosive chemistry between workplace enemies. Jamie's family lost their beloved garage and its now run by Dexter Ryne. Not only is he old-fashioned in his non-belief on female mechanics but he doesn't believe Jamie can prove him wrong. When the two go head to head on who's the better mechani...

omg this was too adorable!!

Emma Hart takes sexual tension and banter to the extreme in Miss Mechanic. If you're a fan of enemies-to-lovers, you'll be all over this one.Dex and Jamie were two of the most stubborn characters I've ever read. They alternated between infuriating and on fire throughout the story. One minute I was wanting to shake someone and the next, I was swooning. Their relationship was all over the place and it had me tearing through the pages to see how eve...

4.5 Anything you can do, I can do better Stars!!"I was sweet as pie. Until you pissed me off. Then….Well, then I'd shut you down quicker that a hooker shut down a guy after a free blowie.""I was attracted to him. Pin me down, flip me over, fuck me 'til next week attracted to him.""She was mouthy. Determined. Strong. Confident. Unafraid to challenge me. Unhesitant to call me on the bullshit I spewed every now and then. She was a fo...

I received a copy and voluntarily left a review Emma Hart is by far one of my favorite authors but she has truly outdone herself in her newest book Miss Mechanic. Not only is it just as steamy as the rest and the families are just as hilarious but nothing fascinates me and makes me love a book more than a kick ass, sarcastic heroine and I would say out of all Emma's stories I have read Jamie is by far the sassiest of them all! Add in a mechanic t...

Let the battle of the sexes and mechanics begin!And let me tell you, due to Dex and Jamie's stubborn personalities, unfiltered mouths, and hot tempers, this fight is either going to end with Jamie out of a job and Dex in the hospital in order to get a screwdriver out of a place it shouldn't be or they'll rip each other's clothes off and hate fuck one another until they realize that they actually are more alike than they think and rev one ...

3 stars. I liked this book, but didn't love it. This is Dex and Jamie's book. Jamie is a female mechanic. She was raised in her father's car repair garage in their small town. She grew up loving cars and went to work in his garage. When her father is forced to sell the garage for financial reasons, Jamie is out of work. That is until she tries to get a job with the new owners of her father's garage. Dexter's father bought the garage and he is now...

4 StarsThis is the ultimate battle of the sexes and hilarious at best. Jamie is a woman who grew up working as a mechanic in her father's garage before he was forced to sell it. Dex is the man who is now running said garage and thinks a woman's place is NOT in the garage. Hiring her on a trial basis to prove that she really doesn't belong there, things get very interesting.In typical enemies to lovers fashion, these two start off hating eac...

I've always liked it when a man worked a female oriented job or vice versa. As you can probably tell by the title, Miss Mechanic was one of those instances. Jamie was sarcastic and didn't take crap from anybody. I loved that she fixed cars while wearing a skirt and lipstick. Even if it was to prove Dex wrong. Dex on the other hand... There were times he drove me CRAZY with his chauvinistic ways in the beginning. Once he got over that he became sw...