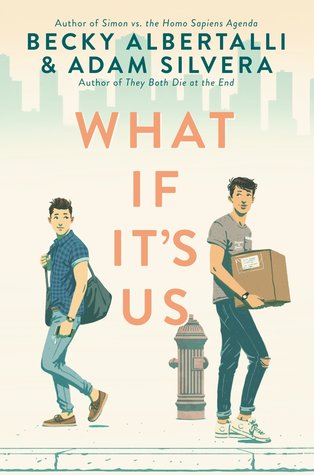 Arthur is only in New York for the summer, but if Broadway has taught him anything, it's that the universe can deliver a showstopping romance when you least expect it.Ben thinks the universe needs to mind its business. If the universe had his back, he wouldn't be on his way to the post office carrying a box of his ex-boyfriend's things.But when Arthur and Ben meet-cute at the post office, what exactly does the universe have in store for the...
---
Reviews What If It's Us
never in literature history have the gays won so hard until this collab(I'm willing to bet all my college savings that the ending was all Adam's idea because god forbid he let us have nice things!!)

I still can't believe I got an ARC for this! 😱🤩. I LOVED IT. ❤Is so good! Funny, interesting, cute, realistic (too much in my mind, but oh well, life) and with friendships/families/relationship goal.The writing, I'm in love with it. Is so beautiful and the story? YESSS. This book really shows that sometimes everything happens for a reason and maybe not in the circumstances or way that we expected, but still it happens and it might not...

It's waaay too early for a review (I'M SORRY BUT I COULDN'T NOT READ IT THO) so I'm just going to smush some really small thoughts together and then come back and review it properly in October!☆ this book is SUPER CUTE☆ like think of cute --> and then double it☆ there are easter eggs to Becky and Adam's other books and I diED I love that so much☆ honestly it's SO Becky and SO Adam omg☆ it's gaaaaay☆ I actually laughed out loud so much...

--4.5 stars--Massive thank you to Edelweiss and Harper Collins for sending me this ARC.Can I just express how ecstatic I am at the state YA is headed this year? I've jokingly said that "20gayteen is in full swing and I am here for it" a lot, but in all seriousness, how amazing is it that YA is finally, FINALLY becoming more and more diverse with not only POC representation, but LGBTQ+ storylines being at the forefront. That's a big deal, people. ...

*An ARC was provided by Edelweiss and the publisher in exchange for an honest review* "I pictured New York like West Side Story plus In the Heights plus Avenue Q- but really, it's just construction and traffic and iPhones and humidity." My expectations were higher than most of New York's skyline but somehow, Adam Silvera and Becky Albertalli still managed to wow me.This was precious, deliciously awkward, and refreshingly realistic. I absolutely...

This review and other reviews can be found @ ThebookprescriptionActual Rating: 4.25 starsI don't know if we're a love story or a story about love. But I know whatever we are that it's great because we kept jumping the hoops in the first place.🌟 This book is marshmallow and unicorns, this book is so cute! This is legitimately my favorite LGBT book till this point. I read 2 books by Adam and 1 book by Becky and enjoyed all of them but I ha...

Adam e Becky escrevem um livro juntos e, surpreendendo a ninguém, ele é maravilhoso. É incrível poder perceber como a escrita de dois autores tão diferentes funciona tão bem em conjunto. A história de amor de Ben e Arthur tem todo o senso de humor e a vontade de COLOCAR EM UM POTINHO da Becky Albertalli, sem deixar de lado a melancolia e o pé no chão do Adam Silvera.Estou genuinamente apaixonado por esse livro. Eu amei como a história s...

4.5 stars. WOW. WOW WOW WOW WOW WOW!!!!!!!THIS. WAS. AMAZING. I honestly don't think I can do this book justice if I attempt to write a coherent review. Ben and Arthur are smol beans that we all love and deserve.i LOVED all of the friendships in this book.DIVERSITY!!!! One character is puerto rican, (both are queer, obvs), BIROMANTIC ASEXUAL REP, ANXIETY REP (the character's name was dylan, and I feel attacked. He was also my FAAAAVORITE CHARACTE...

Thank you to HarperCollins for the advance reader copy. This was a cute romance that explored the idea of fate and what the universe holds for you. The story starts off with Arthur walking into a post office. It's there that he bumps into Ben who is attempting to mail a box of his ex-boyfriend's belongings. The two strike up a conversation and sparks fly. When a flash mob happens, the two are separated and both wonder what could have been. Fr...

This book is undeniably cute. Becky Albertalli and Adam Silvera are great at writing characters, and it was easy to tell who influenced which character. I particularly enjoyed the friendship between one of the main characters and his best friend. I also found myself laughing time and time again while reading, and I loved all of the Harry Potter references. However, as much as I enjoyed the book, I was also disappointed. I think this would have wo...

"Don't do anything Rose and Jack wouldn't do in a steamy vintage car". Spanish review at the end What If it's Us it's the kind of book that makes you cry. Not because some sad things are going on, but because you're heart is broken from reading all the beautiful experiences that you'll never get to live in real life. This is the kind of book that draws a stupid smile on your face from the first until the last line, but it's also the kind of book ...

I received a review copy from Edelweiss in exchange for an honest review. This in no way affects my thoughts or opinions. Thank you to Edelweiss and HarperTeen for sending this my way!3.75 Stars!What If It's Us is a story about two boys who met by chance in New York City, but leave without exchanging details. They both regret letting this slip by and attempt to track each other down. An adorable dual perspective love story ensues.I went into th...