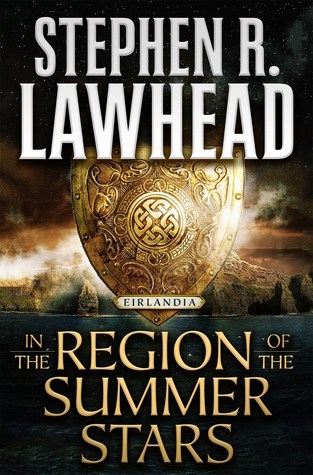 In the Region of the Summer Stars by Stephen R. Lawhead is the start of an epic fantasy adventure series set in a realm rich in imagination and intrigue, and steeped in the wonder of the Celtic Otherworld. The isle of Eirlandia has been ravaged by the barbarian Scálda, who seek to conquer all. The High King has called for the warring clans and tribes of the Tuatha DeDanann to set aside their feuds and unite to fight to save their nation.Conor is...
---
Details In the Region of the Summer Stars (Eirlandia, #1)
Title
In the Region of the Summer Stars (Eirlandia, #1)
ISBN

9780765383440

Author

Stephen R. Lawhead

Release Date
May 15th, 2018
Publisher

Tor Books

Language

English

Genre

Fantasy

,

Historical

,

Historical Fiction

,

Fiction

Rating
Reviews In the Region of the Summer Stars (Eirlandia, #1)
(I received an audiobook version of this courtesy of Macmillan in exchange for an honest review.)Historical fiction writer Stephen R. Lawhead has been on my radar for a little while now, so when I was offered a copy of his latest, I jumped at the chance to read it!If you like all things Celtic, In the Region of the Summer Stars is the book for you! Druids, faeries, war chiefs, oh my! I made an extensive study of the Celtics years ago and really e...

LAWHEAD IS BACK.I was a tad disappointed in Bright Empires (enjoyable, but not as epic as Pendragon or Albion), so when I saw a new series coming out I was hopeful - and I did well to put my hope in this book! It feels like a mixture of everything I love about Lawhead. It may not be AS legendary as Merlin, but it's just as exciting to read as Taliesin. I think Conor is a great hero to follow. It is unpredictable (I had a couple - wait, what?- mom...

I managed to get through the first chapter or two of this book. It wasn't great. It needed better writing and a better editor. For example, the prologue has this one guy show up to a crappy village, and somehow that one village is also a kingdom? So, this guy shows up, and he has nice clothes, a weird hair style, and a really nice horse. Connor, the main character and currently 10 years old in the prologue, is reeeeeeally taken by this horse. Som...

I have enjoyed readng all of Stephen Lawhead's books and I enjoyed reading this one as well. Some of the character personalities were reminiscent of characters in Lord of the Rings. I would have given this book 5 stars but there were quite a few words that I didn't know. I didn't know if they were made up or actual archaic Irish / English words that I couldn't find a definition for. I did my best to put them in the context of the sentence. All-in...

4.5 Stars A very good story... A much better series than his last one. Really enjoying the story of Conor and his friends...

Not sure of the classification, but a pretty good story,: well-written, interesting plot, realistic characters. Will be looking for the sequels.

A new book series by Stephen Lawhead - one of my most favourite authors. Been looking forward to this book for a while, got it for Fathers Day - had to wait a few days before I could find time to start it - but then I had to be disciplined about putting it down - from very early on hooked by the characters and the developing story reminding me very much of the historical retellings of stories that Lawhead does so well. The only drawback - I got t...

This was a good one. Took me a bit of time to get into but now I am looking forward to what comes next in the series.

Fall into the ancient lands of Erin (Eirlandia) and become engrossed in Celtic myth and legend. Lawhead has a soothing, steady-paced voice which makes reading his stories a LONG TIME not noticed (until the book falls from your hand because you've gone to sleep in the early hours!)This is the story of Conor, eldest son of a local King; not expected to take over because he has a facial mark which casts him as unworthy. However, he is a good warrior...

Well written, I love a good Celtic story. I look forward to the next in the series.

True to form, Steven Lawhead weaves a tale of fantasy and adventure worth reading. Set in Eirlandia, he mixes historical fiction with legend to make a story that grabs you from the beginning. His characters are rich, the settings picturesque. He knows the history and legends well from the Celts. The only sadness is I must now wait til his 2nd book in the series releases.

Great book! I can't wait for the next in the series ❤❤❤

This is the first Lawhead book I have picked up in years, and I can say that I'm glad I did. The story (early Ireland this time) is well paced and interesting, with just enough research for the historically interested, but with some of the fantastical as well. The story begins with a druidic curse and is mainly the story of one family clan and their reactions to the invasions from across the sea. This is the first in a new series and I will be ...

I loved going to Eirlandia, and also back to Avalon, with Stephen Lawhead! (I've read all of his fiction books except for a few of the children's.) I really enjoyed the characters and the story, even if it does leave you hanging a bit at the end -I hope there will be a next one!! There are some surprising twists near/at the end, which I rather liked! :) I loved Conor, and also Rhiannon, though I wasn't sure how I'd feel about her at the beginning...

Exceptional and excitingSteven has outdone himself yet again. Never a dull moment. Brilliant and lovable characters. The plot is memorizing. I am waiting anxiously for the next installment.

I am a big Lawhead fan, so whatever bias might come from that I am perfectly okay with acknowledging up front. That said, while there are some really great moments and some genuine potential, In the Region of the Summer Stars is not his best work. The concept itself I think is really good. The problem is the way he choses to structure the story. For example, for a good portion of the book we are expected to buy into the fact that Connor is a fier...

I have read all of Lawhead's work. He is my favorite author, and this is a fine work. However, it was not as good as many of his previous works. The story is interesting and the characters are very good. The land of Eirlandia is bright and imaginative, and the faery presence adds a good deal of depth. There is a good amount of intrigue and suspicious behavior going on with some of the characters, but it never feels fully developed. One of my favo...

Lawhead is back in his wheelhouse with this book. Within 20 pages I knew I liked it better than his Bright Empire series. That may be because I liked the main protagonist (Conor mac Arden) better than the rather drab Kit Livingstone. But enough about that. If you have read the Song of Albion trilogy you wlll feel right at home here. This book is not the equal of the Paradise War but that doesn't mean it shouldn't be read. It's kinda slow in...

In the Region of the Summer StarsLawhead moves me and makes me think, In the Region of the Summer Stars does not disappoint and yet begs the question when in the series will we see the familiar links between the far off past and the understanding of this world from the perspective of the learned and yet incomplete knowledge of the creator and how that will be introduced to include what we know of Jesus. I laughed, I cried, I got mad, I was afraid...

The best thing Lawhead has written in a long time, and a promising start for a new series. This first installment is both reminiscent of Stephen's early work (which was always very good), while also reminding one of Ireland's modern bard, Morgan Llewelyn. This is a tale of early history in Ireland, and a lot of research has clearly gone into fleshing out the world, the detail of which makes it easy to lose yourself in the narrative. Fair warning,...

For years, Ireland has been striving to be rid of the Scalda, invaders to the southern shore. When doubting the intentions of Lord Breda, Connor finds himself stumbling onto a plot far greater than he imagined. Seeking truth, he becomes an outcast and ends up tumbling into a far greater adventure than he could imagine..Based purely on Irish myth, Lawhead has fashioned a story possibly as great as His Pentagon cycle, and yet, at least with this fi...

Stephen Lawhead has done it again. Another action packed "realistic fantasy" this time set in ancient Eirlandia (Ireland).This first book in a new series introduces Conor mac Arden, the son of a minor king, who, because of an obvious birthmark, isn't able to take on his rightful role as the eldest son, but still has the knowledge, skills and innate ability to lead, with a bit of youthful impulsivity and naivete.However, that impulsivity leads him...

He's done it again. I have loved almost every book he's written, but Stephen Lawhead should stick to Celtic epics, because he is undoubtedly the master. This one features the lovable hothead Conor. And while a passage reads, "Thus does the world change, not with a sword, but with a word", having a sword in Conor's hand certainly helps! For lovers of bardic storytelling, deep characters, mysterious faerie magic, and immersive historical ...

Stephen Lawhead returns to his Celtic mythology with the start of a new series. This one features Conor, a warrior who finds himself drawn into schemes and battles through the agencies of druids, invaders, plotters and finally the fairy folk. Nicely written, with lots of plot twists and a good deal of fun.

Overall I enjoyed it. The characters needed more development, and I would have preferred more setting description, but Lawhead is trying to pull off a nearly impossible task of creating the world of pre Christian Ireland while making it accessible to contemporary readers, plus driving the plot forward and setting the stage for the next two books. He manages to mostly pull that off.

This is not one of Lawhead's best efforts. It lacks the spiritual center, poetic grace, and natural beauty that drive his beloved Pendragon and Albion series. As with any early entry in a series, its sequels may improve perceptions and redeem this work. But on its own, "In the Region of the Summer Stars" failed to captivate this longtime reader.

So disappointed in this book. I've loved much of Lawheads content in the past. This book was slow and the storyline was nonsensical at times. There was never a flow to the book and I had to slog my way through it. There was a lot of potential but it just fell flat. Very flat.

I've never met a Lawhead book I didn't love. Review to come.

I've been craving a good Celtic fantasy series lately and with this novel, Lawhead has set up to deliver one.

I love all of lawhead's books, but this book needed a better editor. There were several typos and grammatical errors throughout, like reading an ARC. otherwise typical, good lawhead.