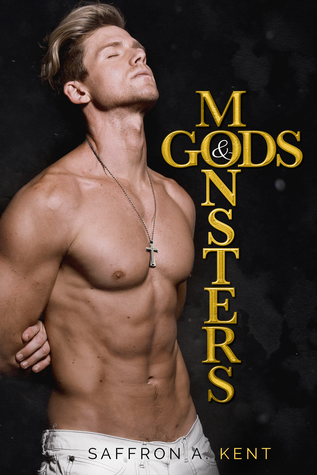 He was an artist. She was his muse.To everyone in town, Abel Adams was the devil's spawn, a boy who never should have been born. A monster.To twelve year-old Evie Hart, he was just a boy with golden hair, soft t-shirts and a camera. A boy who loved taking her picture and sneaking her chocolates before dinner. A boy who made her feel special.Despite her family's warnings, she loved him in secret for six years. They met in empty classrooms and kiss...
---
Reviews Gods & Monsters
4.5 big bang starsGo to my blog Readin' Under Street-Lamps for the whole review because honestly it got a little longer than I'd anticipated lolI have always said this, and I'll always say this every time someone asks me why I choose to read over everything else- it's because books change my perspective on the world. How I see it, how I perceive it, how it affects me- books have been the biggest influence. And every once in a while, you come ...

5 "Legends" Stars Wow! This story was much more than I anticipated. More meaningful. More sexy. More emotional. More darkness. More angst. Just more. And I expected a lot because Ms. Kent's last two books, most especially her debut, really resonated with me. And this book just gave me exactly what I didn't know I needed. Full review to come.I voluntarily read an ARC of this book. A is for Alpha B is for Books.

I was blown away and hooked from the beginning!! I just loved this book!! Without giving too much away, the chemistry between Abel and Evie sizzles, but this is more than just a smut-fest. Seeing their relationship develop and unfold over time was simply a joy to read. These two are some of the most compelling characters that I've read. Abel comes storming into her life and gives her no choice but to become friends with him. He does some of the s...

4.5 StarsThis third book from Saffron A. Kent is nothing like her previous books and I love that. I had no idea what to expect from Gods & Monsters and I'm certain that's why it was such a wonderful surprise and I really enjoyed it. This coming of age story has everything. Especially a plot that resonates with people, strong and flawed characters. Both equally well developed and just kept unfolding as the story progressed.Abel and Evie aka Pi...

An Saffron A. Kent did it again. She pushed so hard on my limits my jaw hit the floor literally almost every freaking time.I love her books because the only thing you know when picking one up that you will be blown away. But Gods and Monsters? It's a masterpiece.This is that kind of book you can't stop reading, a book that will capture your heart, mind and soul.A legend was born with this book.

It's pretty obvious that when you pick up a book by Saffron A. Kent, you'll be blown away. As is the case with her two previous novels, Gods & Monsters solidified this author as an artistic genius. Capturing the heartbreaking angst of young, forbidden love, Saffron kicks it up a notch by adding taboo elements that only deepen the readers' curiosity and tighten that hold until you just can't stop reading. "Our love is the stuff of legend." There i...

EPIC. TRUE LOVE. LOVE CONQUERS ALL. POETIC. LYRICAL. THE STUFF OF LEGENDS.SPEECHLESS.**full review to come**BLURBHe was an artist. She was his muse.To everyone in town, Abel Adams was the devil's spawn, a boy who never should have been born. A monster.To twelve year-old Evie Hart, he was just a boy with golden hair, soft t-shirts and a camera. A boy who loved taking her picture and sneaking her chocolates before dinner. A boy who made her feel sp...

***5 Pixie Stars***This gorgeous book has it ALL! Brilliant. So different from anything I've read lately. Unique plot line, and amazing characters. I read it all in one sitting. This was a incredible book! Once I sat down to read, I didn't stop reading until the very end. Its hard to believe that this is only her 3rd book because it is so beautifully written. It flowed effortlessly from page to page, chapter to chapter. The characters were VERY w...

Page after page this book just kept getting better and better. I felt every emotion you could feel in this book. The connection between Able and Evie is such a slow burn you wonder if it will ever happen or if it's just childhood infatuation. These characters were so relatable and I loved everything about them.

speechless once again.. tears in my eyes. review to come but now I need to wipe the tears coming out of my eyes

Saffron's writing is MAGIC. Gods & Monsters sucked me in, made my stomach drop, my eyes bulge and my panties disintegrate. Could NOT STOP READING!!! Full review to come!!

**ARC provided by author in exchange for my honest review.**This is the story of Edie, a sweet loving girl who sees good everywhere. This is the story of Abel, a lonely boy trying not to be the monster people think he is. When they fall in love people aren't happy but they choose each other over everyone else. "One day I'm gonna kiss you in front of the whole world and if they don't like it then fuck them." The Unrequited was one of my to...

***ARC provided in exchange for a honest review***If work didn't get in the way, I would've read Gods & Monsters in one day. It was so good I didn't want to stop reading until the very last page. Not going to lie, I was a crying mess throughout. Towards the end of the book I thought it was going to go a complete different direction and was hanging on by a thread. I had to keep taking off my glasses and wipe my eyes to see the words LOL. It ...

***ARC received in exchange of an honest opinion***Review to come

5 If I highlight any more passages, I might as well highlight the whole book STARS!If you're looking for a book that will tug and play on every heart-string you possess, THIS IS THAT BOOK!If you're looking for a book that will make you look at love in an entirely different way than you did before page 1, THIS IS THAT BOOK!If you're looking for a book that will challenge you, consume you, make your heart race and your knuckles white, THIS IS THAT ...

Small towns. High school cliques. They hold all the power. Power in making people believe what they say. They hold the power so how can they be wrong? They make assumptions and accusations And their word is LAW. What happens when one doesn't agree? What happens when they defy or stand back? Outcasts. They are then treated like they don't belong. Then ones tries to prove themselves, only to be left angry. Angry at those who hurt them and angry at ...

This book is just Wow. Saffron's writing is perfect in this novel and will make you want more. There are no other words to describe it. The best I can do without giving anything is away is by saying its a cross between Adam and Eve mixed with Romeo and Juliet. It will make you feel lots of emotions like happiness, sadness, anger, love, pain, forgiveness, tears all mixed in one as soon as this story begins. Abel and Evie are so beautifully broken ...

I really don't know where to begin in trying to describe my thoughts on this story. It was one of those stories that consumes you from the beginning and you don't want it to end. There was so much intensity and passion in this story, that the emotions that Abel and Evie felt just jumped off the pages. I laughed, I cried, had my heart broken......and then had it put back together. I love the way Abel and his Pixie loved one another. They knew they...

Wow. You know that feeling when you have a new thing and you discover that it's beautiful and unique? That's exactly how I am feeling right now. I have never read this kind of story before and I loved it. I knew Saffron Kent was a gem when I read The Unrequited. She just proved again how amazing she is. There were so many lessons in this story. I really loved how Saffron is always perfect with her words. They capture your heart and soul. I lo...

Gods and Monsters will make you look at life in an entirely new way. It will make you look at love in an entirely different way. It'll make you question if you've even been living before the moment you finish this book. Abel Adams is a god. But he's also so much more. I've had many book boyfriends up until this point but not now. Abel Adams is the ultimate book boyfriend. When someone asks me who my favorite is, his name will always leave...

I am so honored to have read this book! Abel and Evie have a love like no other. Their fight for their love was horrible and so emotional! My heart hurts for their journey together. So much love and also so much hate was ruling their lives. Abel's little Pixie was a force to be reckoned with. She made up her mind and went after the goal. The passion and devotion in this book were awe inspiring. They had to exercise so many ghosts to move forward....

Wow is the best word I could come up with to describe this book. Evie and Abel have a star-crossed epic love that consumes everything. They show you all the sides of love, both the beautiful and the ugly. As usual, she gives us a no-holds-barred beautifully written story that makes you think and feel, blush and cry. No one will be able to forget Abel and his Pixie.