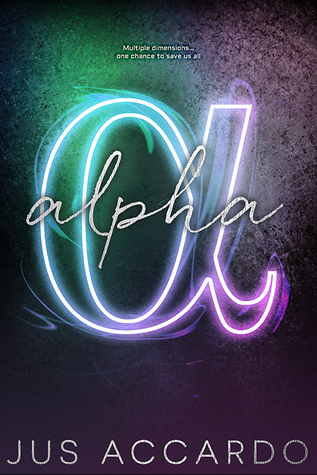 "A fun YA sci-fi story with a compelling cast of characters." —Kirkus Reviews on InfinitySera is the obsession of a killer chasing a ghost. G is a soldier with too much blood on his hands.Dylan lost the only person he ever loved—and will stop at nothing to get her back.In a whirlwind chase that takes them back to where it all started, Sera, G, and Dylan will have to confront their demons—both physical and mental—and each other, in ord...
---
Details Alpha (The Infinity Division, #3)
| | |
| --- | --- |
| Title | Alpha (The Infinity Division, #3) |
| ISBN | 9781640631854 |
| Author | Jus Accardo |
| Release Date | Jul 3rd, 2018 |
| Publisher | Entangled: Teen |
| Language | English |
| Genre | Young Adult |
| Rating | |
Reviews Alpha (The Infinity Division, #3)
Sera loves G. Dylan loves Ava. But Dylan has taken Sera in hopes she will love him. Why you ask? Because Sera is Ava and Dylan is G. Confused yet? Well, welcome to the world of the Infinity Division.Alpha by Jus Accardo is the third book of the young adult science fiction/romance series. Each book in the series has taken a page from romance and switched the main characters but it's definitely best to read from book one and unravel the Infinity ...

I've really enjoyed this series. It's outside the box. This book, Alpha was my favourite. It probably could be read as a standalone but it's best to start at the beginning. Alpha is Sera and G's story. In an alternate universe Sera is Ava and G is Dylan. Dylan lost his dream girl, his one true love and is desperate to have her back. He is able to travel to other versions of his world but they are all slightly different. His Ava is gone but he res...

Alpha was the final book in The Infinity Division Trilogy and it ended with a bang! I loved watching all the loose ends get tied up and those I've come to care for get their happily ever afters. But it was a rough road get there. Heartache, redemption, sacrifice, lies and love filled the pages and at times everything seemed so unsure in this parallel dimension story. So if you're interested in giving this series a try you definitely have to go b...

*Source* Publisher*Genre* Young Adult / Science Fiction*Rating* 3.5*Thoughts*Alpha is the third and final installment in The Infinity Division trilogy by author Jus Accardo. The Infinity Division was introduced in the first book where those working for Infinity have discovered the ability to jump to different dimensions. In each dimension the characters all exist, but lead very different lives from one world to the next. Alpha continues where Ome...

I received this e-ARC from Entangled Teen in exchange for an honest review. In Alpha, we follow Sera and G (in alternating POVs) as they attempt to take down the creator of the Infinity project, Cora, once and for all. This involves a lot of realm skipping, alliances that are made and broken, and secrets that finally come to light. Though I've seen nothing confirming this, the book reads as a conclusion to the series, wrapping up story lines fo...

This book was the perfect conclusion to the series. In a world, or worlds, that had been mounting tension and pressure the way this exploded into action and adventure and pain was so on point for the Series. G was my favorite dude and that was hard cause cranky Noah had me for the longest. But give me a tortured anti hero and I'm trash for it. Sara was also a gem and I loved how they navigated this fight together. And that ending. Be still my b...

I am the queen of stand alone and companion novels and here I am, sad that I have to say goodbye to cast of a characters I've gotten to know over The Infinity Files. Infinity, Omega, and now Alpha have all focused on different characters, though the same core characters have been through every book. Alpha focuses on G and Sera, who have been held captive and experimented in. Now free, they're on the run from their past while figuring out thei...

#Alpha #NetGalleypublisher synopsis: Sera is the obsession of a killer chasing a ghost. G is a soldier with too much blood on his hands.Dylan lost the only person he ever loved—and will stop at nothing to get her back.In a whirlwind chase that takes them back to where it all started, Sera, G, and Dylan will have to confront their demons—both physical and mental—and each other, in order to win their freedom.This book was amazing. Not everyth...

The long awaited conclusion to the Infinity series highlighted two characters Sera and "G" who must defeat the parallel universe's Cora Anderson in order to free themselves from her evil plans. For me, their story was harder to follow not just because I had a lot of stops and starts trying to read it, but because it was hard to get into the characters themselves. Also, this Cora is pretty twisted how she tortures Sera and G, so it's one of the da...

*i received this book for free in exchange for an honest review* I loved the ending. It did not disappoint. It was fast paced, with characters that were probably the most interesting of the group (im still a noah and ash fan though) but Jus writes good characters that keep the book going at a great pace. Without spoiling it wraps up the two books before really really well! Its fun and addicting i love it!

Thanks to the publisher for a review copy via Netgalley. All thoughts and opinions are my own.Alpha is the final book in The Infinity Division series by Jus Accardo, preceded by Infinity and Omega, and it wraps up the journey began in the first book nicely. The series continues it's intriguing twists and turns as all the characters jump from one version of Earth to another while trying to keep their enemies at bay.As with previous books, in Alp...

Alpha by Jus Accardo is Infinity Division book 3 and the final book in the trilogy. Sera, G, and Dylan have been through a lot and see a lot through different versions of themselves. If you have been reading the Infinity Divisions books, which you should do before reading this one, Alpha is a satisfying end to the trilogy. Overall I recommend Alpha by Jus Accardo. The dynamic and complex charachters are matched by an equally complex world. Nothin...

My full review can be found on the Epilie Aspie Chick blog! Thank you to Entangled Publishing for providing the ARC in exchange for an honest review. I'll be the first one to say I love me some universe tripping science fiction. Seeing your way through the various possibilities of what life could've looked like is always fascinating to me, especially when its someone else's looking glass that I'm looking through. So when this ARC came across my ...

**I received an advance copy of "Alpha" from NetGalley in exchange for an honest review**On the run to escape their former captor, the evil Cora Anderson, Sera and G find themselves racing against the clock and across parallel dimensions to save themselves. In the process, they stumble upon a plot that could lead to the deaths of millions of people living on multiple versions of Earth.Sera is a girl who has no memory of her past life. All she can...

I Voluntarily read and reviewed the ARC(Advanced Reader Copy) of Alpha. All thoughts and opinions are my own.First Thoughts:I didn't know what I was getting myself into when I first started this book. No I didn't read the first two books in this series but the premise of this book was too good to pass up. I thought heck, let's see if I could get into this book without reading the first two books. I mean the two main characters were different than...

"Alpha" is the third and final book in the Infinity Division series. In each book, the plots are connected although we follow a different couple. The overarching plot is that there are a multitude of other realities, where we exist but are somehow different from our reality. However, on many realities, technology has been created where you can skip from reality to reality. On a military planet, Dylan's fiance, Ava, died, and he lost his mind, sea...

5 StarsReview by SashaLate Night ReviewerUp All Night w/ Books BlogArmed with new chips and a final mission, the infinity gang is set for their greatest task yet in Alpha by Jus Accardo. After finally finding Ava, or Sera as she likes to be called, hidden away in a cell in Cora's facility it seemed as if the chase was over. Dylan had finally found the girl he'd been looking for, but what he didn't expect was for another version of him to be...

2.5 starsI went into this with higher hopes than were fulfilled. Sera and G never really interested me and there were so many flashbacks that didn't always add anything. Too often I was actually bored with the story and just wanted to see how all of this would end. I've like Dylan since the beginning (yes, even though he was the bad guy) so I wanted more from him here. And I'm not exactly sure how happy I am with how things ended for him.Not surp...

Alpha is the conclusion to The Infinity Division series. Every book has followed different characters but they've all help one thing in common, Dylan. Dylan is the brother of one of the main characters and he kind of goes off the deep end when his fiance dies. He uses his world's technology to jump to various dimensions wrecking havoc, killing people he feels are responsible for everything bad in his life, and searching for his fiance, Ava, in th...

What a thrilling conclusion to the trilogy! The stakes are higher than ever, Dylan, Sera and G and the rest of the group all are trying to beat time and beat the odds that are going against everyone while Evil Cora is on the loose trying to destroy everything. We dive more into G and Sera's Earth and how they came to be in Infinity and what exactly the Alpha program is. Plus we learn about their pasts, and get to see the interactions with other s...

I really liked how all the characters got their happy ending in this book. They stopped evil Cora once and for all. I loved G and Sera's relationship. She was relentless with G in proving that she wasn't scared of him, despite what evil Cora had done to him for the Alpha project. At the beginning of the book, he was determined to stay away from Sera because he thought he was evil for all of the horrible things he did. He felt guilty for it despit...

Not a bad ending to an otherwise so-so series. "Alpha" follows the lead of the previous book giving us a duel narrative but this time instead of sharing the lead with one of our mains we get an insight into the minds of Sera and G who are struggling to cope with life post captivity and the revelation that there are multiple versions of themselves and that one of those versions, Dylan is hellbent on getting his happy ending even if it means te...

4 StarsAlpha is the third and final book in the Infinity Division series which focuses on three "couples" and a rogue seventh who are "skipping" through multiple universes in order to help right the wrongs of the rogue and other evil players who are either incarnations of themselves or those they're close to.Alpha was an enjoyable conclusion to the trilogy. While I loved the first book, the second was slower and more like a bridge to this final b...

I know I say this a lot because sometimes words just fail you but---- OMG!!!!!! The Infinity Division far exceeds my preconceived notions for this series. This series is an unsung hero in the YA sci-fi realm. I laughed, I cried, and I hurt. I'm not sure whether my aged heart is just so sensitive or even as a teen I would have been touched by the powerful emotions- but either way, I'm a mess.Alpha maybe the end of the line but it will never be far...

A perfect ending to this sci-fi trilogy!Thanks to NetGalley and Entangled Teen for the opportunity to read and review Alpha by Jus Accardo. The third book in the Infinity Division series opens with Sera being held captive by Dylan. At that point, I felt like I had a grasp on who each person/dimension was but the next chapter threw it all back in my face. A chart of each person connected to their doppelgängers' names would be helpful. Eventuall...

I received a free ARC from the publisher via Netgalley in exchange for an honest review. I will say going into this book I was hesitant. I wanted more Kori and Cade or Noah and Ash. Thrown in two relatively new characters and I was on the fence. Sera and G were both small characters in book two. But in book three you follow their journey to find freedom and each other. Thrown into abhorrent circumstances caused them to find each other but that bo...

[ARC generously provided by the publisher on NetGalley in exchange for an honest review. Opinions are my own and in no way reflect the book in its entirety or as intended by the author.] 3.5 starsAfter reading this, I realized how much I am over the sci-fi and YA genre. Sorry :(The premise of the story was mostly confusing for me because well.. my mind just refuses to make sense of everything that's happening even if the explanations are actually...

Alpha is another project within the Infinity Division. It is basically making super soldiers by experimenting on people. G, is one of those people. G and Sera really stay the same basically not really having any character growth until the end of the book. Story had a bit of sameness to it as the other ones even with the Alpha project thrown in to it. About late midway to the end is where it really caught my attention. Not only did the action in t...

Thank you to Entangled for providing me a copy of this title, I am usually a big fan of Jus Accardo and this series but I found this book to be repetitive, too much was happening and the characters became lackluster and quite boring, I found myself skimming through the flashbacks and just wanting to get to the ending.This series had potential but unfortunately the final book didn't wow me unfortunately.. I couldn't fault Jus's crisp writing but t...