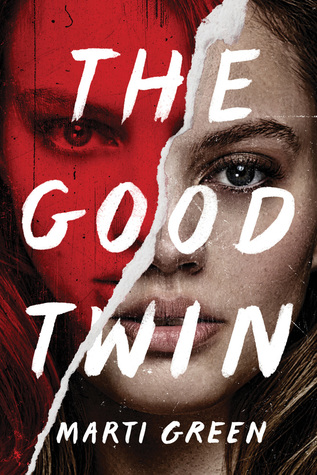 In Marti Green's twisting novel of psychological suspense, twin sisters become engaged in a dangerous deception…Mallory Holcolm is an unfulfilled waitress and aspiring artist living in a Queens boardinghouse when she learns something astonishing about her past: she has an identical twin sister named Charly she never knew existed.Charly is a Princeton graduate, a respected gallery owner, and an heiress married to her handsome college sweethear...
---
Reviews The Good Twin
What a wild ride this one was, pure fun and definitely not the type of read to take too seriously. You see, it's outrageous and a little out there but this was entertainment at it's finest and because it was such a crazy ride you truly never really knew what would happen next and those types of reads are always the best for me.This is told from two viewpoints, twin sisters Mallory and Charly and is very fast paced and engaging. Mallory is the...

Mallory is a down on her luck waitress that really wants to be an artist. She was raised by a single mother and they struggled to get by on a daily basis. Charly was adopted by loving, wealthy parents when she was three days old. She owns an art gallery in Manhattan and is happily married to a handsome man and her college sweetheart, Ben. One day while Mallory is at work she is mistaken for someone else. The man insists she is Charly Gordon. He m...

Mallory Holcomb, at the age of 30, discovers that she has an identical twin sister named Charlotte (Charly) that she has never met. Mallory is a waitress and aspiring artist taking art classes whenever she can.Charly grew up with adoptive parents that were/are quite wealthy. She has never gone without or wanted for anything. She is married to Ben, who has a girlfriend. Of course, he doesn't know that she knows. Everything he has is because his wi...

There is very little in this book that is believable. If you will have a problem with that, it's not for you. If you can just accept that it'll be a fun, wild, juicy read before you start, go ahead. As easy to read as it is outlandish, I flew through it in only two sittings. It's like a soap opera, filled with betrayal and more twists than you can count. I did enjoy the read, and if the ending hadn't gone just too off the rails, I would have rate...

The premise of The Good Twin is incredibly intriguing. Mallory discovers she has an identical twin sister she'd never known about, Charly, and when she tries to make a connection, finds herself in touch with Charly's husband Ben, who wants to help Mallory out for his own reasons. I had my expectations on how the story would go but this tale of deception did manage to surprise me at a few points.The first half of this book had me hooked. I had...

3.5 starsI read this book in a matter of two days and though I have some small issues with it, I cannot deny it is compulsively readable. Often I stay away from twin stories, because I feel the whole switcheroo business is a little old. That being said, I was drawn to this book when I read the summary and am glad I had a chance to read it. The writing is taut, the pace fast and the characters intriguing, though not one is likable. There were a fe...

I read a review from someone who said this was a really good read. Curious, I checked it out, thinking I would read just a few pages. Well, 4 hours later, I just finished it and wow was this one good. I am always fascinated with twin stories, and this one was fantastic.

Oh, I liked this book!I have to admit that until we got halfway through, I was a little conflicted. I liked our main character and didn't like her – all at once. But the author kind of plays with your head here and she does it very well, indeed. The book is extremely suspenseful. I think the main problem that people will have is that there's no one you can completely like. Every time you think you've found someone to root for, they do som...

3.5 Stars.Mallory never knew she had a twin and when she does find out, it seems they have led two VERY different lives. Charly has everything while Mallory has had to work hard to get everything. When Ben comes to Mallory with a proposal to benefit them both, she heads down a dangerous road.Honestly, you guys, this read like a Lifetime movie on crack! And I do NOT mean that in a bad way. I happen to have a soft spot for Lifetime movies - guilty ...

Finished reading: March 28th 2018 "Nothing in life is foolproof." *** A copy of this book was kindly provided to me by Netgalley and Thomas & Mercer in exchange for an honest review. Thank you! *** (view spoiler)[I always love a good psychological thriller and I was immediately intrigued when I read the blurb of The Good Twin. Deception, twists, suspense... Always consider me signed up for that! I want to say before I start my review that it is...

The Good Twin as an okay read. I like the way it was written, I usually dislike books that have different point-of-views. This clearly was an exemption. My only trouble was I find it hard to find sympathy and to relate to the character, Mallory. And finding sympathy for a character is important to me. I was in the middle yet nothing. Not until like seven chapters before the ending. I feel that there should have been more of the character(s) backg...

**4.5 Goodreads Stars** What if you had spent your entire young life in abject poverty only to find out that you had a twin who was living in luxury? Would you feel a tinge of jealousy? Or would you want something more: would you want revenge? Marti Green's The Good Twin follows the character of Mallory, who grew up in poverty after her 17-year-old mother was booted out of her parents' house while pregnant with twins. Her mother keeps Mallory and...

I received this book for free from Publisher in exchange for an honest review. This does not affect my opinion of the book or the content of my review.I honestly don't know where to start with this book, it was a bit of a mess.Try to suspend your disbelief when reading this because this book definitely requires you to.We have a young mother that was thrown out of the house because she was pregnant and refused to give up her baby. At the age of 16...

Thank you to Mind Buck Media For the free Netgalley copy, in exchange of an honest review. All opinions are my own.I rate this book a 3 out of 5 stars.This was a good book, I thoroughly enjoyed it. I breezed through it, was such a fun and intriguing read. I loved all the back stabbing, and crisscrossing, and the greed! This book was full of drama and I soaked it up. I wanted to see How things go for Ben and Mallory. I definitely didn't want Mallo...

3.5 stars - full review to come

Mallory Holcolm is a down on her luck waitress and aspiring artist living in a Queens boardinghouse when she learns something Shocking about her past: she has an identical twin sister Charly is a Princeton graduate a respected part of the community, she is also a gallery owner, and an heiress to billions married to her handsome college sweetheart, Ben. Charly got everything she ever wanted in life. Everything Mallory wanted, too. And now she just...

ARC provided by Thomas & Mercer in exchange for an honest review3.5 starsSince thrillers are so hard to review without spoilers, I will try my best to make this as informative as possible!I am a sucker for thrillers where the characters conspire up something crazy. I am all about lies, deception, and plot twists. I definitely got that out of The Good Twin, and I was pleasantly surprised by how much I enjoyed it.As the synopsis says, The Good Twin...

How far would you go for enough money to fulfill your hopes and dreams? This is exactly what Mallory Holcolm has to decide in this book. Mallory grew up poor with a single, hardworking mom. She knows what is like to go without. Little does she know she has an identical twin named Charly. Charly was adopted by a very wealthy family and grew up with everything that Mallory ever wanted. When Mallory meets Charley's husband Ben, he asks her a quest...

3.5 Stars Thank you to Netgalley for giving me this ARC in exchange for an honest review. Full disclosure: I'm a former scientist. Former science instructor too. So, I snap up contemporary genres with a science premise greedily. It's not always a good thing—finding fault with the science, catching mistakes...that sort of thing. There's little to worry about here: it's a straight nature v. nurture concept—are twins alike because of gen...

In regards to a psychological thriller; this book was "fine". There were no big shockers or moments that left me with goose bumps. However, this was still an good read. Who knew that "two minutes" could make such a difference. What I lacked and craved was some mystery or at least intensity. There wasn't build up to Mallory and Ben's plans. Additionally, when it came to Ben, he was a slimly man, who had whatever was coming to him. As far as Mallor...

First, I want to thank Marti Green, Thomas & Mercer and NetGalley for providing me with this book so I may bring you this review. Once again NetGalley has turned me on to an amazing author!! I just got finished reading Good Twin by Marti Green and boy can she tell a story with out of this world twists and turns!! One book I could not put down until I had finished. This book was such a unique yet intriguing storyline that nobody has ever tackled b...

Thank you to the publicist for providing me a with a free copy of the book. This is an honest review – all opinions expressed are my own.The Good Twin is a quick, suspenseful read that kept me trying to figure out just which twin was supposed to be the good one! The story is told in alternating points of view between Mallory and her newly discovered twin Charly. While you may think each twin is telling you the whole story as you read her chapte...

This was a popcorn mystery/suspense. I had to suspend disbelief and not take it too seriously in order to enjoy the twists and turns. Marti Green has a writing style that is fun and engaging which made this easy to read. I'm also a fan of sibling (especially twin) mysteries so this was fun.

Read this in a few hours , sooooo good, loved the twists and turns!

I am really not sure about this book. It was enjoyable for what it was, but it really fell flat overall. The book has similarities to "A Kind Worth Killing" but that book was done much better. In this book, there were a lot of scenes/dialogue which were just so unbelievable and unlikely, it really took away from the overall story.

Huge thanks to the publicist and Netgalley for providing me with a free copy of the book to enjoy. This is an honest review. All opinions expressed are my own.3.5 StarsHow far would you go to claim the life you could have had? The Good Twin really digs into the whole "Princess and the Pauper" storyline, but with a twist. When Mallory discovers that, not only does she have an identical twin sister but, only two minutes made the decision over w...

Thank you to Thomas & Mercer for providing me a copy of this book in exchange for an honest and unbiased review.It's been a while, honestly, since I've picked up a thriller mystery. But the cover on this one captured my attention and I am glad it did.Now I want to be straight with you from the beginning. This story isn't anything wildly unique. It's a mystery about two twins who, originally, don't know each other exist and a very disgruntled husb...

Thank You, NetGalley, for my complimentary review copy.Mallory and Charlotte Jensen, twin girls born to a young mother, grew up in vastly different circumstances, unaware of each other's existence. Their mother, Susan AKA Sasha, could not afford to keep both her girls so she kept the first-born, Mallory. "Charly," now an art gallery owner, had a privileged upbringing and lives an affluent lifestyle with her husband, Ben Gordon. In stark con...

"Have you ever thought what it would be like to be wealthy?" - This is the pivotal question at the center of this book. Two minutes is the difference between a life of wealth, luxuries, riches and a life of barely scraping by. Two minutes. Mallory and Charly are going about their everyday lives not knowing they are identical twins, and not knowing that a ball is being set into motion that could forever change their lives. Not knowing that it was ...

THE GOOD TWIN was a deceitful, fun, and easy read. I enjoyed this plot so much! Green does a fantastic job of opening this novel with a bang and not letting off until the twisted finale. I really liked the pacing within the plot to this novel as there wasn't much "down time" and not one page was wasted. I was on the edge of my seat the entire time. The plot is tightly woven and twisted, 100% popcorn entertainment, and brilliantly constructed. I c...