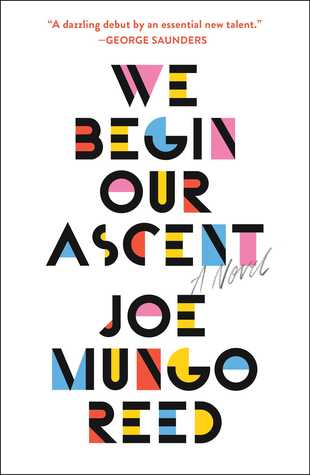 "[A] small, tight bud of a first novel…You hotly flip this book's pages." —The New York Times"A dazzling debut by an essential new talent." —George Saunders"Unforgettable…a powerful new literary voice." —Mary KarrOne of the Best Books of the Summer—as chosen by Vanity Fair, Entertainment Weekly, Amazon, The Daily Beast, Kirkus Reviews, Good Housekeeping, Christian Science Monitor, AFAR, and Bookish.Sol and Liz are a coup...
---
Details We Begin Our Ascent
Reviews We Begin Our Ascent
"You're a beast", I said. "You're a monster". "What?""Riding like that after a week of training camp". "Oh"." I love it", he said. " I love all of it". "I like the smell of grease""That's not it", he said..."I like feeling strong in a race"...."The sense that you have more strength than others"..."No, he said. "That's not it. The thing itself". "The riding"."You love riding? I said....

Years ago, according to one character in this fine book, a doctor wrote about a man riding three horses at a circus. "He said it was important not because of what the man was doing but because it increased our sense of human capabilities."For Sol, a professional cyclist racing in the Tour de France, the sport is not about individual winning. His duty is to "get our team leader, Fabrice, across the twenty-one stages of this tour in as little...

This is a book about a sport that is wildly popular when there is big news about it and when the Tour de France is running, but unless you are a fan, there is much to know that goes on behind the scenes. I find it amazing that Reed himself is not a competitive rider, his insider knowledge is vast. I've only read one other book about cycling, Gold by Chris Cleve, but that was more character study and was about a different version of the sport. Her...

DNF at 50%. I was lucky enough to win an ARC of this book through Goodreads. It takes a lot for me to DNF a book, this is actually the first book in 18 months that I disliked so much I refused to push through.The premise sounded very interesting to me, even if I am not a fan of sports... any sports. A story about doping, and the family of the athlete being involved etc. was fascinating. I don't exactly know what I was expecting, but it was defini...

Joe Mungo Reed has written a debut novel that had me in its grips from the first chapter. It deals with professional bicycling, focusing on the people and competition in a race not unlike the Tour de France. It is also about a marriage, one that is fairly new and finding its set-point with the birth of a baby boy. Sol is a professional rider and is given to obsession and dedication. He must spend weeks apart from his wife Liz and his son Barry, w...

This one grabbed my attention with its cover, it's an awesome cover. But then it also had such accolades from well known names, most auspicious for a debut, so why not. It actually turned out quite a good read. Thing is though I don't like competitive sports, I don't get the appeal, can't relate to the sort of maddening dedication it requires or understand the singlemindedness it takes just to get to the finish line before the other guy. ...

Sol has been a professional cyclist for years but has never achieved any real fame or fortune. His wife, Liz, a geneticist, and their son, Barry, are back home in England while Sol is busy trying to help his teammate, Fabrice, win the Tour De France. In a sport in which some people are willing to cheat their way to victory, Sol is forced to decide what he is willing to risk to get to the top.For a decent portion of the book, I wasn't really feeli...

An impressive debut about a professional cyclist, marriage, masculinity and loyalty. Reed's prose has the sort of economy most authors aren't able to achieve after a lifetime. Just as results vary for cyclists that dope, not everyone that gets an MFA from Syracuse under the tutelage of masters like George Saunders and Mary Kaar graduate able to write brilliantly, but it's certainly worked for Mr. Reed.

I admit to being a bit skeptical when I started this but - WOW. This is a fascinating novel about bicycle racing, ambition, teamwork, and life in general. The Tour de France has played in the background of my consciousness but except for what I learned years ago from watching the movie Breaking Away, I really know very little about the sport. Reed has written an incredibly enlightening novel, with a sympathetic hero in Sol. Sol's been on the circ...

Some good writing, detailed insights, crisp dialogue. Sadly, if you're not a fan of the Tour de France, not even those positives can make the sport interesting. I'm sure there are people who will love this book, but I found it tedious. Pass.

I received this book as an ARC. I am not a sports book reader, so I was skeptical. I really enjoyed reading this. Something I don't normally read, as well as eye opening into a world I am very unfamiliar with. Quick read. My only complaints, I wish the story of the wife would have been more prominent. The description reads that she was on the edge of a scientific breakthrough, but that side of the story fell flat. Overall a good and quick read.

https://ofbooksandbikes.com/2018/05/2...

Got this ARC in exchange of an honest review from Simon & Schuster via NetGally. Thank You!!I picked this one up because of its cover. (Its quite pretty!!) Its a sports fiction and the writing style is quite interesting. I enjoyed the way writer described the pressure, the drive, the frustrations a sports person face in his life. But I don't know why I could not get engaged with it. The reason could be that I am not a sports person, so I don't ge...

This just wasn't for me. The narrative was unbalanced and nothing about the story compelled me to read it. The writer assumes the reader knows quite a bit about competitive bike racing (I did not) and maybe this is a better read if that knowledge is already present. I found myself unable to connect with the main character or any of the supporting characters. The main character's wife, Liz, was someone I found particularly unlikable. Is George Sau...

I know absolutely nothing about professional cycling other than snippets I've seen in the news from time to time. I think if I had more knowledge of the sport I might have found this book more engaging but it was somewhat interesting nonetheless. I can't say I loved it, but the writing was fairly good and though I didn't especially care for any of the characters, they were well depicted,.This is a book that would be especially appealing to the sp...

I honestly did not expect to enjoy this read as much as I did! I got so caught up in the characters and the plot that I went out and bought a bike myself. And I've been riding it! This story was fast-paced and unexpected

Read this review at Brilliant BookshelfNetgalley provided me with a free copy in exchange for an honest review. As the daughter of an avid lover of cycling, I've grown up with bicycles and live broadcasts of professional cycling competitions like the Tour de France. In recent years I have really grown to love the sport on a deeper level. This is the main reason why I decided to pick up We Begin Our Ascent, the other being that I was really curi...

I won an ARC of Joe Mungo Reed's debut novel in a Goodreads giveaway. We Begin Our Ascent is an impressive debut, taking the reader into the world of Tour de France racers. I know nothing of this world, only of Lance Armstrong's rise and subsequent fall from grace and had to look up the exact meaning of the word "peloton" (the main group of riders in a race) which lead me to read more online about the world of professional bikers. This i...

We Begin Our Ascent reads like a mix of fiction and nonfiction, with long passages about the sport of cycling and the Tour de France, specifically. The main conflict of the story is the struggle of a driven, professional couple to find a balance between work and family- a struggle that doesn't come to a neat, simple conclusion by the last page. The detailed descriptions of life as a pro cyclist were interesting to read, even though I am *not* a s...

This book provided an inside look at professional cycling and performance-enhancing drugs. The main character is training and competing in the Tour de France, meanwhile his marriage and personal life, are going to pieces. I enjoyed riding the slippery slope down into doping with Sol, he just wanted to be on a level playing field and everyone was doing it! It's not a fair race if you can't compete at the same level, they are just supplements, they...

A score from NetGalley and an honor to read this pre-published book. I absolutely loved it. Reed's prose is beautiful - so beautiful that he held my interest on a topic I have NEVER been interested in (road race bicycling); the topic drove the book while simultaneously being a metaphor for human relationships, for choices we make in life, for marriage and parenthood, and Reed's particular way of portraying human behavior is perceptive and perfect...

If you are any type of sports fan this will be a good intense view into the sports/personal life balance and choices that must be faced and dealt with on the roas to career and life winning/losing/draw.

Originally published on my blog: http://utahmomslife.blogspot.com/2018...Solomon has been focused and dedicated on achieving his goal as a professional cyclist. Now, he's part of the team that will help star Fabrice win the Tour de France. The only thing that has ever distracted Sol from his success on his bike, is his wife Liz and their new baby son. But Liz and Sol are supportive of each other's careers. Liz will do anything to help Sol get ahe...

This story speaks truths about the grinding, harrowing, sadistic pain involved in sport. But also of the zen- like enlightenment, the surprising moments of fleeting glory, the seconds of joy that are built by years of dedication and scheduling. I am reminded of a quote from a cyclist (I'm paraphrasing here) that "you must make friends with pain, as it is pain who will never leave you, or disappoint you. It will always be there for you, always...

An excellent cycling novel, even better I think than Tim Krabbé's "The Rider". An intelligent, observant cyclist races the Tour de France (in support of his team leader), while contemplating his career and life outside cycling. The writing is great (though occasionally three sentences are used when two would do), the observations perfect and real. The characters aren't quite perfect and the story is wrapped up too easily.

I enjoyed most of the book since I'm a cyclist and also a fan of the Tour de France, so the parts describing the riding and inner workings of the sport were realistic and interesting. However, I thought that some of the characters were more caricature than realistic, and the story line was a bit weak and predictable.Still, a good effort on a tough subject (is there such a thing as a good novel about a sporting event?), so about a 3-1/2 star ratin...

Reality of the cycling worldIn his trim and powerful style Joe Mungo Reed tells us a story of life on a team on the Tour de France. A cyclist, teammates and a manager, his wife, their child. A predictable clip of vignettes, a page turner as Joe builds an inexorable crescendo. We hold our breath until the end.