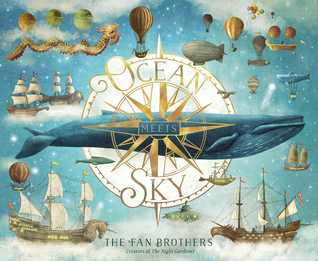 "Young readers will be captivated." —The Washington PostFrom the creators of the gorgeous bestseller The Night Gardener, comes a stunning new picture book about a young boy who sets sail to find a place his grandfather told him about…the spot where the ocean meets the sky.It's a good day for sailing.Finn lives by the sea and the sea lives by him. Every time he looks out his window it's a constant reminder of the stories his grandfathe...
---
Reviews Ocean Meets Sky
I liked this book a lot. The whimsical steampunk-ish illustrations are brimful of charming details that could keep any adult or child reader engrossed for hours -- a truly inspired mix of whale, fish, bird, and ship imagery. The story is an ambitious blend of light and heavy, realistic and dreamy: it concerns a small boy, Finn, whose grandfather has recently passed away in his old age. Finn reminisces on his loving relationship with his grandfath...

Minunată. Am scris pentru ea un mic articol pe blogul meu. Musai de avut în bibliotecă :-).

Everything about this book is soothing and quiet with a lovely message. I loved it.

Magical and stunningly beautiful, this picture book will speak to kids and their parents.

Four stars for the text (it's not so much of a story but more of a dream journey) and five shining stars for the stunning illustrations! I'm turning into a huge fan of The Fan Brithers.

Never less than gorgeous illustrations from the Fan brothers. Part dream, part reality, a little boy remembers his grandfather by visiting the place where ocean meets the sky.

The Fan Brothers have done it again - another stunning picture book. This time it provides us with comfort after the loss of a loved one.

This is such a cool book! This is the first one I've read by the Fan brothers, and it won't be the last. What a fun, imaginative story, one that takes readers on a journey by boat with a young fellow who longs to see where the ocean meets the sky. I adore all the art in the book, but my particular favorite is the scene with the 100 library birds. One of my fellow librarians counted, and managed to come up with 95 or so birds, but with the Fans' ...

Wow! This book has AMAZING artwork.It is also a wonderful story about a little boy, who had lost his grandpa and who decides to honor his grandfather on his grandpa's birthday by building a boat and going to visit the special place where ocean meets sky - a place his grandpa used to tell him stories about.I would highly recommend this story to discuss the loss of loved ones with kids.The kids voted to give this book five stars, and they clearly...

Beautiful in every way even down to the characters name, Finn. I loved everything about this book, the illustrations are breathtaking and you can pour over them for ages. I loved the whole story and the theme and as someone who adores the ocean this book just hit everything in the right place for me, beautiful is the best word I have to describe this book.

Sometimes books come into your life at just the right time. Another beautiful book from the Fan Brothers. They have such a gift! I love everything they do.

I LOVE the illustrations in this book!

This book is absolutely beautiful!!

Very sweet book of a young child remembering his grandfather.

Lovely story of remembrance and imagination. Soft yet bold illustrations that convey wander and wonder.

Gorgeous. This book brings up a topic that all kids need the opportunity to think about and discuss.

My Grammer turned 92 this year; she won't turn 93. She would have loved this book.My Gramper never saw his 90s. He taught my Mummy a song about the Man in the Moon, which his mother had sang to him, and which my Mummy sang to me when I was little, and I in turn sing to my children. My Gramper was a practical man, with work-scarred hands, who sang to his children about the Man in the Moon. This book makes me long for my grandparents. The art is be...

Stunning & heartfelt.Pair with Grandad's Island and Off & Away.

The Fan Brothers are back with another visually stunning picture book. Sweet and tender but full of magic.

This review was originally written for The Baby Bookworm. Visit us for new picture books reviews daily!Hello, friends! Our book today is Ocean Meets Sky by The Fan Brothers, a stunning seafaring fantasy about family, loss, and love.Finn lives by the sea, and the sea lives by him. He loves the ocean, a love he once shared with his grandpa; he would have been 90 today. In honor of his grandpa, he has built a ship from scraps and flotsam – he hope...

In remembrance of the grandfather he loved, Finn builds a boat to find where ocean meets sky, a place which his grandfather described in stories. When he encounters a large catfish, the young boy asks for directions. The answer is vague enough to hook us. From there on out, the boy and fish travel across a magical ocean, seeing sights like dancing jellyfish, which are illustrated on lavishly painted double spreads. Then, up into the sky they floa...

After seeing months of buzz around this book, I was totally prepared to dislike it. I have a list of illustration pet peeves and one of the items on it is flying aquatic life. I'm not sure why this kind of imagery strikes me as the worst kind of overcelebrated generic whimsy. Maybe I saw too many Lisa Frank products growing up in the 90s? However I feel about it, happily, there turned out to be a lot more to Ocean Meets Sky than the title and c...

First sentence: Finn lived by the sea, and the sea lived by him. "It's a good day for sailing," his grandfather would have said.Premise/plot: On what would have been his grandfather's ninetieth birthday, a young boy dreams whimsically about the ocean meeting the sky. His grandfather was always telling stories about a magical place where the ocean met the sky.My thoughts: If you love, love, love whimsical, fantastical books then Ocean Meets Sky mi...

In this hauntingly beautiful picture book, Finn, a boy who lives near the sea thinks how his grandfather would have turned ninety that day. To honor him, Finn builds an elaborate boat out of household items, and then falls asleep in it. He awakes underway upon a journey. Feeling lonely, he is soon joined by a great golden fish with a face and mustache reminiscent of his grandpa's. The fish offers to show him the way to the magical place where o...

The Fan Brothers give us another peek into their fantastical minds with this eye candy adventure.Finn is grieving the loss of his grandfather. In order to honor him, he builds a boat and dreams he finds one of the places his grandfather talked about in his stories: the place where the ocean meets the sky. The story-journey is a sweet, wonderful homage to a loved venerated family member filled with plenty of memories. The illustrations, done in gr...

Wow. What a cover. Both on the dust jacket and underneath. The Fan Bros really have outdone themselves this time.Their instantly recognisable illustrations is of course what caught my eye first. I love the detail they go to to create such an incredible picture book. Being about death/remembering someone is just icing on the cake. Something so beautiful to help discuss something so difficult. I think it's one of the most wonderful picture books I'...

Ocean Meets Sky by Terry Fan - A little boy and his grandfather, once upon a time, had many adventures together in storytime and play. Now, it's grandfather's 90th birthday. Though he has passed away, the little boy visits grandfather in his imagination and dreams. The little boy builds a boat in his honor and while dreaming, he sets sail to where the ocean meets the sky. He visits grandfather in this fantastic place until he hears someone callin...

The beautiful artwork and the sweet narrative text combine to make a wonderful story of one boy's creative way of remembering his grandfather's stories. In order to honor his grandfather's memory, a young boy builds a boat on the beach. Tired from his hard work, he takes a nap and wakes up to find himself on a fantastic ocean voyage to the place where the ocean meets the sky. Readers will be drawn into the book, with so many fantastic details. De...

What a gorgeous, surrealist book that invites a slow exploration and examination of the pictures. The story gently references a grandfather who is no longer there for his grandson physically, but he has echoes throughout - just like many things can remind a grieving family about their lost one. I wouldn't use this for storytime, but it would be just right for a quiet one-on-one time as a springboard for questions and discussion.