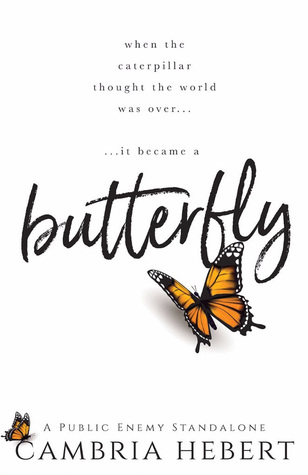 Drunken brawls. One-night stands.No-show interviews. Toilet-papering my hoity-toity neighbor's house.Insulting my fans. Trashing hotel rooms.What's it take to become public enemy number one?I just told you.I've done all that and more.My poor conduct got me on the Celebs Behaving Badly listand ultimately ruined my career.From the world's number-one popstar to world's most hated.That's me. Ten Stark.Go underground, they said. Stay out o...
---
Details Butterfly
Reviews Butterfly
5 starsI loved it so much ❤ It was fast paced,sweet,fun and it has the perfect amount of drama.I loved the characters Ten and Violet are so cute together, they have a great chemistry.I had a smile on my face while I was reading it, and I didn't want to finish it.Butterfly is one of my favorite books for 2017.If you are looking for a sweet and sexy read you must read Butterfly.Now after so many days that I read it and I'm still thinking about Vi...

4.5 starsF A B U L O U S !!!This book was fantastic and nothing like I expected. The author took a favorite trope and put it upside down - and I LOVED it!! It's hard to surprise me anymore, most tropes and genres have been used and written hundreds of times. Finding a book that takes a beloved genre and puts a twist on it - is RARE!Cambria Hebert did just that.First there was a caterpillar...Stark was a fabulous character. A pop star that reached...

I loved this story from beginning to end. This author writes characters with imperfections that make them all the more lovable. It was amazing to see Stark/Ten's growth throughout this story. He was so good to Violet and his respect and admiration for her came off the pages. I'm really HOPING that Nate gets a book. Every scene he was in had me lol'ing. I want him to get his hea.

➳ Rate: 5 / 5 butterflies If you don't know, Cambria Hebert is one of the Queens of College Romances for me. I love her #Hashtag series so hard!! I miss my babies tbh. So when I saw she was a writing another college romance, I was literally over the moon, even more so when she blessed me with an ARC, ahhh <3 Thank you soooo much Cambria!I could not have been more excited to jumped right in, so I did. The Prologue got me feeling some type of way...

4.5 Stars..!!I LOVE CAMBRIA HEBERT... !!!She writes one of the best characters in the romance genre.Ten Stark - First of all, AMAZING PROLOGUE....LOVED IT..!! Here we have, a super popular singer, who has everything - fame, money and girls, yet he is an angry 22 year old at heart and is frustrated with everything. He has an attitude problem and is not a very grateful person. This characteristic of his is not the main focus of the story, and I rea...

Have you ever liked a book because of its heroine more than its hero?'Butterfly' is one such read for me, with a female protagonist who couldn't be more real in my eyes - suffering the afflictions us mere mortals do while going through life the best she can, with the (literal) scars to show for it. 'Butterfly' was more Violet Meier for me more than the spoiled, self-absorbed and disgraced pop star who really should have known better but didn't. A...

3 indifferent shrug stars.Nothing stood out to me. Neither the hero, heroin, plot, or drama was interesting. It was sweet, I guess, but that would be the only was to describe it. Also, the heros change of character wasn't believable at all. One second he's a shit sand which and the rest of the book he's a loving boyfriend. There was no character development to lead me to believe he actually changed.

Release Date: November 3, 2017 Genre: New Adult. College Romance. I am so glad Cambria Hebert went back to writing new adult, college romances. Her #Hashtag series (which falls within this genre) made me fall hopelessly in love with her stories and since reading it, I have become devoted to all of her work. So when she announced her next series (this one) I was elated! Butterfly is the first book in a series of standalones. It features a colleg...

3 StarsI liked this story, but I didn't love it. I couldn't connect to the characters and it is a mystery to me why they fell for each other.

http://rpmbt-blog.com/rpmbt/review-bu...Cambria Hebert has done it again! Butterfly is sweet, sexy, angsty, and everything you could possibly want in a New Adult romance.When we first met Ten/Stark I knew he was going to be an interesting character. When he basically tanked his career, it was hilarious, yet you knew it was going to be a long road to recovery for him. Flash forward and he's now working on a recovery tour, and is in New York with...

Metamorphosis ; a change! Witnessing Stark evolve into a someone who in essence becomes a butterfly was fantastic!! Violet and Ten have an undeniable attraction to each other as well!! Loved reading Butterfly!

Cambria Hebert never fails to absolutely amaze me. She has the ability to write a book that completely takes over and pulls me in and Butterfly is no exception. Beautifully written and completely captivating I stayed up half the night reading it because I didn't want to put it down. I was already extremely excited before I picked it up because I love her #Hashtag series and couldn't wait to get my hands on another college romance from her. No one...

I've been a fan of Cambria Hebert since her #Hashtag series and was excited to hear she was coming out with another college read. It was an enjoyable read and not too crazy with drama/angst that sometimes goes with NA reads. I really enjoyed the fact that the main character wasn't perfect (meaning she wasn't a size 0 with perfect hair etc) but had normal everyday flaws and issues that she couldn't control. The MC has RA and there is a lot of deta...

This was an amazing read .... the guy needs to change, to stop hiding and pretending he is someone he is not and become the man he needs to be. Great idea and "twist"! Violet was a lovely girl. Having her have RA and silently suffer and just make life work makes them and unlikely likable pair. Their journey is kind of quick .... but I mean, how long would he really be able to hide? I know this is a standalone but it would be sweet if Nate got a b...

I love this author, and reallylove her HashTag series. IMO thisbook was not her best.It was fast-paced and had it'smoments, but I had a really hardtime connecting to Violet. I likedher, but didn't really understand her until about half way in, and thatis just too late for me to fall formy heroine. I did enjoy Ten, he matured and camefull circle and became the better manfor Violet.I will definitely read more by this author,this one just fell a lit...

I loved the premise, but the characters did not nothing for me. There is something about the author's writing style that does not work for me.My opinion. You may love it be it. I know a lot of readers love this author. I am not one of them. I️ loved the premise, but the characters did not nothing for me. There is something about the author's writing style that does not work for me.My opinion. You may love it be it. I️ know a lot of rea...

Good until 50% and poof went right out boring. Oh, you'll know what I'm talking about.

I like the development of this author. Her books have more and more depth and she reminds me of Colleen Hoover but she still has her own style. I loved this story and the main characters.

Started out ok and then it just fell off a cliff.Cheesy. Predictable. Plot line so thin you could see every move coming from 5 miles away.

Note to self:- 3.5 Stars- Dual POVThings I liked:- "Violet made me nervous. Nervous to the point I almost didn't know how to act."- "I dont like this" (Ten's reaction to the medicine Violet has to take)- Violet tells Ten its not his problem and he replies "The fuck it isnt"- Cambria's reference to one of her other books ("Its called Taxi. It's about a woman who gets kidnapped by her taxi driver because he wants her kidney... Shudder. Clearly, I w...

OMGeeee! This book hits you right in the feelings! Right there, yep right there! OUCH! This is a feel-good story.Ten is a rising star who takes a turn for the worse. His bad boy antics and shenanigans earn him a break from rock and roll. He is laying low with his uncle and cousin when he meets Violet. She changes everything for him. Or does he change everything for her?Violet has no interest in the rocker who is coming to the art college. She jus...

I could never capture into words just how beautiful this book is or exactly how it has touched my heart but I'm going to try! I honestly don't think 5 stars is enough it deserves 20! As you start reading this beautiful story everything around you fades into the background and it's just you, the characters, and their story... nothing else matters!You're in deep and there's a thousand feelings running through you all at once! the story may have bee...

>Book Review - Butterfly>I am an independent reviewer. This book is a standalone contemporary romance and ends in an HEA. Ten Stark let his music career rage out of control, subconsciously sabotaging his career. He goes back home to his roots to chill out and take back control. His home is in a college town where he meets an art major that never heard of him before. >As Ten and Violet fall for each other, his lie is really in the way. Other thing...

I was really excited for this book but really nervous too. I loved the #Hashtag series so going into this I was nervous about it not living up to that. I'm happy to say I loved Butterfly just as much. While it still had that college/ young adult feeling you also get a more mature vibe this time. Yes Ten does act out in the beginning but Violet is so mature and I think that's what helped steer this book into another direction . The dynamic between...

Ten is gorgeous, incredibly talented, cynical before his time and bored to death with the A-list celebrity merry-go-round. So he gets hammered out of his mind and goes on to perform, but what he does in his liquored up stupor is idiotic and disrespectful beyond imagination. The fall from grace is immediate, precipitous and possibly irredeemable. So he goes to hole up in hiding, hanging with his extended family at the elite college where his cousi...

My go to authorCambria Hebert can do no wrong when it it involves the written word. I love all of her books and this is yet another one to add to the list. Violet and Ten are just....fantastic. The idea of a millionaire pop star hiding from the general public isn't difficult to picture. I can't even imagine the pressure the must endure. Oh, the fame and fortune is great but the pressure, the stress and the lack of privacy? Maybe notsomuch. I thin...

I really enjoyed this fast pace young bad boy rock star fallen for a commoner, a college student. As most books, this is no exception, the bad boy has to lay low b/c of the bad rep he has gotten himself into. Enter, Violete, the one person that doesn't know who he is. And that is a relief to said, bad boy, Ten.All though this is similar to alot of stories. This book held its on. Side characters, Nate and Vance, have their own sarcastic funny pers...