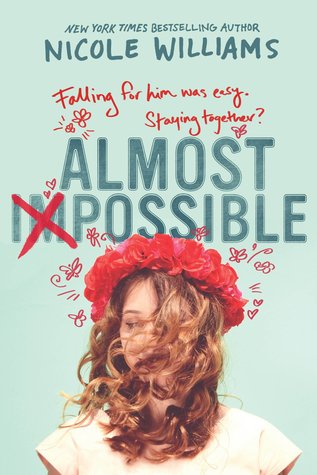 Fans of Sarah Dessen, Stephanie Perkins, and Jenny Han will delight as the fireworks spark and the secrets fly in this delicious summer romance from a New York Times and USA Today bestselling author.When Jade decided to spend the summer with her aunt in California, she thought she knew what she was getting into. But nothing could have prepared her for Quentin. Jade hasn't been in suburbia long and even she knows her annoying (and annoyingly cute)...
---
Details Almost Impossible
Title
Almost Impossible
ISBN

9780553498813

Author

Nicole Williams

Release Date
Jun 19th, 2018
Publisher

Crown Books for Young Readers

Language

English

Genre

Young Adult

,

Contemporary

,

Romance

Rating
Reviews Almost Impossible
3.5 stars!!! Jade is a teenager, but at seventeen, she's never lived the 'normal life' of a teen. Her mom is a popular musician and she's spent all her youth traveling around. She's seen a lot, but never felt rooted anywhere. She decides to spend the summer before her senior year with her aunt and have a real teenage experience. She gets a job, she makes a friend, she meets a boy…. Jade and Quentin didn't expect to hit it off the wa...

I've been given an ARC of this book and it has no influence on my willing and honest review.4 stars.Almost Impossible is the perfect book to read alongside the pool on a summer day. It is easy to read filled with lovable characters and under the light tones some heavy topics as shouldering responsibilities, making the right moral choices even if the road is hard are skillfully broached.This story revolves around Jade and Quentin, two people mee...

Review can also be found on my blog.A few words to describe this book: cute, innocent, quiet, smallIn other words, the perfect summer beach read. It sorta read like a Nicholas Sparks Jr. book. lol Sparks for Teens. Somebody trademark that, quick. You know how in all of Sparks' books, it's pretty quiet and then there's that one twist that you don't see coming? Same story here. I did not see that twist coming at all.I think that the cover of this b...

Release Date: June 19, 2018 Genre: Young Adult Romance Actual Rating: 3.5 starsAlmost Impossible is a great book for teens and young adults. Normally, I try and stay away from YA romances because they seem... Immature? But I was drawn to this one based on the cover and description. All in all, I think Nicole did a great job with this story. She made her characters believable and even added real world problems that affect (or CAN affect) any te...

2.5 - 3 StarsI picked up this book because it looked and sounded adorable. I'm not a huge fan of realistic YA books, but I do read them from time to time and I enjoy the innocence of the read. The book starts out very cute. Jade is a hippie loving child and her mom is going on tour. Jade has traveled all over the world and she wants to spend one summer in the same home, enjoying the normal teenage dream.I liked Jade. I found her cute, quirky an...

I consider myself a lover of YA books, but I've found this category so hit or miss for me lately, that I was beginning to wonder if I'd actually finally aged out of them. With Almost Impossible it became clear to me that I just haven't been lucky enough to pick up the right ones lately. Because this book? It was almost everything I love about YA.I was completely charmed by the smart writing and the sharp, snappy banter between Quentin and Jade. I...

ARC provided by Crown Books for an honest review. This one was hard for me to rate. I had to take a break after reading before I wrote my review to get my thoughts together. This book hit on some good topics that should be discussed in YA. I won't go into what those topics actually were because it would be a spoiler. I did call how most things would play out but it didn't take away from me enjoying it. I enjoyed this one a bit more than I thou...

I enjoyed reading Jade's story. This was a good story about a girl looking for a change of pace in her life style before heading into her senior year. She finds herself meeting new people in realizing what it is like to live in one place with family who are not used to being on the road. Though I thought this was an quick and fun to read YA book, I figured out what was going to be revealed pretty quickly. Jade is an enjoyable character and Quenti...

**I received a copy from Netgalley for an honest review**4.5 Stars!!!Wow!! I was not expecting to like this book so much! Nicole's writing is wonderful and I just loved the story. I like to mix YA in every once in awhile with my reading and I highly recommend Almost Impossible. The characters in the book were so mature and yet so relatable as well. I think this is a great book for young adults to read, there is a lesson intermingled in the story ...

I absolutely ADORED this book! It was such a sweet and quick read. Once I started it, I devoured the story! If your looking for a quick and sweet YA read this is your book!

Check out my blog for more reviews!TL;DR – Cute summer romance, but the love interest seems overly mature and there's some things that don't really make sense regarding the secondary characters. Still a fun read though.Right off the bat I really liked Jade. There's just something about her that's inherently likable. I thought it was refreshing how she recognized that she had a lot of freedom with her mom but that her Aunt Julie would op...

Almost Impossible is Nicole Williams' newest YA romance. I don't read a lot of YA, but I will always read anything Nicole writes. This story just warmed my heart. It was cute, sweet, and funny. Jade wants the normal seventeen year old summer experience and she's going to get it. Sexy neighbor, Quentin, who's sweet and hot and responsible and quiet. But he wants to show her fun and the teenage things she's been missing. Jade doesn't want to like h...

Almost Impossible is about seventeen year old Jade spending her first summer away from her mom. It had always been Jade and her mom from day one. Jade grew up seeing the world. She experienced things most people never got to do in their lives. Her mother is in a band that is touring internationally this summer. Rather than go on tour Jade chose to stay with her aunt. Nicole expresses the characters feelings and emotions with words that are honest...

My full review can be found on the Epilie Aspie Chick blog!Thank you to Crown Books for providing the ARC in exchange for an honest review. Jade has had anything but a typical childhood. She's been to thirty one countries, never had a home address, and she hasn't even turned 18 yet. This is the lifestyle she's lived though and considering her mom is the lead singer for the band named the Shrinking Violets, it's the life that likely to not stop a...

Nicole Williams has been a favorite author of mine for some time now. I am not a big fan of YA novels but I figured since she is one of my favs I could read it and see how it goes. I did enjoy the story and would give it a 3.5 stars. It was missing that spark for me that I guess the more sexy books I read give, but in all it was good read and did have some angst in it. Jade is used to the life on the road with her mom but has decided she wants on...

Almost Impossible by Nicole Williams is a great PG-rated "high school summer romance," and I read it all in one sitting. I think that the comparison to other similar authors (Sarah Dessen, Jenny Han, and Stephanie Perkins) was fairly accurate, and as a teen librarian I would recommend it to readers who enjoy their books. That said, I wanted a little more depth and nuance from it; the characters were very two-dimensional and the book's big "secret...

YA contemporary romances are hit or miss for me, and this one is one of the hits. This is my 6th Nicole Williams book, and probably my favorite so far. Quentin and Jade are adorable characters and the romance is cute. The romance is basically the plot, and while there is a bit of a subplot, it never amounts to much and doesn't add or detract from the main story. Most of the story is pretty typical summer romance, there's a twist. It's a qui...

Jade and Quentin are one of my new favorite book couples!!! Jade has traveled the world with her mother (and her mother's band) so she feels like she has experienced just about everything but normalcy. Determined to be a "normal" teenager, Jade decides to spend her summer before senior year with her aunt but nothing will prepare her for Quentin...her sort of boss and next door neighbor. Quentin starts to plan all the quintessential teen things fo...

I haven't read any of Nicole Williams' work before Almost Impossible, but if they are half as good then I will load up my Amazon cart right now. Almost Impossible took me by complete surprise. By chapter two I was invested, loving Jade's voice, and planning my wedding to Quentin. (I love you, call me!)Jade is determined to have a "normal" Summer (after being on the road with her mother's band and touring all over the world as a roadie) but she is...

Thank you so much to Netgalley and Penguin Random House for this preapproved galley. #PRHPartnerI absolutely adored AND devoured this book in less than 2 hours. Once, I started it I couldn't stop but luckily for me it was a short book. This book was unpredictable, romantic, funny, heartwarming and all around lighthearted which I loved! Def did not predict what the 'big secret' was so I was as shocked as Jade, which for an author to do is pr...

I read this book in one night, actually in a few hours. It was a cute summer romance between quirky, worldly Jade and sweet Quentin, the boy next door who is harboring a secret he doesn't immediately tell Jade, while pursuing her pretty relentlessly. They end up being a cute couple but I figured out the story in the middle somewhere, what was up with Quentin so I wasn't surprised at all. I think for a summer teen romance, its a good read, with in...

Thank you to Net Gallery for providing me with an ARC in exchange for an honest review. There's nothing ground breaking about Almost Impossible, but it's a sweet summer contemporary. The characters are fun, and quirky. The writing is good and enjoyable. I really loved Jade; she was strong, fierce and independent. Once she allowed herself to open up she realized how much she was missing out on. Quentin was the hot, boy next door with a secret. The...

After growing up on the road with her rock star mother, Jade must adjust to life with her fusspot aunt for the summer. She must also adjust to her job at the local pool, and adjust to the new feelings aroused by lifeguard, Quentin. But Quentin has a secret, and Jade can never be sure he is really what he seems. An absorbing YA summer read in which you can almost feel the heat and even taste the ice cream Jade spends her days scooping. – Clara S...

I absolutely loved this book! This is the perfect quick easy summer read. Quentin and Jade = LOVE! Surprisingly, I do think this book could have been a bit longer. The pacing was great until the end, which felt a bit rushed. There are times where Jade brushes over events. If we say them happening instead of being told that they happened, it would have helped with that pacing. And, having more time with characters like Aunt Julie, the cousins, and...

Received as an ARC from Netgalley in exchange for an honest review. Actual stars....3.75What I loved: This was light and fun. A perfect summer read. Clean and easy to recommend for various ages! What I liked: The author's writing style is easy to read and felt natural. What I hated: Can't say I hated anything about this one. This is an easy to recommend book for YA readers who a looking for summer romance reads. Lots of talk about being responsib...

Jade has spent her entire life on the road with her rocker mom and the band. She decides she wants one summer of normal and goes to stay with her aunt and uncle in California. She soon meets Quentin, a boy she works with. Sparks fly. But are their problems too big to overcome?In this sweet romance, Jade learns about first loves, disappointments, and life. This YA book tackles difficult matters that will resonate with real teens and adults as well...

I absolutely adored this book! It was sweet, it was touching, it was funny, it was light, it was serious. I absolutely loved Jade, she's everything you want in a character.Quentin is great too, someone I'd definitely be interested in if he were an adult!This story had everything you want in a YA. Drama, fun, sweet kisses, even if I'd love to have seen more of that.I highly recommend you pick up a copy of this book!

This was such a cute read. I was really into it when I first started it but because it took me so long to read, the magic did wear off a tiny bit.I saw the twist coming a mile off. It proved that Jade wasn't as worldly-wise as she made out to be.I loved Jade and Quentin's chemistry, it was properly off the charts and it was nice to see a responsible teen boy in a YA book, rather than the typical bad boy. Overall, I loved this book. A really s...

I received this earc from netGalley for a honest review. When I started this book I was surprised how fast I got into it and how fast I finished it. I had a few problems with this novel though. In a few spots I felt as though it jumped past important stories to be told that weren't. I also didn't love the ending, although I really enjoyed a take on a topic like this one I felt as though it was a little rushed. I gave this novel a 3.75/5 stars...