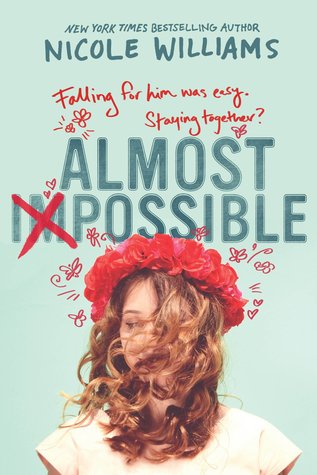 Fans of Sarah Dessen, Stephanie Perkins, and Jenny Han will delight as the fireworks spark and the secrets fly in this delicious summer romance from a New York Times and USA Today bestselling author.When Jade decided to spend the summer with her aunt in California, she thought she knew what she was getting into. But nothing could have prepared her for Quentin. Jade hasn't been in suburbia long and even she knows her annoying (and annoyingly cute)...
---
Details Almost Impossible
Title
Almost Impossible
ISBN

9780553498813

Author

Nicole Williams

Release Date
Jun 19th, 2018
Publisher

Crown Books for Young Readers

Language

English

Genre

Young Adult

,

Romance

,

Contemporary

Rating
Reviews Almost Impossible
3.5 stars!!! Jade is a teenager, but at seventeen, she's never lived the 'normal life' of a teen. Her mom is a popular musician and she's spent all her youth traveling around. She's seen a lot, but never felt rooted anywhere. She decides to spend the summer before her senior year with her aunt and have a real teenage experience. She gets a job, she makes a friend, she meets a boy…. Jade and Quentin didn't expect to hit it off the wa...

I've been given an ARC of this book and it has no influence on my willing and honest review.4 stars.Almost Impossible is the perfect book to read alongside the pool on a summer day. It is easy to read filled with lovable characters and under the light tones some heavy topics as shouldering responsibilities, making the right moral choices even if the road is hard are skillfully broached.This story revolves around Jade and Quentin, two people mee...

Need a great summer romance? Pick this one up please! This was a wonderful, refreshing YA with mature characters experiencing that sweet high school romance.Jade and Quentin's interaction from the start had me captivated. Their banter was smart, witty and fun! Jade's mom is in a popular rock band and she has spent her entire life travelling around the world on tours with the band. She decides to stay with her aunt for the summer in 'suburbia' to ...

Release Date: June 19, 2018 Genre: Young Adult Romance Actual Rating: 3.5 starsAlmost Impossible is a great book for teens and young adults. Normally, I try and stay away from YA romances because they seem... Immature? But I was drawn to this one based on the cover and description. All in all, I think Nicole did a great job with this story. She made her characters believable and even added real world problems that affect (or CAN affect) any te...

I enjoyed every page of this book and I just wish it had been a little longer and perhaps a little deeper at times. Nicole Williams has always had solid YA roots and this contemporary tale with an unusual approach to a trope was pretty fantastic.Jade had a background that I really enjoyed reading about. Her entrance to California for some much-needed roots in her life was refreshing, her home with her aunt, uncle and cousins left me wanting more ...

Review can also be found on my blog.A few words to describe this book: cute, innocent, quiet, smallIn other words, the perfect summer beach read. It sorta read like a Nicholas Sparks Jr. book. lol Sparks for Teens. Somebody trademark that, quick. You know how in all of Sparks' books, it's pretty quiet and then there's that one twist that you don't see coming? Same story here. I did not see that twist coming at all.I think that the cover of this b...

2.5 - 3 StarsI picked up this book because it looked and sounded adorable. I'm not a huge fan of realistic YA books, but I do read them from time to time and I enjoy the innocence of the read. The book starts out very cute. Jade is a hippie loving child and her mom is going on tour. Jade has traveled all over the world and she wants to spend one summer in the same home, enjoying the normal teenage dream.I liked Jade. I found her cute, quirky an...

Let me start off by first saying that in my personal opinion, a 3 star book is a good book and one that I would recommend to people. I find that people cringe when they see 3 star and think the book isn't that great. It's not that, it's more along the lines of the book was a good read, but not one that will stick with me forever.Almost Impossible is a sweet and easy read for just about anyone. There isn't any over the top drama and nothing too ho...

3.5 / 5 FangsAlmost Impossible was a great summer romance novel! This was the perfect book to pick up when I was craving a contemporary with romance, banter, feels, and some drama sprinkled in!The main character, Jade, was a very likable character. She was a very practical and level-headed girl. I related to her SO HARD when she just wanted to stay inside an read books! She was someone that didn't really take risks if she had any thought of it no...

Really cheesy and kinda annoying (!!!) at some parts, but overall it's a sweet read if you're into that kind of thingRTC!

I consider myself a lover of YA books, but I've found this category so hit or miss for me lately, that I was beginning to wonder if I'd actually finally aged out of them. With Almost Impossible it became clear to me that I just haven't been lucky enough to pick up the right ones lately. Because this book? It was almost everything I love about YA.I was completely charmed by the smart writing and the sharp, snappy banter between Quentin and Jade. I...

Jade has spent her whole life on the road with her rock star mom. But this summer she wants the typical American high school summer. She's on a mission to figure out who she is and on the way, with the encouragement from her mom, get herself into a little trouble. That is, with the hot boy next door, Quentin.The Story-This book is the epitome of the poolside read. I mean, a quarter of it is spent with Jade working at a pool ogling a cute boy. A...

Find this review and others at Carlene Inspired.Told from the perspective of main character Jade Abbot, Almost Impossible follows the teen on her journey of normal American life discovery. Raised on the road with her famous rock star mom, Jade is desperate to experience a summer of stability, to get a glimpse at what is to come in college. What she doesn't plan on is losing the freedom she is accustomed to and discovering that maybe living in one...

I've been overwhelmed with emotional reads lately and needed something refreshing to cleanse my palette. I relied on one of my most beloved authors to fill the the bill, and she delivered in the best way. Almost Impossible was delightful and everything I seek in contemporary YA; lovable hero and heroine, adorable setting, strong secondary characters, and a sweet coming of age story, sprinkled with romance. "Some people have to live with what life...

5 Could Not Love it More Stars!Review by Trinette DungeeJade Abbott is seventeen years old and she's traveled the world a few times over. With a mom who's the lead singer for one of the most popular bands in the world she's grown up on the road, home schooled and living the life that any other red blooded teenager would kill for. However, all Jade wants is a chance to be a regular teenager and when she manages to convince her mom to let her...

Originally posted on Slow Reader's BlogAlmost Impossible is a sweet young adult story about first love, learning who you are, and discovering what life has to offer. And like every other Nicole Williams book I've read, I loved every bit of it.Jade is a teenage girl who has lived out most teenagers' fantasies her whole life – traveling the world. She's never stayed in one place for too long, so she decides to do just that the summer before...

I know Nicole Williams mostly for her emotional stories, so when I learned she was working on a different kind of book, my inner book nerd was intrigued. Not that I don't trust the author with writing another great story, but would I personally like it? Almost Impossible tells the story of Jade, who's going to spend the summer with family to live like a normal teenager for once. And oh, she falls in love. I've enjoyed this sweet story very ...

I received an ARC in exchange of an honest review.My review: https://www.facebook.com/books4girls/...First of all, I would like to thank Nicole Williams and Ardent Prose PR for this ARC.I was curious to discover this YA story, being more accustomed to Nicole's contemporary romances.This story is about Jade, a not-so-ordinary teenager who decides to spend a summer with her aunt in California rather than with her mother on tour. This girl is alre...

↠Full blog post here!!↞4 / 5 starsI honestly didn't expect to enjoy this book as much as I did! I was pleasantly surprised I even shed some tears at one point near the end because when I started reading this book I was numb. I don't know if reading this book at two in the morning when I was literally falling off my couch from the tiredness affected me or what but during the first half of the story I tried my hardest to get invested in the...

Almost Impossible is the perfect summer read. It takes the reader on a journey with Jade, who wants to experience summer as a regular teen. Her mom is a famous singer and so she's lived on the road for all her life. She stays with aunt and uncle and experiences a summer job and her first real relationship.Overall, I liked this book. I would say my rating is between 3.5 and 4 stars. The novel is very readable and I found myself flying through the ...

It has been a while since I have read a book by Nicole Williams. I forgot how much I love her writing style and the stories she tells. Jade is seventeen years old and has traveled the world with her mom her entire life. She has always been homeschooled and never lived a "normal" life. Her mom is a lead singer in a band so they live on the road and out of suitcases and hotels. The summer before her senior year she wants to spend time in one pl...

Almost Impossible by Nicole Williams is a delightful young adult romance. Jade has grown up touring with her famous mother's rock band and wants to spend one summer with her aunt living a normal life. Jade has an adjustment to make because her aunt and uncle are strict, and Jade has always been responsible with no rules. Jade also meets Quentin who is hiding a secret, but she can't help but fall for him. I really enjoyed this delightful book, and...

Quentin. Another male character of Nicole's I had the pleasure of swooning over. Just when I thought I had it all figured out...I did not. Flabbergasted is an understatement. Nicole has the best surprises and I could live off her YA stories. I mean, I'd be hungry, but I'd be satisfied to just read her YA for the rest of time. Jade is happily balanced between a free spirit and a responsible teen. I became emotional along with Jade on her jou...

I absolutely ADORED this book! It was such a sweet and quick read. Once I started it, I devoured the story! If your looking for a quick and sweet YA read this is your book!

"- Maybe hes got more best things in his life than he can count. How can you be so sure that Id be one of them? Quentins hand reached mine.- Because youre one of the best things that could happen to anyone."Jade is seventeen and spending the summer with her aunt. Her mother, lead singer of a rising band will be on tour and this will be the first time that spend the summer apart. A secret plan to find out more about her past, a job at a small snac...

Do everything. Do anything. Just do. It's a verb baby, which means action.I really enjoyed this story! I don't normally read YA, but I will read anything that Nicole Williams writes! This is a great book to read while on vacation or just lounging around this summer. The story is sweet and flows from page to page. Nicole gives us such a great view of the characters. Jade Abbott wants to spend the summer before her senior year with her aunt and...

Nicole Williams has done it again and given me a treasure that will never fade. Almost Impossible is one of my all time favorite reads. This book had me hooked from beginning to end and I never wanted it to end. When I got to the last page, I was in such bliss and in complete awe at how amazing every page was.Jade is one of those characters you find yourself relating to, adoring, and just flat out respecting. She's such a wonderful girl and I lov...