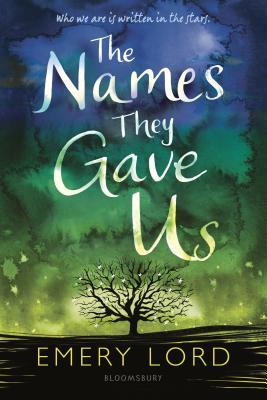 Lucy Hansson was ready for a perfect summer with her boyfriend, working at her childhood Bible camp on the lake. But when her mom's cancer reappears, Lucy falters—in faith, in love, and in her ability to cope. When her boyfriend "pauses" their relationship and her summer job switches to a different camp—one for troubled kids—Lucy isn't sure how much more she can handle. Attempting to accept a new normal, Lucy slowly regains footing ...
---
Details The Names They Gave Us
Reviews The Names They Gave Us
Wow...that was fantastic! I really didn't think I would connect with this story because I usually shy away from stories focused on religion, but I was so wrong. This story was beautiful, heartbreaking and powerful. Definitely my favourite Emery Lord novel I've read. Highly recommend it!

Wow. Booktube review: https://youtu.be/jCCiKPNVqxg?t=4m46s

Emery Lord is an auto buy author, so I don't even read the synopsis of her books any more. I just know I'm going to love them.Love love loved Lucy. She's an amazing character: strong, loyal, curious. I truly enjoyed being in her head and reading her struggle. Her found group of friends were fantastic and I adore the way Emery writes every friendship like its ride or die. And her parents were perfection.The underlying theme of this story is Lucy a...

I have always found the faith of others to be a beautiful thing, but also something that has always been distant from my own life, asides from one summer when I was nine-years-old where I convinced myself I was going to become a nun after seeing Julie Andrews in 'The Sound of Music'. Through Lucy's exploration of Christianity the reader is invited to experience faith from an inside perspective. And through Lucy's loss of it we are also invited t...

Full review posted DNF @ 80% I'm gonna try and run through the reason why I wasn't particularly a fan of this book real quick for y'all - The characters are great, wonderful flowers, vibrant and strong- All of them that is, except for Lucy our mc- She's kinda like a plain jane x 10- She's just really boring and whiny and boring and I just couldn't keep up with her- Now this is a personal thing but I just never found I connected with e...

This is a really hard one for me to review. While I enjoyed this book for the most part, I found myself to be really bored most of the time and had a hard time connecting to the characters. HOWEVER, I definitely think this is a personal preference thing and I feel like other readers could get much, much more out of this than I did. Here's hoping that Emery's other books fare better for me!

(I received an advance copy of this book for free. Thanks to Bloomsbury Publishing Plc (UK & ANZ) and NetGalley.) "We don't want you to worry," my mom says. "Surgery is scheduled for Monday morning." This was a YA contemporary story about a girl whose Christian faith was tested when her mother was diagnosed with breast cancer for a second time. Lucy was an okay character and I felt really sorry for her and her family. Going through a ...

Lucy's mom is sick. She has cancer. Her long time boyfriend puts their relationship on pause. Her dad is a pastor. Religion and faith have always been a key part of their lives but this fateful summer instead of attending church camp Lucy's parents encourage her to become a camp counsellor at another camp. A camp where everyone has a past... As Lucy struggles with her faith, with judgment, and with discovering who she truly wants to be in this li...

This review was originally posted on Andi's ABCsSometimes you read a book and you just don't know what to even say about it. It is pretty much perfect in all the ways that surprise you yet don't surprise you at all. It will make you feel things as you read, make you cry, make you laugh, make you swoon. That is what The Names They Gave Us did to me. In typically Emery Lord fashion I was blown away by this books beauty and realness.I'm not re...

All right. This will be short.I really enjoyed The Names They Gave Us! It was a light-but-not-too-light contemporary, and I liked that. BUT I do think that the reason I liked it as much as I did was because of Anna, Keely, Jones/Henry (I CANNOT CALL HIM HENRY FOR SOME REASON), and Mohan. If those four didn't exist, along with Camp Daybreak, I WOULDN'T HAVE CARED ABOUT THIS BOOK. They are honestly EVERYTHING in the book -- so intriguing, hilarious...

I just started reading Emery Lord last year and she has gradually become an auto-buy author for me. She has such a way with words and characters that each book is utterly unputadownable. This story does deal with tough subjects such as cancer and religion, (I know what you're thinking - ugh cancer, ugh religion - no thanks) but don't let that scare you off! If you've read any of Lord's previous work then you know that the hard subjects are what s...

I received a copy of this novel from the publisher via Netgalley, in exchange for an honest review.The Names They Gave Us is a moving story in which we follow Lucy, as she is challenged in her faith when her mother is diagnosed with cancer - after already beating it years ago. Instead of going to church camp with her parents as she does every year, her mother wants Lucy to go to Daybreak camp, which is a camp for kids and teens that have been thr...

What can I say - this book deserves every single positive review it gets. It's so beautiful, so full of amazing character development, wonderful friendships, an absolutely heartwarming romance. It's a melancholic, sad Contemporary but never fails to make you laugh.While I think anyone, at any age, can read YA, I feel like this is a YA book in particular that I would recommend to everyone. I think there's something eye-opening in here for everyone...

This book started off really slow and pretty boring for me I was seriously think I wasn't in the mood for it and about to put it down for another time THEN something magical happened.We get a whole freakin cast of amazing character that had heartbreaking back stories and amazing relationships with each other. This camp, these character, the diversity (that should be in EVERY contemporary) every character had a backstory, every character was messy...

oh this book was beautiful!we follow the tale of lucy who goes into summer knowing her mother's got cancer again, her boyfriend has put their relationship on "pause" & has agreed to become a counsellor at a camp for troubled kids.i did not think i'd love this book as much as i did! i loved the main character and how this story was a lot about her and growing up and finding herself as well as her faith. i loved the friendship between the m...

Lucy Hansson finds glory in the inspiration of Our Father, a passionate parishioner honouring thy father and thy mother. A wonderful community of support for the sixteen year old high achiever. Lucy's character is delightful. She's a wonderfully positive young woman with a tremendous sense of community for her fellow parishioners. Her strong Christian beliefs extend to her relationship with fellow Christian Lukas until Lucy challenges the boundar...

in honor of two weeks until pub date, here is my review!Thank God for this book, honestly. And thank Emery Lord for writing it. I... am in awe. Every word of this was like a balm to the soul. I really don't have the words to talk about it right now, but I felt the full spectrum of emotions reading this, in their purest forms. Glee, giddiness, love, sorrow, pity. I felt surrounded by the love of friends and family, found and born with. I just... I...

I have read all of Emery Lord's books so far and it's beautiful to see her development as a writer. The Names They Gave Us is by far her best book in my opinion, though I thought When We Collided was amazing, and I have a special place in my heart for The Start of Me and You. But this one is on another level. I might even write a review once I've recovered from this overload of feelings.

Thanks Pansing Malaysia for providing me a copy in exchange for an honest reviewRating: 4.5 Read my full review here: https://booklovesreviews.wordpress.co...One of my favourite YA contemporaries ever! My god, Emery Lord sure can write. I love how poignant and emotionally explored this book is. Such a gem. I highly recommend it!

A few minutes after finishing The Names They Gave Us, with a teary face, I sat down and thought to myself "How does she keep doing this to me?". She being, Emery Lord, author who likes to destroy me with feels. I've read all four of her books now and every one of them has been an emotional and memorable read that I will always cherish. The Names They Gave Us, was just … gorgeously written, and for now, it is my second favorite book from h...

I raved about When We Collided for months after it brought me out of a reading slump and became one of my favourite books. I wanted more of Emery Lord's beautiful writing and so I couldn't wait to get my hands on The Names They Gave Us. (I still haven't picked up her first two books, but I very recently bought The Start of Me and You!).Lucy Hansson has her life all figured out until her long-term boyfriend 'pauses' their relationship over the su...

Beautiful, emotional and raw. I appreciate the care with which the author depicted faith - it's struggle and resolution. Somehow the story manages to be somber yet funny without feeling heavy. Ah, how I felt for Lucy! Read this one

4.25 starsFull review: http://bookevin.wordpress.com/2017/06...---Initial thoughts:I loved Emery Lord's other novels, especially When We Collided and I was really excited to get my mitts on a copy of The Names They Gave Us because the cover is stunning.The story is unique and heartwarming as it's about Lucy who spends a summer unlike any other she's ever had, all the while, coping with her Mum's cancer reemergence. So, expect a roller coaster of ...

This was such a beautiful book! Rtc 😭

The Names They Gave Us is tied with The Start of Me and You as my favorite novel by Emery Lord. I enjoyed Open Road Summer but When We Collided made me re-evaluate whether Lord and I had gone our separate ways. We haven't; not yet, at any rate. Lord's latest follows Lucy, from the night of her junior prom when she finds out that her mother's breast cancer is back after two years, to her boyfriend "pausing" their relationship for the summer, just ...

Books that deal with faith and religion are not typically my thing… not for any particular reason, I just am always afraid they might get a little too into religion and faith and that's not usually my thing. That said, how am I supposed to pass up an Emery Lord book? I'm so glad I didn't let the word "faith" in the summary scare me away because this was such a beautiful story and one I think only Emery Lord could have told. She just h...