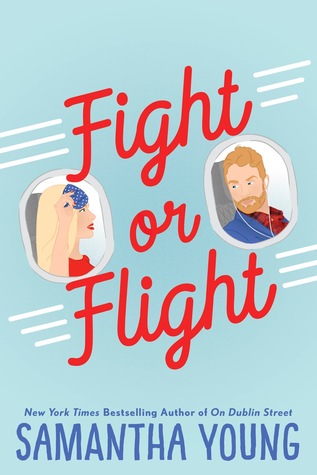 A series of chance encounters leads to a sizzling new romance from the New York Times bestselling author of the On Dublin Street series. The universe is conspiring against Ava Breevort. As if flying back to Phoenix to bury a childhood friend wasn't hell enough, a cloud of volcanic ash traveling from overseas delayed her flight back home to Boston. Her last ditch attempt to salvage the trip was thwarted by an arrogant Scotsman, Cale...
---
Details Fight or Flight
Title
Fight or Flight
ISBN

9780349419312

Author

Samantha Young

Release Date
Oct 9th, 2018
Publisher

Piatkus

Language

English

Genre

Romance

,

Contemporary

,

Contemporary Romance

,

Adult

,

Womens Fiction

,

Chick Lit

,

Did Not Finish

,

New Adult

,

Humor

,

Fiction

,

Adult Fiction

Rating
Reviews Fight or Flight
I don't usually leave reviews for Samantha Young's books. I've been working under the assumption that everyone already knows her books are brilliant, and everyone will read them regardless of whether I write a review. This stops now. I HAVE FEELINGS THAT CAN'T BE CONTAINED!!!Funny, witty, sexy, and a little heartbreaking, Samantha's outdone herself with Fight or Flight, and that's saying a lot. All of her books are worth buying (... hoarding) and...

➳Sometimes, banter with mixed with some fun sexy times create one of the ideal romance novels filled with so much emotional depth that one craves, and Samantha Young has done it again... ➳Someone help me, because Samantha Young has made a weak person out of me when it comes down to banter romances between two individuals who not like each other at first, and end up loving each other at the end. There is a lot to say about these kinds of roman...

ARC provided by Berkley in exchange for an honest review. "I never believed in fate until you" Fight or Flight is an enemies to lovers romance starring two people who met during a layover in an airport under the worst of circumstances. I've read a few books by Samantha Young and I've enjoyed every one, but this one had a few aspects that really did have me side-eyeing. ➽ Ava Breevort - Interior designer. Boston local. Grieving the los...

Netgalley provided me an e-arc of this book for review.DNF at 33%. This book is miserable and I don't see it getting any better, so I give up. My list of things I hated about this book grew with every page I turned, so here's an abridged list:•the characters are SO snobby, entitled, privileged, and every other word to describe those miserable cranky people you see snapping at people in airports. •the writing style was a lot of telling ins...

4 stars! I love a good enemies to lovers story. There is something about that love/hate relationship that makes me giddy. When Ava Breevort meets Caleb Scott at an airport, there is no love lost between them. Of course, they end up on the same flight sitting right next to each other. Ava has never met anyone as rude and grouchy as Caleb. He may be a bit of a bastard, but he's gorgeous, rugged, and Scottish. With all the animosity floating around ...

Live Amazon https://www.amazon.com/Fight-Flight-S...5 fantastic stars I knew this book will be amazing from the first pages!I adored Caleb and Ava and I fall in love with the story.Fight or Flight has it all,an arrogant and sexy hero, a sassy heroine and an intense romance.The concept was brilliant and Ava with Caleb gave the perfect note to this story.I loved their chemistry and the banter was amazing.They were full of tension and it was like an...

5 STARS Oh God, yes." "You keep calling me God, lass, and my ego might get out of control," he murmured. OH MY GOD.THIS BOOK.*flails happily*I.LOVED.THIS.BOOK.So much. SO. MUCH.This book is what enemies to lovers romance dreams are made out of. It was perfect. Absolutely perfect. I fell head over ovaries for The Bastard Scott. Everything about this book was perfection: the banter, the chemistry, the hate lust, the romance, and OMG the hat...

4.5 stars "My physical appearance was just a small fraction of who I was. I was more than a pretty bauble to hang on the tree of a man's world." After a horrible trip to her childhood home, Ava just wants to get the heck out of Arizona and back to her apartment in Boston. Her attempts at everything in the airport from first class upgrades to meals to the coffee cart are thwarted by a rude Scotsman…. who happens to be her seatmate on he...

5 "You're All I Need" Stars!(ARC provided by Berkley Publishing Group) Ava Breevort is a beautiful, successful interior designer living in Boston. She unexpectedly has to travel back home to Arizona after an old friend passes away, and is forced to face the past she's tried so hard to forget. Desperate to return home to Boston, Ava is relieved to learn there is one first class seat left, that is until an arrogant Scotsman named Caleb Scott ...

The saying to never judge a book by its cover has never been truer. This stinkin' cute book cover is a little misleading as it promises lighter literary fare like a rom-com and that's definitely not what we get with Fight or Flight. My expectations may reflect in my rating. So please make sure you read other reviews before you decide not to give this story a chance.Ava and Caleb definitely are complex characters. Both of them marked by their past...

Five+++++ Wonderful Stars****(Arc kindly provided by publisher via NetGalley)This book was amazing from start to finish. The characters, the plot, the writing style, everything, utter perfection. Samantha Young will make you dream and search through all airports for a sexy, brooding Scotsman just like Caleb. Caleb and Ava met at the airport and it wasn't a pleasant meeting. Both have been dealing with a lot, plus the stress of flying, they pret...

3.5 starsI'll admit I didn't get off to the best start with this book because I found Caleb to be such a horrible person, he almost didn't feel realistic. However, as the story progressed and you learned more about the characters and their backstories, I warmed up to him. Surprisingly, the book had some substance and wasn't just a light, fluffy romance. That isn't to say it is some heavy, depressing drama more like the author made an effort to gi...

✈ ✈ ✈ ✈ ✈ ✈ ✈ ✈ ✈ ✈Ava is about to fly back home from Phoenix to Boston. She's been in town for a difficult family situation and she's pretty stressed already. That's when she runs into this hot guy with his sexy scottish accent. He's hot and sexy and ... nothing more! He's an idiot! Every single time she comes across him at the airport, he's such an ... grrrrrrr!And then they even end up sitting next to each other on the plan...

Title: Fight or FlightAuthor: Samantha YoungRelease date: October 9, 2018Cliffhanger: NoHEA(view spoiler)[Yes (hide spoiler)]I had such high hopes for this book, and I genuinely thought I was going to love it when I started. Sadly, I left the book feeling nothing but angry and disappointed. There were so many things that didn't work for me, and the first one being where it all started: their one-night stand. Let's think about this a minute. If y...

Absolutely LOVED IT.I was all set to post my usual teasing #CurrentlyReading statuses but somehow ended staying up all night gripping the edges of my kindle."Fight or Flight" by Samantha Young was an absolute delight!High level banter, animal magnetism glueing you to the pages, devastating chemistry and voracious sex scenes will assuredly send you straight to cloud nine!On top of this, the most excruciating case of unrequited feels sent me mile h...

4.5 'Easier to love you' Stars!ARC kindly provided by the the publisher.An absolute winner by Samantha Young! I was so excited when I discovered about this book because if you know this author, then you know about her Dublin Street series, which is full of love stories featuring Scot hunks (and the amazing women that change their lives forever). So when I read about Fight or Flight and I saw we were getting a new and exciting story with a grumpy ...

I Hate Myself For Loving You...You remember that old Joan Jett song? Well that's what kept running through my mind while I was reading this book. Never had I read such animosity between the hero and heroine in a romance book. Yes, verbal sparring and snark, but this out and out rudeness and asshole behavior from the hero... jeez, I hated myself for continuing with this jerk! How are these two ever going to get along? Well, start with a good case ...

3.75 Stars I very much enjoyed the first 75 percent of the story. The characters had great chemistry and the banter was terrific. However, the hero did a major push away of the heroine so very late in the story and the relationship for me. "He chose to protect himself over protecting you and that is not okay." It was so late in a story and I was really hoping that another character would get a real chance with the heroine. This hero should have ...

★★★★ 4 Stars ★★★★I must admit that it's been too long since I picked up a Samantha Young novel, but the blurb for Fight or Flight tickled my fancy and I just had to have it!Caleb & Ava meet on a flight after broody Scotsman Caleb seriously pisses Ava off at the checkout counter, and thus their story begins with serious enemies-to-lovers vibes. High on banter, constant back and forth sniping, and huge amounts of sexual chemistry,...

★5 STARS★Dear John Braden, It's me not you.Our time together has meant so much to me, so you must believe me when I say I never thought I would see the day where my love for you would be challenged. Forgive the cliché but it just happened. One moment I'm reading about Interior Designer Ava Breevort and her airport experience from hell, and the next I'm thrust into a deliciously-banterful exchange between herself and fellow flight passe...

Honest to god, it's like this book was written just for me. I can never get enough of a brooding hero and an angsty, yet blissfully romantic, storyline and Samantha Young deliveres all of it with Fight or Flight. This story follows two strangers, a bastard Scott and an unfiltered American, who meet in an airport and instantly loathe one another. Their enemies to lovers dynamic eventually evolves into a friends with benefits arrangement of sorts a...

***ARC received for an honest review***Let me start by saying most readers will love this book. A brooding Scotsman. A spunky heroine. They each give as good as they get at their exciting meet-cute and thereafter. That said - this isn't a trope that goes down smooth with me. Caleb is rude and Ava doesn't like him from the get go. However, she's attracted to him. This is not a thing I can get past. Pursuing a sexual relationship with a man that yo...

4.5 starsFight or Flight is the first book I've read by Samantha Young, and based on the fact that I couldn't put it down, I'd say I chose a good one to start with.This is a true enemies to lovers story about two people who could not be more different. Whereas Eva is a refined and well-mannered beauty, Caleb is a rude, rugged, and judgmental Scotsman. One thing they do have in common: they each detest each other instantly. Their hostility o...

To say I'm disappointed by this book would be an understatement. The "hero" of this book is abusive but it's passed off as "grumpiness" several times. He's just an outright dick to heroine and we're supposed to think it's witty and romantic but it just left a bad taste in my mouth. There is a scene where he commits sexual assault by refusing to put on a condom even after the heroine explicitly asks him to. I can't believe this...

Fight or Flight was a brilliantly executed story that was filled with so much passion and emotion, I honestly couldn't put it down. I was mesmerized by the intriguing and complicated characters. A truly amazing read!From the second Caleb and Ava met, I was 100% invested. I wanted to know everything about them. It was crazy and intense in the beginning with their hate-lust attraction but it completely drew me in with this antagonistic banter and I...

Haha ok... can I just say I LOVE the enemies to lovers concept! This always gets me! I think this honestly is my favorite type of romance/love stories!This was my first novel by Samantha Young and I definitely was engaged by her writing!Caleb and Ava meet on a flight after Scotsman Caleb pisses off Ava to the max at the checkout counter. Their story quickly takes off with the enemies to lovers plot. Ok.. let me start off I LOVED Ava! What a fiest...

FIGHT OR FLIGHT is the kind of book that reels you in with an initial feel of light, fun and hateful banter. However, it is not long before this becomes a pretty intense read and whilst I wasn't expecting that, I was so into the characters and the story, that I welcomed it. This is a book that builds and builds and I am here for all the story development, for ever. In fact, I didn't want it to end.Caleb Scot is a vision to behold but an utter...

"Being underappreciated is like being a ghost. They know once upon a time you were there, that you made a mark, but they already topped caring before you even said good-bye.""You win when you realize that anyone can hurt you, even those you never expect it from. Once you know that…you'll never be knocked off your feet long enough to lose.""It hit me like a hammer to my chest. I loved him. His pain was my pain. I was in love with him...