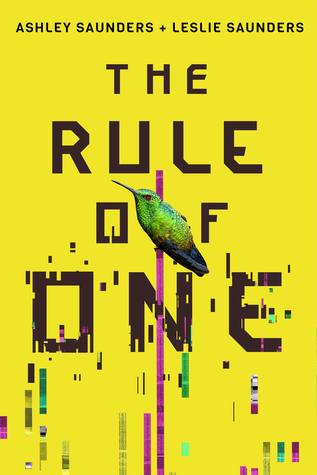 In their world, telling the truth has become the most dangerous crime of all. In the near-future United States, a one-child policy is ruthlessly enforced. Everyone follows the Rule of One. But Ava Goodwin, daughter of the head of the Texas Family Planning Division, has a secret—one her mother died to keep and her father has helped to hide for her entire life.She has an identical twin sister, Mira.For eighteen years Ava and Mira have lived as on...
---
Details The Rule of One (The Rule of One, #1)
Reviews The Rule of One (The Rule of One, #1)
The Rule of One by Ashley Saunders and Leslie Saunders is the first book in the young adult science fiction dystopian series by the same name. The story is told by alternating the point of view between the two twin main characters and is set in the not so far off future of the US.Due to the shortage of food and supplies in the United States the government began enforcing the Rule of One, that no family shall have more than one child to curb the p...

I usually don't choose to read YA books, but the premise of "The Rule of One" sounded promising. Early on, I had mixed feelings about the book, though those changed as I kept reading.I am not sure why some authors of YA books insert plot developments that don't make sense. Older readers would probably question these flaws, and sometimes it almost feels like younger readers are treated differently, as if they won't catch on to the obviou...

The humble umbrella. In a world where everyone is microchipped and food comes via a 3d printer, who'd have thought the umbrella would have endured as protection from the elements, privacy screen and even, weapon? This is the story of identical twins. They're given alternating chapters but, as I couldn't tell the difference between them , this was pretty pointless.The setting is a futuristic America, where climate change has done its damage ...

As the daughter of a twin who shouldn't have been bornI usually do much lengthier reviews, and I'll end up coming back and adding more to this, BUT... let me just say, that my mom and her twin sister were both born in China during WWII. In a small village in Manchuria, twins were still uncommon. Their mother was called every manner of insults, most notably animal names that denoted the kinds that bear litters. Women in their village did not have ...

I received this from Netgalley for an honest review. All thoughts and feelings expressed are my own. Honestly, this book was SUCH a drag for me. I figured I should try some YA dystopia again since that was literally my shit before and I freaking loved it. This story offers nothing new, it's boring, it's predictable and the writing is was okay-ish. The two sisters we are shown are likeable (no, not all characters need to be likeable but it doesn't...

First, the good: the writing was okay and the sisters' bond was emotional. I liked that there was no romantic subplot (especially not two sisters fighting over one boy), and some of the action was okay.Now, the copious bad: This is a ripoff of a bunch of far better written and conceived dystopian fiction. The authors clearly read a bunch and decided to try their hands at it, but they needed way more editing and time to actually consider their sto...

You can also read my review here:https://devouringbooks2017.wordpress....The Rule of One is about twin sisters sharing a single identity in an America that is full of propaganda and surveillance and has a one child rule. A story told about twins by twins as only they can tell what it must really be like. An own voices novel in a dystopian world filled with oppression, surveillance and rebellion stands out as these twin sisters fight for their rig...

I received an ARC of this book in exchange for an honest review. All opinions are my own and are not influenced by the publisher.I was immediately intrigued by the concept of this book: identical twin sisters written by identical twin sisters. Ava and Mira are closer than most twins are, though not entirely by choice. The one child rule in this dystopian, near-future America means that they take turns going out into the world each day, and their ...

I was lucky enough to get my hands on an Advance Review Copy of this book. Normally it would have taken me a while to get through it -- I don't have that much time to read -- but this one I finished in less than a week. It was a compelling and taughtly told adventure story which kept me reading long past when I should've gone to bed.The basic premise of The Rule of One is that in a near-future United States, overpopulation and climate change have...

I've wanted to read The Rule of One since I read the synopsis months ago. Thanks to NetGalley I received a copy to review. It only took me a few hours to finish the entire book. Twins Ava & Mira Goodwin are the main 18 year old characters in a dystopian future where the government decrees each family can only have one child, everyone is microchipped & only government Guards have guns. Definitely not a world I'd like to live in. I SO look forward ...

Can't wait for book two. While I am fully an adult, finding a good YA novel that sweeps you into another world, but tells you more about yourself, is my favorite kind of not-so-guilty pleasure! This is a hold-your-breath, while you turn-the-pages kind of series. You want to hear every word more clearly. Ava and Mira are exactly the kind of main characters you want to keep hanging out with. You want them to be your best friends, Your sisters, an...

Thank you to amazon publishing for my copy I won in a giveaway. All opinions are my own. I'm not usually a fan of dystopian but I thought this book sounded really good. I enjoyed the writing and the plot but there were parts that were slow for me. There were enough things going on to keep the pages turning. I would recommend this book if you're a fan of dystopian.

Majorly Underdeveloped.I was really looking forward to this book, sadly it was a high disappointment, and unusually for me, I gave up having only read a third of the book.Teen literature at the moment is swamped with books set in a dystopian future, and this is no exception. However, what the authors failed to do was to fully realise their world. World-Building is essential in setting yourself apart from other books, the reader must be able to ac...

Twin sisters illegally born in a not too distance future where, due to overpopulation, the United States has adopted a strict one child policy... what a premise! I was lucky enough to grab an advanced reader's edition of The Rule of One. It's so refreshing to find a novel in the YA genre that doesn't rely on a romantic relationship (or two!) to carry the narrative. The true fabric of The Rule of One relies on the bond between twin sisters Ava and...

Not bad! Lots of adventure and danger. The twins are interesting, and I think the authors did a good job giving the two their own voices. I'm still not exactly clear how pieces all came together in the end. Seemed convenient. Anyway, I think folks who dig dystopian, illegal-to-be-alive-type stories will enjoy this as well.I purchased my copy of this book.

An easy read. Nothing really wrong with it but it's been done before. Nothing special here.

This book came to me as an Amazon first read, and I really, really wanted to like it. The beginning was promising; we follow a set of twins living in a world where only one child is allowed (I spent most of the time I was reading craving an egg roll). They take turns spending days above ground and while one sister attends college, the other hides in a basement bunker. The POV switches back and forth between the sisters, which is my first problem ...

Great dystopian reading I like dystopic stories whether in print or on the screen and this one delivered. At the beginning it reminded me of the Netflix movie "What happened to Monday?"

So guys, this is a book about twins WRITTEN BY TWINS. How awesome is that? :D This was a very good dystopian novel, but you can see that some parts were similar to other popular novels of that genre.The plot itself was okay, but boring at times. The beginning was great and then they go on this survival trip where nothing really happens. They just go from place to place and meet people. I mean, it was a good survival story and the people they meet...

A finished copy of this book was sent to me by Amazon Publishing in exchange for an honest review. All thoughts and opinions are my own.Rating: 3 / 5The Rule of One is a dystopian sci-fi YOUNG adult book. Despite being a rather young person (well, in my opinion at least), I found this book to be quite mehhh for my age, but it's no way a middle grade book. It is set in the future where the United States has adopted the one child policy. I was ho...

Of six books offered by Amazon First this month (free to read), this book was the only one that appealed at all. It was described as a Young Adult book so I may be way beyond the target market. I hope that hasn't coloured my views too much.In summary, I enjoyed reading the book and found the ending satisfying if a little naive. The writing was fluent and interesting and certainly didn't wallow in adjectives and adverbs. In fact, for once i th...

This was a good premise but, unfortunately I've read something extremely similar several years ago by an indie author I like. Ava and Mira are twins in a U.S. that only allows one child per couple. Twins are forbidden. So Ava and Mira trade off being Ava. I didn't really find the characters that endearing. This first book is setting up book 2, which could be a better story and may veer into something more unique. Let's hope so.

Fast paced and interesting!I really enjoyed this and can't wait to read book 2 to find out what happens next! Twins are fascinating to me and I think something like this could very well happen in a near future America. I also like the fact that twin authors wrote this story!

Interesting premise, poorly executed. The characters were shallow, there were glaring plot holes, and ridiculous behavior from the protagonists. Some of that might be excused by their adolescence, but still. This could have been engaging but was very disappointing.

In The Rule of One, Ashley and Leslie Saunders create a dystopian world that is sooooooo different from the United States I currently live in. Climate change has drastically affected the environment making the earth a difficult place to survive. The leaders of the USA promote an "us vs. them" narrative that even includes walls on all our borders. Shockingly, the government is even controlling reproductive rights!! I mean, come on! That is a t...

"Humankind is everything's and everyone's most dangerous predator. Blindly killing its own planet, slowly wounding it over the centuries. Forcing my generation to mop up the blood." This book is said to take place in a not too distant future in the United States. Because of rising populations, increasing natural disasters, and shortages of food, the only hope for survival of the nation was to change various laws in the Constitution and enforce Th...

I liked the idea of the book, and it wasn't bad. A new twist on a dystopian plot line, more than one child is outlawed. I may have read it too quickly and missed some plot points, but I felt like I missed some stuff. Something would happen and then we would be in a whole 'nother scene. Still, I like it and I am planning on reading the next one.

It was ok but not enoughI guess this is good for the actual young adults but not gritty or original enough for actual adults. I don't think I'll bother with the 2nd book unless I got it for free too.

Simplistic. Obvious. I won't read more. And. Especially in a society where makeup is outlawed, makeup doesn't work like that.