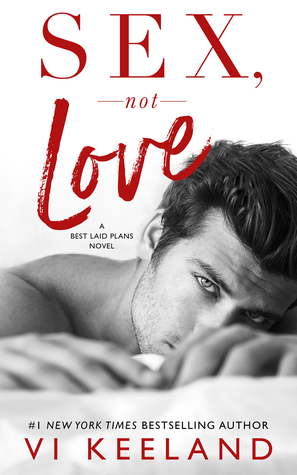 From #1 New York Times Bestseller Vi Keeland, comes a new, sexy standalone novel. My relationship with Hunter Delucia started backwards. We met at a wedding—him sitting on the groom's side, me sitting on the bride's. Stealing glances at each other throughout the night, there was no denying an intense, mutual attraction. I caught the bouquet; he caught the garter. Hunter held me tightly while we danced and suggested we explore the chemistry ...
---
Details Sex, Not Love
Title
Sex, Not Love
ISBN

9781942215707

Author

Vi Keeland

Release Date
Jan 15th, 2018
Publisher

C. Scott Publishing Corp.

Genre

Romance

,

Contemporary Romance

Rating
Reviews Sex, Not Love
Coming January 15th, 2018!Audio: http://smarturl.it/qbf0bsiBooks http://smarturl.it/vlfabbBarnes & Noble http://smarturl.it/hivkorKobo http://smarturl.it/9bxfwxGoogle Play http://smarturl.it/19muiqAmazon Print http://smarturl.it/3u10n0(Amazon eBook will be a live release, no pre-order)To receive a text when SEX, NOT LOVE goes live, just TEXT the word BOOKS to 77948 You will ONLY receive a text when a new book goes live - no other messages at all!...

5 She's My One Stars!-"You look in the rearview mirror too often, sometimes you miss what's right in front of you." Natalia Rossi is s gorgeous 28 yr. old divorced Italian woman living in New York. She dates, but doesn't really put herself out there since men only ever let her down. She's happy with her job as a behavioral therapist, & has a close family, and great friends. When her best friend Anna is getting married, she heads to Ca...

It's 1:45 am. I just looked up to check the time. THIS BOOK! I'm 86% into Sex, Not Love by Vi Keeland. Omg the feels. I've laughed, cried a few times and, I don't want this book to end. THIS BOOK! This is why I love to read. Thanks in advance for a sleepless night Vi. Worth it. 1/15 release. You will fall in love with Hunter! 😍 UPDATE: I FINISHED IT six stars! Full review to follow.

What is the best thing about January? A new Vi Keeland book! And OMG this book, I laughed, swooned to the infinite levels, cried and it just never ceases to amaze me the talented and amazing writer that is Vi Keeland. It all starts when you finish the last book, I am always craving the next book the minute I read The End. Then it comes the cover reveal, I LOVEEEEE this cover and then when you finally get to open the book and dive in you are left ...