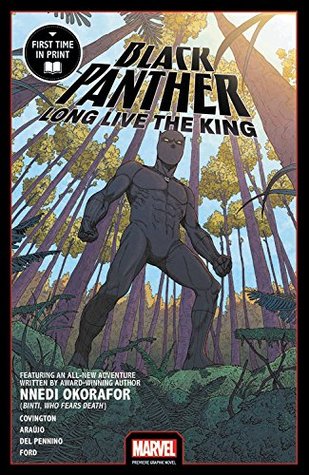 HEAVY IS THE HEAD THAT WEARS THE CROWN! As the Black Panther and an Avenger, T'Challa has had to save the world time and again - but those duties pale in comparison to his responsibilities as king of Wakanda. As the nation rebuilds in the wake of revolution, T'Challa finds his people besieged by a massive monster tearing through the country, leaving a trail of destruction in its wake! From acclaimed novelist NNEDI OKORAFOR (Binti, Who Fears Death...
---
Details Black Panther
Title
Black Panther
ISBN

9781302905385

Author

Nnedi Okorafor

Release Date
Jun 5th, 2018
Publisher

Marvel

Language

English

Genre

Sequential Art

,

Graphic Novels

,

Comics

,

Superheroes

,

Marvel

,

Fiction

,

Cultural

,

Africa

,

Science Fiction Fantasy

,

Comic Book

,

Adventure

,

Graphic Novels Comics

Rating
Reviews Black Panther
I love Ta Nehisi Coates as writer and thinker but had to abandon his Black Panther run; it wasn't great comics. All talk and philosophy, and not action, or too much set-up for action that I might have seen if I had been patient for it. Okorafor, the author of Binti and Akata Witch, making her comics debut, wisely listened to future readers via social media about their hopes for her run; they hoped to see more action to ground the ideas, and not...

The description of this TPB is misleading. Nnedi Okorafor only wrote half of the stories in this trade. If okorafor had wrotten the entire trade I would hahve given this a high rating.Because Okorafor does something that is rarely done with T'Challa nowadays. A little humor and humility is added to the charcater. That doesn't mean Christopher Priest's version doesn't remain my favorite. it is that Okorafor's firs in much better than Coates, Hudli...

Actual review: 3.5Although decent, the stakes weren't high enough for me to make this series interesting. I enjoyed the artwork, but the story lacked something big. Everything was solved pretty quickly.

This was interesting. The first 5 issues, about Black Panther in Wakanda were ok, even though the two issues not written by Nnedi Okorafor were significantly less strong. The stories were just too short and everything wrapped up quickly enough that the stakes didn't get particularly high, and the distance that Okorafor felt about writing about a monarch, which she references in her letter at the end does come through a bit, which makes this Black...

I was skeptical because I haven't really liked anything Marvel has done with BP in at least half a decade, probably longer. This book was just a delight though. It's just three short stories that aren't concerned with the fate of the universe or anything. It was so nice.

A bit uneven at times and the last issue was a one shot that was unrelated to the rest the of the series (a BP/Venom mashup from a different Earth). An OK read.

Okarafor's issues, even the Venom one, are great. Had this been a 6 issue run where she could really craft a deep arc, I think it would have been a wonderful book. The "filler" Covington issues feel a bit like a corny Saturday morning cartoon in comparison. I look foreward to Okorafor's next projects.

I am incredibly excited that Nnedi Okorafor brought the characteristic magic and brilliance of her novel and short fiction writing to the graphic medium in Black Panther: Long Live The King. Okorafor delves into the most technologically advanced society on Earth: the kingdom of Wakanda and invites critical questions about whether magic and technology are really as distant from each other as people assume. Like she does in other fiction writing, s...

I had been looking forward to this because I love Okorafor's Binti trilogy, and since the Black Panther movie I've been wanting to dive more and more into Wakanda.This volume leads with a 3-part story by Okorafor, and it is good. It shows the humor and compassion of the King of Wakanda, as well as his strength.The volume also includes a 2-part story by another author that is juvenile and poorly written in comparison to Coates, Gay, and Okorafor's...

I wanted to read this book purely for Nnedi Okorafor's ability to spin word magic. She works her stoic charm here to a certain extent with the first story and the other two (not helmed by her) are pretty decent too. All three tales explore issues beyond how infallible the Black Panther is and deal with different but equally compelling issues.The artwork is lush but the handling was a tad clunky.Ah well.....am still a freak for Wakanda and its und...

A somewhat disappointing story. The idea was great and the drawings are amazing, but it's hard to understand why the hell there is a hiatus between #2 and #5 and a completely different story in #3 and #4. The main story should have received more issues, because it had the potential to be much better developed. Okorafor habit of mixing magic and science narratives offered a promising twist that did not really come to fruition. I can't wait to read...

The first three issues make this entire volume worth the read. The other two stories seemed a little flat in comparison, the second one feeling very standard comic book, while the last is good, but follows a character I am in no way familiar with, granted Ngozi is a bit interesting, but I felt lost for the entire story.Bottom line: Nnedi should write for comics more often.

Nnedi Okorafor's authorial voice comes through in this book, particularly with the unplugged community in Wakanda and the visit to Nigeria. But this one somehow felt simultaneously talky and punchy, keeping it from being exceptionally moving. Fast paced and an easy read – worth your time but not an essential read.

meh, 2 outta 6 were good issues

I love Nnedi Okorafor as an author in general, and the perspective she brings to this franchise in particular. This is certainly worth the read, if Black Panther comics are your thing.

A delightful tale reveals much of T'Challa past and the burdens it bears. Hope the series continues its pace and will be looking forward to new issues.

While all of the stories were great, I bought this because of Ngozi and I just love her story and I can't wait to read more about it.

This was more like a 3.5. The art was a bit cartoony for my tastes.

Just okay. I guess I wanted an epic story, some connection between the parts, I wanted more.

Fun but uneven collection.

Amusing, but ultimately unremarkable.