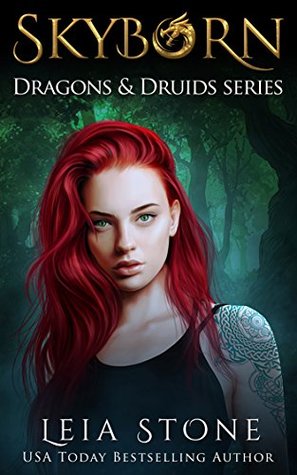 Alone, on the run, and fighting for her life. Sloane Murphy thought hiking the Grand Canyon alone after graduation would be an awesome adventure. Until she slips and starts to plummet to her death. Then the unthinkable happens. She transforms into… a dragon. After flying to safety and trying to convince herself she isn't having a mental breakdown, the hunters come for her. She runs, somehow managing to stay one step ahead of them. Until her ...
---
Details Skyborn (Dragons & Druids, #1)
Reviews Skyborn (Dragons & Druids, #1)
Hoooooo boy. It's not often I find a book that I hate so much I finish reading it. Not that it was very long or a very challenging read because the writing is horrific. You know why I finished it? Because of this: "Heat uncoiled deep in my belly, bringing a pressure with it that had my legs throbbing. What the hell was going on with my lady parts?"THAT IS A GOOD QUESTION TO ASK YOURSELF.It's so bad, guys, so hysterically bad that I had to superim...

I don't know what everyone else was reading but this is the worst book I've read last year.

Why is this over?! I need more of this awesome story.

Leia Stone...you just keep proving to me why you are my favourite. Such a easy read, full of action, adventure and romance. I feel in love with Sloane the moment she opened her mouth. The sassy attitude that made me laugh out loud. Logan...can I keep him please? Highly recommend. All sales are going towards building an orphanage in India. Just shows how beautiful Leia really is.

the heroine is a little hard to love. okay a lot hard. but the concept and the fact that i'm a sucker for dragon shifters kept me interested. it felt all over the place and i kinda wanted sophie to actually punch sloanes face in. tbh even her name is the annoying type. i guess ive been spoiled with kick arse females in the past - some i believe by this author that i feel disappointed. it felt cut short as well... like rather than a full novel end...

Great readThis book had a different take on an old theme. I really started to take to the characters and being a big fan of stories with dragons I'm moving straight on to book two to get to know them more. Features action, love and pulled on my heart strings what more could a fan of fantasy ask for? Well this tale gives you more druids, shifters and the skyborne just to name a few things.

3,5 starsOh my what a great surprise...This book was nice... Was my first with dragon shifters and I like it...Sloan was a little stupid and childish but I can understand the scars of being so alone.The side characters where great and all pack very likeable...I'm trying not to spoil the story...Will read the next book...

Partway through the book, I realized how much it was like City of Bones; there is a girl with a magical past she doesn't know about and is suddenly thrust into it without any prior warning. She has no father and has a magical mother that never told her anything of the supernatural world. The mother asked someone more powerful (or with the right powers) to seal her power away, and it needs to be resealed over time. She can't get her powers reseale...

This is a truly gripping story from the first page. I liked this take on dragon's and shifters very much. Looking forward to the next book.

This book had my attention from start to finish! I'm so excited for the next book and to see this story unfold!

Read as an ARC in 24 hours because it was just that amazing!! Picking up this book will make you fall in love with Leia's writing and make you want more. Thankfully she appeases us by continuing to write. Oh and sales from this book go to an orphanage in India; so you get an amazing read and get to help needy children! :)

I'm a sucker for PNR dragon-shifter books so I picked this one up. Plus, I normally like the way this author writes. But while the story started out great, I found myself not really liking Sloane, the female MC. She just got on my nerves. As such, I didn't enjoy the book. Sorry.

I loved this book! I couldn't put it down and literally read it in one day. Such an engaging story with so much witty banter that kept me laughing out loud. Can not wait for the second book to be released. I need to know what happens!!

Here ye be Dragons! Or at least dragon shifters! I'm no damsel in distress so I do love a strong lead female who speaks her mind but on the flip side I do like a gorgeous man who is willing to win said female (in short I love a good romance). Sloan is a pretty headstrong lead, although she's not dumb enough to turn away help when needed. Logan, though a bit hard-headed is a swoon-worthy guy who, like Sloan, can also turn into a dragon.The plot is...

Amazing! By far my favorite book of Leia's so far! It kept me on the edge of my seat waiting to know what was going to happen. I fell in love with all the characters and felt invested in them. I don't think I can wait for the next one!

Another complete knock out from Leia. Could not put this book down!! This lady just slays every book she writes!

This was exactly what I expected utter and delicious five star destruction I can't wait for the next one :D

Dragons and Druids and shifters, oh myThis introductory novel starts off in the middle of a battle. Sloane has the worst luck. Broke, living in her car, starving artist is supposed to be a joke not a reality. And then the Grand Canyon happens. One moment she's plummeting to her death and the next she's having a psychotic break. Because there's no way she's really a dragon, right? Rescued by a pack of shifters and a male dragon, things should be l...

I found this book from an Amazon ad, and immediately clicked on the link to learn more about it. I haven't read very many good dragon books, but this one is the exception. I actually like that it isn't entirely focused on dragons. There's lots of other magic and shifting (into other animals) to go around. I will say that it is helpful to read the description before reading this book because it starts abruptly without much explanation until chapte...

At first, I thought I really wasn't going to like this book. The beginning felt a little odd, like I'd missed a first chapter or something. There is a prequel, I believe, so maybe that's why. But for a book that's described as #1 in the series, it felt a little off.And then there were a couple of minor issues that irritated me (but perhaps wouldn't bother anyone else). Logan described himself as being from England but said he'd 'lost the accent'....

2.5 starsThe book was well written, but the whole time I was reading it I was thinking: this sounds like City of Bones book. Substitute skyborn & earthbound with demons & angels and you get almost the same premises (a girl that find out she is something more than she belives; her mother hides her powers and her father is not in her life + the whole group (that she becomes part of) that fights evil). Thats not to say there aren't any unique things...

Skyborn is the first in the new series by Leia Stone, a supernatural romance based on two characters, Sloane and Logan. Sloane unknowingly finds out that she is a dragon shifter, on the run, hiding from people who keep trying to kill or capture her. During an attack from yet another group of people trying to kill her, a separate group of people, some animals, save her. From there she finds out that she isn't alone in the world as there is anoth...

OriginalI liked the originality and the author's creativity with the story. I would've liked a bit more character development with the rest of the pack though. I hardly knew anything about some of them, nor could I recall who was the fox or the bird or the coyote, unless the author reminded us of it. I would've liked to know more about them all, especially as they were unusual shifter species. Towards the end of the book, Sloane makes some ...

So this is the first Leia Stone novel I've written a review for, or any review for that matter, and normally I could care less to write one but after seeing the last two reviews for the book being one stars I felt it necessary to write one. Now don't get me wrong I haven't loved all of her books but this one surprised the hell out of me. In her Mate Finder series and Keeper series I was not a fan of the whole love at first sight concept jus...

Leia has become one of my favorite authors and an instant one-click on Amazon. I found out about her through a book club (her books were highly recommended) and I am so glad I took a chance last year. I love that Leia doesn't write about the same MC every time, that they all are kickass, but have something different that makes them unique in my eyes. I loved Sloane and Logan (drool!!), and can't wait to see what happens in future books. I am tota...

I went into this book not expecting everything. I decided to read this book based on the fact that I could get it on Kindle Unlimited. Boy, was I surprised? It was sexy, romantic, action-packed, and hilarious. I have always liked fantasy novels, and this was relatable but still gave me the escape to a fantasy world I was craving. Sloane is refreshing and bold, but can sometimes follow the cliche "I'm so in love!" role to the point of weakness, bu...

I'm a sucker for a good Dragon Shifter book, and this one was definitely a hit! The story was unique, the characters drew you in (you either loved or hated them, depending on what the author wanted) and it was a nice blend of fantasy and real world. There were plenty of twists along the way, some choices you agree with and some you won't but you won't be able to put it down.My only reason for a four star vs five is that I felt there was an excess...

This book is ok and I could finish it, which is why I gave it three stars. The dragon part was different and I liked that part (mostly) and the over the top reaction to a certain person was... kind of annoying actually. I didn't feel the spark of what I would call a mate between them. I felt lust and that was about it. There was minimal character building and no real change to form a bond with any of the characters, just a vague sense of who co...