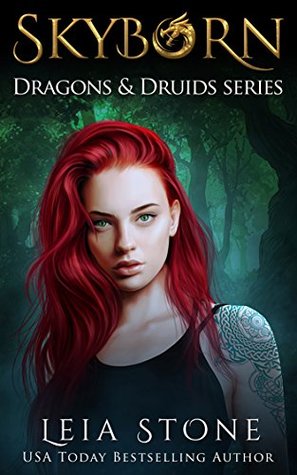 Alone, on the run, and fighting for her life. Sloane Murphy thought hiking the Grand Canyon alone after graduation would be an awesome adventure. Until she slips and starts to plummet to her death. Then the unthinkable happens. She transforms into… a dragon. After flying to safety and trying to convince herself she isn't having a mental breakdown, the hunters come for her. She runs, somehow managing to stay one step ahead of them. Until her ...
---
Details Skyborn (Dragons & Druids, #1)
Reviews Skyborn (Dragons & Druids, #1)
Why is this over?! I need more of this awesome story.

Leia Stone...you just keep proving to me why you are my favourite. Such a easy read, full of action, adventure and romance. I feel in love with Sloane the moment she opened her mouth. The sassy attitude that made me laugh out loud. Logan...can I keep him please? Highly recommend. All sales are going towards building an orphanage in India. Just shows how beautiful Leia really is.

This book had my attention from start to finish! I'm so excited for the next book and to see this story unfold!

Read as an ARC in 24 hours because it was just that amazing!! Picking up this book will make you fall in love with Leia's writing and make you want more. Thankfully she appeases us by continuing to write. Oh and sales from this book go to an orphanage in India; so you get an amazing read and get to help needy children! :)

I loved this book! I couldn't put it down and literally read it in one day. Such an engaging story with so much witty banter that kept me laughing out loud. Can not wait for the second book to be released. I need to know what happens!!

Amazing! By far my favorite book of Leia's so far! It kept me on the edge of my seat waiting to know what was going to happen. I fell in love with all the characters and felt invested in them. I don't think I can wait for the next one!

Another complete knock out from Leia. Could not put this book down!! This lady just slays every book she writes!

This was exactly what I expected utter and delicious five star destruction I can't wait for the next one :D

Dragons and Druids and shifters, oh myThis introductory novel starts off in the middle of a battle. Sloane has the worst luck. Broke, living in her car, starving artist is supposed to be a joke not a reality. And then the Grand Canyon happens. One moment she's plummeting to her death and the next she's having a psychotic break. Because there's no way she's really a dragon, right? Rescued by a pack of shifters and a male dragon, things should be l...

Skyborn is the first in the new series by Leia Stone, a supernatural romance based on two characters, Sloane and Logan. Sloane unknowingly finds out that she is a dragon shifter, on the run, hiding from people who keep trying to kill or capture her. During an attack from yet another group of people trying to kill her, a separate group of people, some animals, save her. From there she finds out that she isn't alone in the world as there is anoth...

Leia has become one of my favorite authors and an instant one-click on Amazon. I found out about her through a book club (her books were highly recommended) and I am so glad I took a chance last year. I love that Leia doesn't write about the same MC every time, that they all are kickass, but have something different that makes them unique in my eyes. I loved Sloane and Logan (drool!!), and can't wait to see what happens in future books. I am tota...

I'm a sucker for a good Dragon Shifter book, and this one was definitely a hit! The story was unique, the characters drew you in (you either loved or hated them, depending on what the author wanted) and it was a nice blend of fantasy and real world. There were plenty of twists along the way, some choices you agree with and some you won't but you won't be able to put it down.My only reason for a four star vs five is that I felt there was an excess...

Dragons & shifters & sourcerers & druids, oh my.This felt short, like the story was over before it began, but I guess it counts as novel length. Clearly a "tune in for the next episode" ending. Though not a cliff-hanger.The shifters are typical. The druids are fae. The sourcerers and druids come in "pure blood" and "mixed blood" varieties. Dragons are rare and their magic protects humanity. The druids are the bad guys, but chiefly because of thei...

I'm always excited when I see that there is a new book by Leia Stone! Sloane finds out that she is a dragon when she starts to plummet to the ground and shifts for the first time. Her only problem? That a group of Hunters happen to see her. Now she's on the run and trying to keep one step ahead and alive! Logan thinking he was the last dragon shifter alive is quite happy to find out this is not the case any longer. Now he only has to find he...

Can there be more stars please? This book was insane! So much so that I am currently lost for words, and I have found my new series! Every single character I fell in love with so much so that I have no shame in admitting I cried at the end from a death of one of them.The ending alone was intense and so amazingly written that it felt like you were in the battle itself! I have already pre ordered book 2 and I will be reading 'Logan' which is th...

Amazing!!This book was absolutely incredible! I am hooked on everything from the world to the people within it. I can't wait for the next book to come out! Thank you Leia Stone for blessing readers like myself with your phenomenal talent! PLEASE, PLEASE DO NOT EVER STOP SHARING THE FANTASTIC GIFT YOU HAVE WITH THE WORLD! TO TAKE INDIVIDUAL WORDS AND CREATE SUCH A KICK A$$, ENTIRE "STORYLINE" IS NOTHING SHORT OF MIRACULOUS AND HONESTLY, AWE INSPIR...

I loved the story, but I thought it was a bit short, characters might have need a little deepness to them. Too fast, too soon, in my opinion the love between them could have been worked out a little more. I have loved Leia Stone's work so far, and I was a little surprised by the abruptness of the story. But still I liked it a lot. I hope the second installment can be a bit more developed. But it is a good book, I recommend it.

Gotta love Dragons!This was a classic Leia Stone book.. I'm already excited for the next one. Fun and interesting and I love how Sloane is not already a complete badass even though she is a freaking dragon; however she is pretty scrappy. I'm getting major karate kid vibes here...lol Can't wait to see what she will be like after much needed magic training. Love the pack! Very likeable characters who you can easily become invested in. Totally worth...

I was in a bit of a shifter slump (nothing recent was really resonating with me) for a couple months, but Skyborn brought me out of that slump with ease. I was hooked from the first sentence, and I especially enjoyed how the story begins with Sloane, the main heroine, not knowing what the hell is happening to her. This story is fast-paced, fun, and full of adventure.This was such a strong start to a great new series, and I'm excited to see how ...

Holy wow!!! This was absolutely fantastic! It amazes me the way Leia's mind works and how these amazing stories pour from her mind into the page. Dragons...never would have thought they would interest me but I'm hooked. Druids, shifters and sorcerers...oh my! This story grabs you from the beginning and you are sucked into this world. Each page drops more hints into the fantastic story that's unfolding. It has action, intrigue, lust and passion. I...

Jag trodde verkligen inte att jag skulle gilla den här boken, men på något sätt fastnade jag. Huvudpersonen må vara naiv men hon reflekterade samtidigt alltid över sitt agerande och vilka konsekvenser hennes beslut skulle kunna leda till. Det var en lättläst bok som lyfte humöret, det skulle varit bättre om bok 1&2 var samma bok.

AmazingI always know I've picked a great book when I can't put it down but this surpassed all of Stone's books so far. I loved every minute of it . She tells a unique and amazing story that kept me on the edge of my seat into the early morning hours. Can't wait for book 2 I already reserved my copy.

6 stars if it was possible... maybe even 100OMG!!! Shifters, magic, evil villains, sexy alphas... what more can you ask for?!?!?!?!?! Love love love Leia's new series... and I am praying that she would write faster soon can find out what happens next!!!!! I can't wait for the next one..... major book hangovers!!!!

Amazing new series! Right from the start I was drawn in and couldn't put down my ereader. Sloane is awesome as is Logan and his team of shifters. A great new story and world. I can't wait for the next book.

Another great read from Leia Stone!Wow! Loved this first book in Leia Stone's new series.This book has it all, folks! I'm looking forward to reading more of Sloane' s journey in the next book. Dragons AND Druids?! Sign me u0!

Had me hooked from the beginning She did it again I could not put this book down you will love it you want sass love and a kick butt journey just read this book can't wait for the next one please hurry and get it out

Loved it!! It is such a good feeling to get completely swept away in a book and I can't wait for the rest of the series, Leia's stories are always a pleasure to read and skyborn is a great example of why she remains one of my favourite fantasy writers, you just can't get enough x

Fantastic!!Another fabulous book by Leia Stone!! Slone and Logan's story is fantastic. Watching Slone's development as the MC was great and I can't wait to see how her story develops in the next book! February can't come fast enough!

The book was a tad bit...boring? Everything was happening quickly, but at a slow pace. I don't know if that makes sense. The plot, however, was good and I liked the general idea of the story. Dragons are the best ❤

It was meh. Not amazing, but not horrid, either. Just meh.