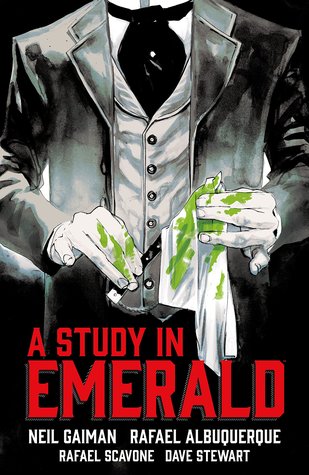 This supernatural mystery set in the world of Sherlock Holmes and Lovecraft's Cthulhu Mythos features a brilliant detective and his partner as they try to solve a horrific murder.The complex investigation takes the Baker Street investigators from the slums of Whitechapel all the way to the Queen's Palace as they attempt to find the answers to this bizarre murder of cosmic horror!From the Hugo, Bram Stoker, Locus, World Fantasy, Nebula award-winni...
---
Details A Study in Emerald
Reviews A Study in Emerald
Recently while listening to a podcast, I discovered that Neil Gaiman had written a re-telling, or pastiche, of one of the Sherlock Holmes' stories, "A Study in Scarlet." It can be found online for free here, and this version is actually printed like an actual newspaper with ads and all. However, there are other versions as well: a graphic novel, an audiobook, the version found in Shadows Over Baker Street where it was first found, and Amazo...

4.5 stars.An excellent adaptation of the seminal Neil Gaiman story that fuses Sherlock Holmes and the Cthulhu Mythos.

Really good. But wait..is this the only volume or is there going to be more stories set in this world. The whole thing was really good but I wish it had gone on longer. 5 stars.

Letto nella versione non illustrata uscita nel 2007.

I want to live in Neil Gaiman's head for a day. He has such an incredible imagination! I loved this story and enjoyed the art as well.

I loved this. I've read the original short story at some point and don't really remember it, but this was a perfect medium for the story. The adaptation wasn't overpowered by endless caption boxes like some of the other Gaiman adaptations, and Rafael Albuquerque's art provided the perfect unsettling mood for the story.