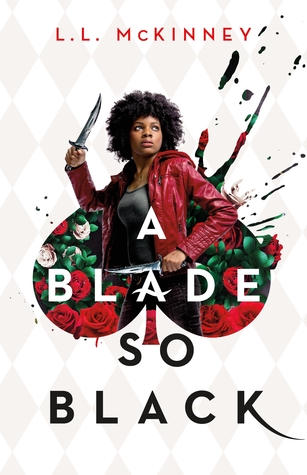 The first time the Nightmares came, it nearly cost Alice her life. Now she's trained to battle monstrous creatures in the dark dream realm known as Wonderland with magic weapons and hardcore fighting skills. Yet even warriors have a curfew.Life in real-world Atlanta isn't always so simple, as Alice juggles an overprotective mom, a high-maintenance best friend, and a slipping GPA. Keeping the Nightmares at bay is turning into a full-time job. But ...
---
Reviews A Blade So Black
1/10/18 - Holy maple bacon cupcakes batman, that COVER!!! That cover! That cover gives me #BlackGirlMagic feels all up and down my spine! It's everything and it's why #representationmatters. Not only am I totally looking forward to this retelling of Alice in Wonderland with a Black heroine, but I follow the author on Twitter and she tells some ugly truths about the publishing industry, authors and racism in general that too many people want to bu...

I cannot wait for this book.

Apparently rating a book before reading it is okay, if it's written by a black woman who calls out racism and makes white people face their whiteness and white privilege. Guess that means I can give it 5 stars, because I know the actual definition of racism (and a bunch of white people trying to sabotage a black woman's career because they don't like what she said about whiteness on social media is a textbook case of racism).

Not to brag, but. *I* got to read an early draft of this, and if you're jealous right now? You should be. Alice is the ass-kicking, Sailor-Moon-cosplaying, out-Buffying-Buffy heroine you didn't know you were waiting for.

The amount of negative reviews this book is getting from butthurt white people because the author tweeted saying whiteness tires her so much is fucking ridiculous. Reverse racism does not exist. Plus, the fact that it took a black woman tweeting a pretty valid negative thing about white people caused such an uproar is very telling. Where were all of you people with these negative reviews concerning *actual* problematic books and authors? This is ...

this is basically just city of bones + twilight (alice in wonderland version)DNF @ 46%Review copy provided by Macmillan in exchange for an honest review! Thanks so much!

Y'all. This is the tiresome (and predictable) whiteness she was talking about. "What happened to her?" people keep asking. Well, she had to grow up in a country that values the mediocre contributions of white people in arts and entertainment—and the rest of life—over the amazing contributions of people of color. If you're really not racist, then you're not the white people she's (rightly) venting about, so pat yourself on the back and try to ...

is there a rating higher than five stars asking for a friendrelated: F*CK THAT WAS GOOD

I received an arc from Raincoast Books Canada in exchange for a honest review. When I first saw the cover of this book, I screamed. I loved the cover so much and when I read what the book was about--an Alice in Wonderland retelling--I screamed even louder. So imagine my disappointment when I read the first couple of chapters and really, really, really, couldn't push through another page. Firstly, the writing isn't very good. It's a fantasy with...

Oh man, this book was FUNNY. As funny as it was action-packed, and the incorporation of all the familiar Alice in Wonderland elements was genius. I love me a sassy, courageous girl MC!

I had seen a lot of talk about this one, but didn't realize it was an Alice in Wonderland retelling until recently and I was so excited for it. I liked Alice well enough. She's loyal and she means well, but she came across as bratty and ungrateful. Yes, yes, classic teenager attitude, yet when you're legit never home and your mom is extra worried due to a neighborhood girl being recently killed, maybe don't be a dick. There is a pretty la...

racists are giving this book one star for no reason, so here are five stars. gonna update it with my real rating when the book is out ✌🏻

I am sooooo excited about this book!!!

I want to thank all the people who pointed out the author's Twitter feed, and posted links to Tweets of hers where she expresses honest frustration with the racism of the YA genre. You've convinced me to read this book, where previously I might not have been that interested in it. Anyone who is the target of organized hate campaigns as she clearly is (what is this, high school??), and who still has the courage to speak truth to power, is brave en...

Yall, no. The writing is not my style. It is choppy, rough, and difficult to get through. There is no fluidity to it at all. This is a book that didn't show me what was happening, it told me. I never connected with any part of this at all.------Full review can be found here: https://agingerlyreview.wordpress.com...If you ever want to talk about a book that was an absolute struggle to get through, pull up a chair and get cozy because we'll talk ...

As a huge Alice in Wonderland fan the second I heard A Blade so Black is a retelling where it was actually Buffy who fell down the rabbit hole I was all in for this book and I'm so happy to say that it lived up to my high expectations.Alice is a fantastic character, she's smart and hard working and she knows how to kick butt. She may not always make the right choices but she goes with her gut and she'll fight to the death for the people cares ab...

fuck y'all for trashing the book of a black author who kicks ass. where were you when (black) woc and native women were being harassed off twitterand a retelling of alice in wonderland with a black teen mc? hells yeah

Want to see more from me? Check out my youtube channel: https://www.youtube.com/channel/UCfer...*I was sent a copy in exchange for my honest review* Alice, a young African American girl, is trying to balance her regular life with an overbearing mother and a needy best friend while also being trained to hunt and kill Nightmares in Wonderland by a warrior named Addison Hatta. I was so excited when I originally heard of this book! An Alice in Wonder...

Netgalley provided me a DRC of this book in exchange for an honest review.Let it be known that if you write a re-imagining or re-interpretation of Alice's Adventures in Wonderland, I will read it.BUT. It either has to be completely original (like Christina Henry's Alice--a shocking, violent romp that leaves a lasting impression) or REALLY good (like Marissa Meyer's Heartless--a prequel story about the Red Queen that is PERFECTION).Which is why th...

This was just bad. It throws you into a plot with no build up or explanation, the writing is clunky and cringe-inducing, and most of the characters have little to no development. I was so excited to read a take on Alice in Wonderland with a POC has the MC and, while this is ostensibly presented as that, it doesn't really have the qualities you expect from Alice in Wonderland. The setting is barely described, she doesn't spend enough time in Wonde...

"We can change the whole worldGonna take it over, gonna start it overDon't you know what we could be?A new beginning, fight until we're winningTell me that you're in itDon't you wanna be a superhero?"-Simon Curtis"Heroes always get remembered, but you know legends never die!"-Panic! at the Disco, "The Emperor's New Clothes"The last ARC I traded for online in August, finally reviewing now, and I'm gonna call this one a case of saving the best for ...

"Racebent ass-kicking Alice in Wonderland" is an excellent set of words in an awesome order. Can't wait to get my hands on this one!!

Well since the author spends her time rating without reading....https://www.goodreads.com/review/list......I guess I can do the same.This book sounded lame anyway. If you call out other retellings because they "white-washed" something, yet your only selling point is a black-washed Alice in Wonderland, GTFO hypocrite.And yeah yeah I know don't-rate-without-reading-be-an-honorable-reader-blah-blah...Look I'll put a real rating up once I've read it ...

Racism against white people doesn't exist you absolute cretins.

I'm super super excited for this book. It sounds incredible.